CNS Lithium Project – Request for Information and Industry Day
BACKGROUND
The Y-12 National Security Complex (Y-12) is the National Nuclear Security Administration's (NNSA's) primary source for manufacturing lithium suitable for programmatic use. Preserving this capability is essential for being flexible and responsive in support of the NNSA Directed Stockpile Work (DSW) mission.
The existing lithium production facility was designed and constructed more than 70 years ago. Although it has received periodic upgrades, equipment outages continue to occur, resulting in interruptions in work schedules. The Lithium Processing Facility (LPF) project is needed to replace the current capability that has degraded beyond the option of repair.
EXECUTION STRATEGY
CNS is intending to execute the LPF as a Design-Bid-Build approach.
Processing Lithium on this scale is not currently available in the industry. Lithium process design experience is also not available. CNS will subcontract the design of the process and facility to a qualified subcontractor A&E firm. The overall strategy is as follows: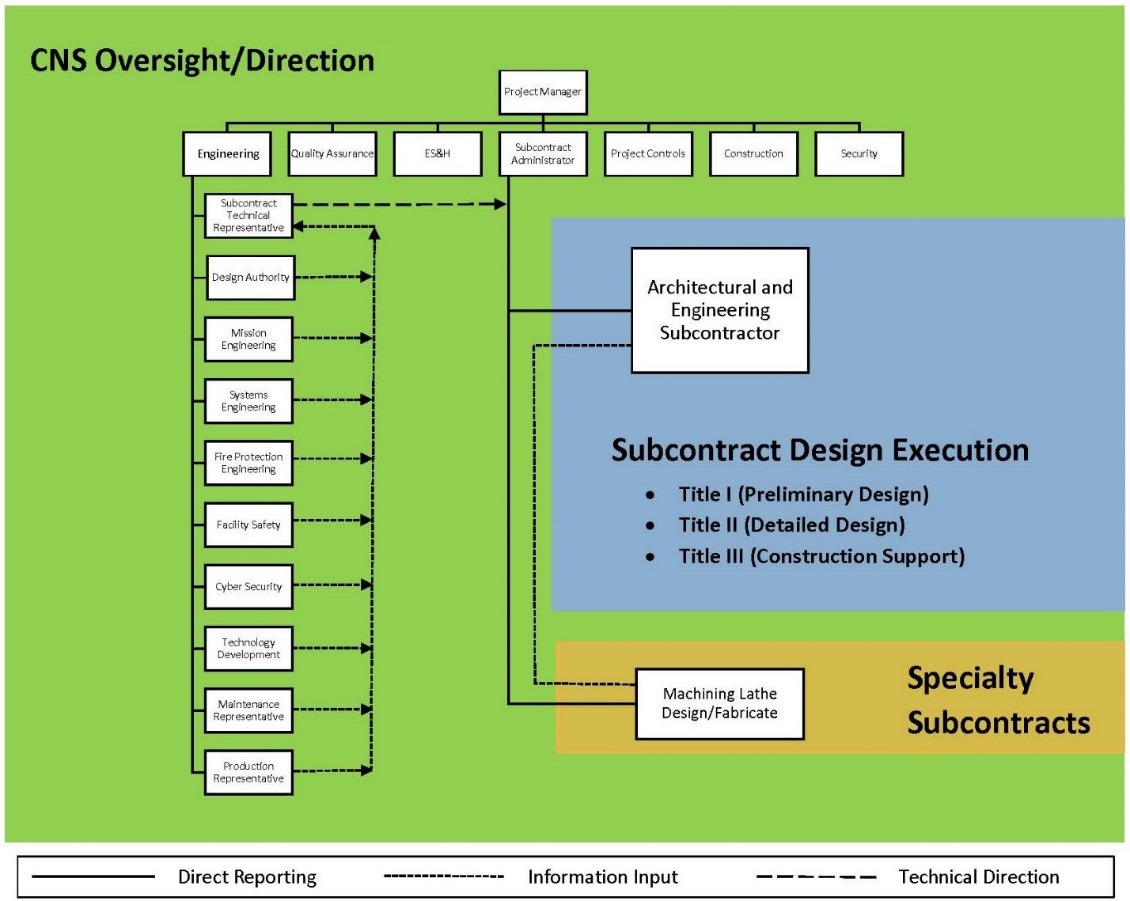 As noted earlier, the LPF is unique, and several existing components are nearing obsolescence. Others are one-of-a-kind applications. Therefore, CNS is and will continue to assess special equipment needs and long-lead procurements so that the flow of the A/E design is not impacted.
The CNS procurement and subcontracts team will develop a procurement plan for sourcing LPF specialized production equipment and a subcontracting plan for the A/E and other subcontracts. Several items of equipment were identified during conceptual design for long-lead procurement. These fell into one of two categories:
CNS Lithium Project – Request for Information and Industry Day
Large equipment for which the building may need to be constructed around (i.e., isostatic press, crusher/grinders, evaporator/dryers)
Long fabrication time (i.e., machining complexes)
For the construction of the LPF, CNS will subcontract Construction Management (CM) services. The likely approach will be a CM At-Risk (CMAR) of which the CM will ultimately be responsible for the performance and delivery of the construction for LPF.
FEEDBACK
CNS is requesting Industry and potential companies' input into its execution strategy. The following questions are posed to request input that will be used only for structuring the final execution strategy and will not be evaluated in any way. Please answer as many questions as possible.
What is your experience in large-scale engineering designs? Would you recommend awarding to a single A&E firm to perform the process and facility design or would you award multiple?
What would be your recommended contracting approach to get the most favorable pricing while ensuring an agreed upon quality level is achieved (in regards to the construction of the LPF)? Please address based one, the structure having completed design and two, the other has not, and being proposed on two different building sites?
Is there a successful contracting approach that has worked well for you in the past? Please describe this contracting approach.
What is your opinion of a design / build versus a design bid build approach? How do the different approaches affect your proposed costs and schedule?
What are your thoughts regarding risk sharing, as it relates to various contracting approaches?
What recommendations would you propose for consideration to share the risk to drive down the overall price of the project?
Please provide any other valuable input and/or additional comments that will be meaningful to CNS to consider when evaluating the execution strategy.
INDUSTRY DAY
CNS intends to hold an "Industry Day" on-site at the Y-12 National Security Complex in Oak Ridge, TN on Tuesday, January 15, 2020. The on-site event will further go over CNS' strategy and have discussions with the industry for feedback. If you plan to attend, please submit names of attendees and your company information along with your responses above.
RESPONSES
Submit all responses to Denise Bales at denise.bales@cns.doe.gov. Please submit answers to the questions above and the following information:
a. Business name, type, location, point of contact, years of experience.
b. Company experience with other similar projects.
c. Company specialty/areas of expertise.
Responses are due no later than January 10, 2020.