Visiting Us
Considering a visit to Y‑12? If so, here are a few things you will want to know before your visit.
First and foremost, the Y‑12 National Security Complex resides in an especially beautiful part of our state in a valley between the Great Smoky Mountains and the Cumberland Mountains. Y‑12 is located in the City of Oak Ridge, just minutes away from downtown hotels, restaurants, and shopping.
Before your visit, your Y‑12 host or contact will make arrangements for you with Y‑12 Visitor Services. And, because Y‑12 plays an integral role in our nation's nuclear defense policies and we have some of the most stringent security in the world, we ask that you become acquainted with our most basic security and safety rules and procedures before visiting.
Something all visitors need to know: because of our responsibilities to our national security, not all areas of Y‑12 will be available to you. We hope you will respect and understand our commitment to these responsibilities.
Upon arrival to the Y‑12 Complex, please check in with Visitor Services located in the New Hope Center on Scarboro Road. There are procedures and paperwork that will need to be completed before you access the Complex, so please check in with Visitor Services at least 30 minutes before any meeting you might have scheduled at Y‑12, and we will get you set up for an enjoyable visit. Office hours for Visitor Services are 6 a.m. to 4:30 p.m. ET Monday through Thursday.
If you have questions or would like additional information, contact Y‑12 Visitor Services, New Hope Center, 602 Scarboro Road, phone 865.574.3280, fax 865.574.7200.
Entry Requirements
Identification and/or Citizenship Requirements
When you arrive for your visit, please be prepared to provide two forms of government identification such as your driver's license or U.S. passport when you check in with Visitor Services. If you are an uncleared visitor — meaning you do not hold a federal security clearance - two forms of identification must be provided prior to being issued a visitor badge. The first form of identification is a government-issued photo ID. The second form is proof of U.S. citizenship. The following forms of citizenship are accepted:
Current U.S. passport or passport card
Certified birth certification issued by the city, county, or state of birth
Certification of birth abroad or certification of report of birth issued by the Department of State
Certificate of Naturalization
Certificate of U.S. Citizenship
Documented proof of citizenship through a Department of Energy recognized database
Access will be denied or delayed until acceptable identity documentation is provided.
Once all of these procedures and paperwork are complete, access to the Complex will be granted and you can begin your visit.
Implementation of the REAL ID Act
Congress, acting on the recommendations of the 9/11 Commission, passed the REAL ID Act in an effort to reduce fraud and deter acts of terrorism using fraudulent identification. This Act sets minimum standards for the issuance of driver's licenses and other identification documents.
In accordance with the Act, the Department of Homeland Security established implementing standards. Among these is a prohibition on using non‑REAL‑ID Act compliant driver's licenses as proof of identity for access to restricted (i.e., non‑public access) areas of federal facilities. The Y‑12 Complex falls under these requirements.
For badged employees, visitors from other DOE sites, and visitors from other agencies who bring their badges, this will have no effect.
Please visit these links for information on acceptable identification and noncompliance information:
People with identification from these jurisdictions will need to present an alternate photo identification to be granted access to Y‑12.
Some acceptable alternate forms of Photo‑ID include:
U.S. Passport or Passport Card
An Enhanced Driver's License or Enhanced ID‑Card issued by the states of Minnesota, New York or Washington (Enhanced licenses issued by these states are clearly marked Enhanced or Enhanced Driver's License)
A military ID or other government issued Photo‑ID card
This does not apply to badged employees, visitors from other U.S. Department of Energy sites, and visitors from other government agencies.
If you have any questions, please contact Personnel Security at 865.574.3280, Option #2.
Because of these required procedures and necessary paperwork, we ask that you check in at least 30 minutes before any scheduled meeting you might have at Y‑12.
Also, we want your visit to Y‑12 to be both enjoyable and productive. So, it's important that we make you aware of some of our restrictions and policies.
Prohibited Articles
Y‑12 prohibits the introduction, transportation or possession of weapons, explosives or other instruments likely to produce substantial injury to persons or property. This restriction includes:
Items prohibited by local, state or federal law.
Controlled substances (i.e., illegal drugs and associated paraphernalia).
Privately owned explosive chemicals and devices.
Privately owned handguns or rifles of any make or model, including air‑powered.
Knives with blades 2.5 inches or longer.
Privately owned ammunitions/projectiles (e.g., bullets, rockets, arrows, etc., that could be discharged from a weapon).
Items that could be used to start fires, excluding personal lighters. (Heavy equipment may have up to 10 road flares and personal vehicles may have up to 5 road flares.)
Controlled Articles
Visitors reporting to Y-12 who require the use of a Personal Electronic Medical Device (PMED) will need prior approval before entering any security areas (limited, protected, and material access areas) of the plant. Contact Occupational Health Services at 865.574.1583 for instructions.
Safe and Appropriate Footwear Policy
Everyone on site at Y‑12 is required to wear safe and appropriate footwear for our daily work activities and site conditions. As a visitor, you will also be expected to wear the same appropriate footwear.
Heel height three inches or less, as measured at back of the heel.
Heel width (side to side) one-half inch or more as measured at the tread surface.
Heel closed or supported (strap) except with a medical restriction.
Open toe shoes are allowed.
Footwear upper covering (i.e., parts of a shoe that are above the sole) shall sufficiently secure the footwear.
Flip flops, beach shoes, or similar footwear are not allowed, no medical exceptions allowed.
Use of platform shoes over one inch are not allowed, except with a medical restriction.
Non-skid soles are preferred. In addition, winter footwear should be considered during winter weather conditions.
Your Y‑12 host or contact is responsible for the implementation of this policy and will be the person to reinforce the importance of wearing safe and appropriate footwear.
Y-12 Motor Vehicle Safety Requirements
If your job requires you to drive a vehicle or operate company equipment at the Y-12 National Security Complex, you are responsible for the safe operation of the vehicle/equipment.
Drivers are required to:
Have a valid driver's license (commercial, if applicable).
Ensure that required appropriate training has been completed for any vehicles or equipment operated.
Use seat belts. They are mandatory in all vehicles and equipment.
Operate motor vehicles in a safe manner according to applicable Federal, state, and local ordinances, laws, and regulations, including Tennessee Rules of the Road, traffic controls, posted signs, pavement markings, and other applicable requirements.
Utilize a spotter when possible, especially when backing into any area that does not provide clear visual access.
Y-12 Speed Limits
Comply with the following speed limits unless posted otherwise:
Bear Creek Road – 35 mph
Interior Roadways – 25 mph
Protected Area and Parking Areas – 15 mph
Motor Vehicle Safety: Cell Phones and Electronic Devices
Personnel MAY NOT use cellular telephones or portable electronic devices while operating a vehicle:
If the vehicle, phone, or device is owned, leased, or rented by the Company/US Government
If the vehicle is personally owned and you are onsite or offsite at a Company leased/owned facility
While conducting Company business – regardless of vehicle or location
This includes hands-free and Bluetooth devices. Portable Electronic Device include such devices as e-readers, MP3 players, netbooks, tablets, and laptop computers.
These requirements applies to CNS employees, subcontractors, vendors and visitors.
Vehicle Accidents
Report all government owned, GSA motor and privately owned vehicle incidents that occur on-site or during business-related travel.
Call Plant Shift Superintendent (911 [from Y-12 landline phones] or 865.574.7172).
Maps/Directions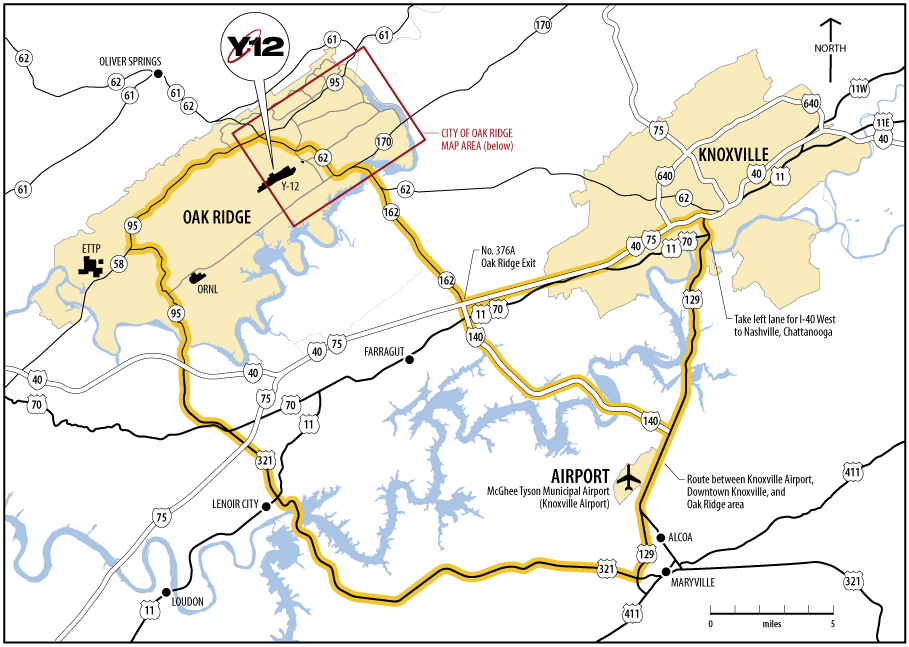 Oak Ridge-Knoxville Area Map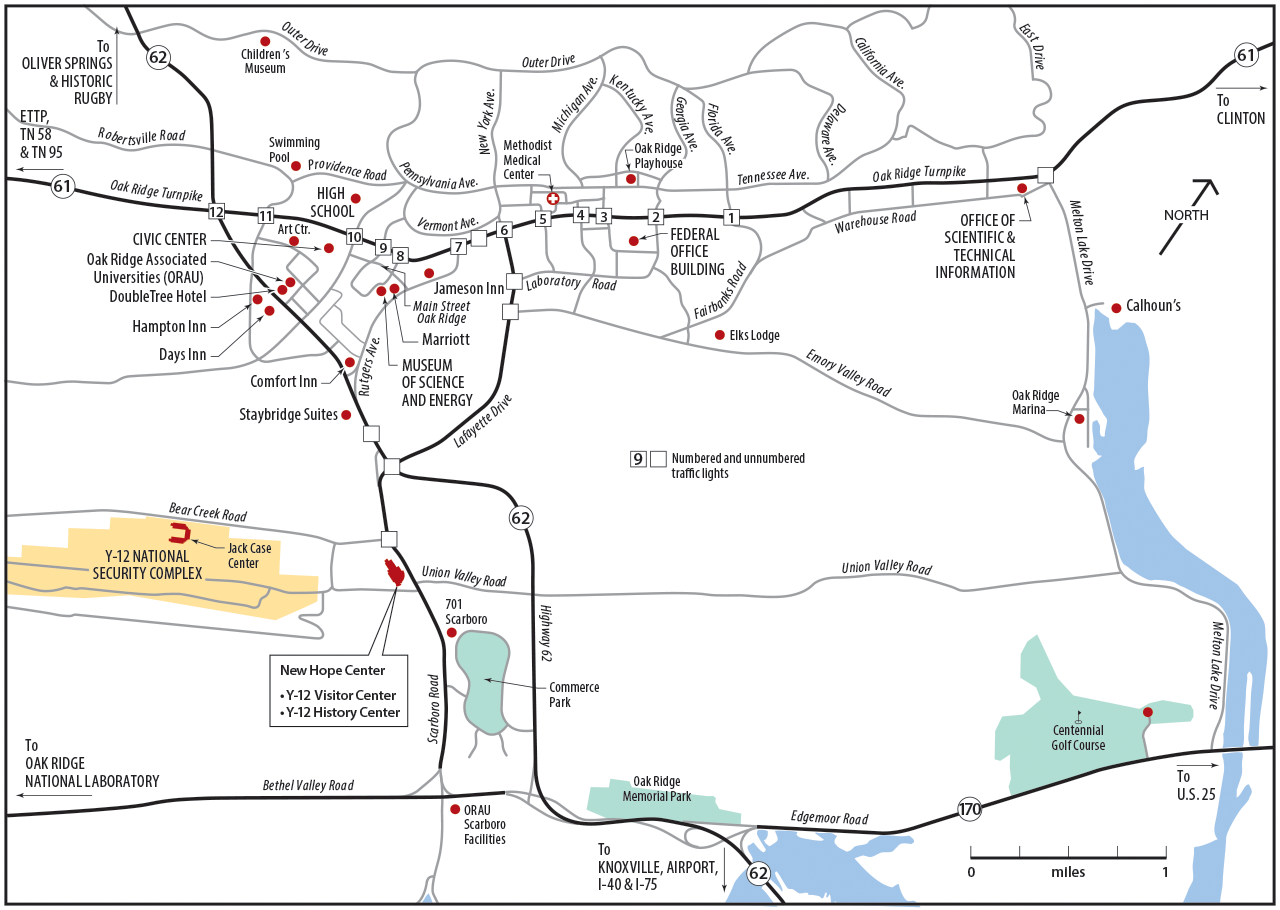 City of Oak Ridge Map
Directions to the Y‑12 Visitor Center
All visitors to the Y‑12 National Security Complex must first check in at the Y‑12 Visitor Center, which is open from 6:00 a.m. to 4:30 p.m. Eastern Time, Monday through Thursday. The Visitor Center is located in New Hope Center, 602 Scarboro Road, at the corner of Scarboro and East Portal roads. The Visitor Center office is on the first floor of New Hope Center and accessible through the main lobby in the center of the building. Entry into the parking area is off East Portal Road.
* …
Then at the juncture of I‑40/I‑75, I‑140 ends and the parkway continues as TN/SR162N. Y‑12 is now only 10 miles away. In less than 6 miles, it passes the exit/entrance for TN/SR62 (Oak Ridge Highway) from the right, and the road continues about 1 mile through the town of Solway, crossing over the Clinch River (Melton Hill Lake) bridge from Knox to Anderson County, where TN/SR170 (Edgemoor Road) junctions on east. When the road bends west, you will see on the right a welcome sign for the City of Oak Ridge. At this point you should
immediately
shift to the far right-hand lane to Bethel Valley Road — traveling west beneath an underpass and approaching an intersection with a traffic light. When you near the light, as directed by signage, turn right off Bethel Valley Road onto the intersecting Scarboro Road, which leads to the Y-12 facility 2.4 miles away. Drive on Scarboro Road past the first east-intersecting road (Commerce Park) and then look for the New Hope Center on the left.
Area Information
Guides, Area Maps, Airport…
Resources: News, History…
Area Attractions: To Do and See
Area Lodging