CNS donates $10,000 to East Tennessee Children's Hospital
Posted: Tuesday, February 16, 2016, 6:50 pm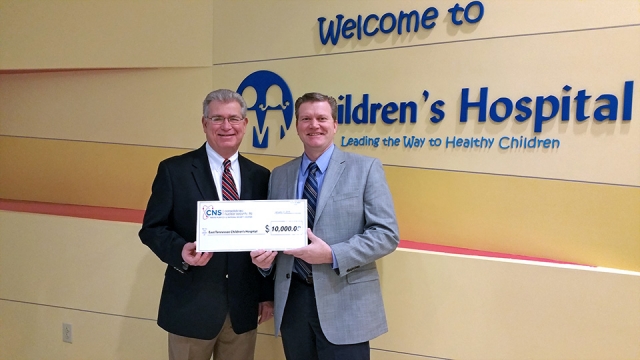 Consolidated Nuclear Security recently donated $10,000 to East Tennessee Children's Hospital's capital campaign. The CNS donation will go toward construction of a pre- or post-op room at Children's new building, which is currently under construction.
On hand for the check presentation was Y-12's Site Manager Bill Tindal and Children's Hospital CEO Keith Goodwin.
The new 245,000-square-foot space, which is scheduled for completion later this year, will expand services for children with chronic conditions such as cystic fibrosis and other special needs. Forty-four private Neonatal Intensive Care Unit rooms will provide the best care for the hospital's smallest patients.
The new facility also will feature parking and enhanced family areas, including a rooftop garden.
East Tennessee Children's Hospital is a not-for-profit, private, independent pediatric medical center and is the only Comprehensive Regional Pediatric Center in East Tennessee.