CNS works with veterans
Posted: Wednesday, May 25, 2016, 4:43 pm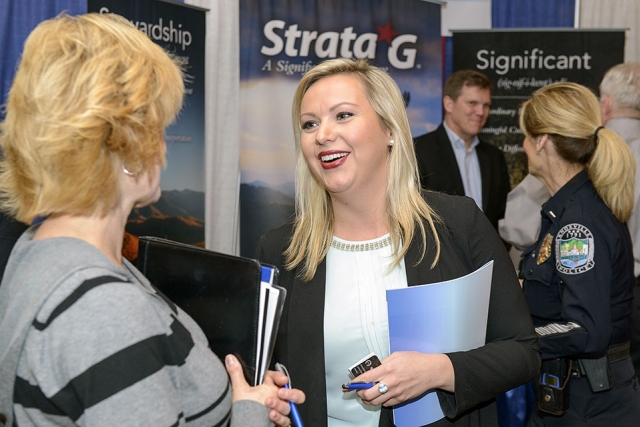 Y-12 Small Business Program Manager Lisa Copeland (left) interacts with a participant at the Tennessee Veterans Business Association Expo.

Y-12 has a long history of supporting veterans — both as employees and as suppliers. Through participation in the Tennessee Veterans Business Association Expo, Consolidated Nuclear Security, LLC is able to reach both groups.
TVBA's mission is tailor made for Y-12's interests. The association focuses on training entrepreneurs, assisting with business development and finding rewarding employment for all veterans.
TVBA Chairman and Founder Jonathan Williams said the expo began in 2012 with the goal of showcasing local veteran-owned businesses. The concept quickly evolved into a business-to-business trade show to include companies that liked to work with veteran-owned businesses.
With all these companies in the room and veteran unemployment at a record high, Williams said, "We quickly realized this would also be a great opportunity for a veteran-focused career and education fair."
This was the fifth year for the expo, and Williams said they've all been "wildly successful," averaging 120 exhibitors each year.
"Y-12 is a huge part of the expo," said Williams. "Not only does Y-12 use many veteran-owned small businesses as contractors, but they also employ many veterans."
Veterans are a vital part of the Y-12 workforce. More than 500 Y-12 employees have voluntarily identified themselves as veterans. Lisa Copeland, Y-12 Small Business program manager, said, "We have a goal of obtaining 4% from veteran-owned small businesses and 3% from service-disabled, veteran-owned businesses. Events like the TVBA Expo help us identify qualified candidates for our needs."