CNS/UT partnership, who's in the pipeline?
Posted: Wednesday, January 13, 2016, 4:44 pm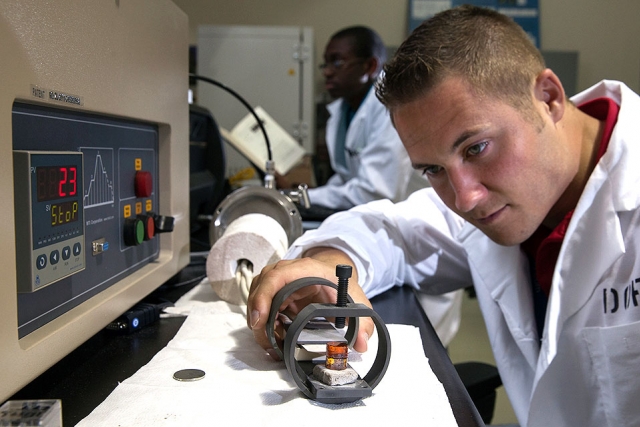 Dustin Giltnane, a University of Tennessee graduate student, is in the CNS pipeline and will become a full time employee in May 2016, upon completion of dual master's degrees.

CNS invests in people — sometimes before they join the payroll as full‑time employees. Dustin Giltnane is a prime example of that healthy pipeline at work.
He graduated from the University of Tennessee with a bachelor's degree in nuclear engineering and was working on dual master's degrees (an MBA with a focus in entrepreneurship and engineering with a focus in nuclear security) when the opportunity arose for him to work with Ashley Stowe, CNS's Physical Sciences functional manager and Technology Fellow emeritus. While working on a Joint Assignment Agreement with UT's nuclear engineering department, Stowe recognized Giltnane's abilities, energy and creativity and was able to expand his CNS neutron detection research team to include the native Tennessean. Giltnane is now working on novel solid state neutron detectors.
Plant Directed Research and Development funds made it possible to add researchers to the CNS staff without expanding Stowe's budget. Through strategic subcontracts, Stowe also added team members from two other nearby universities — Fisk and Vanderbilt.
"University partnerships are good for CNS. Professors provide continuity and identify the best and brightest students, who help boost our productivity and creativity," said Ben Stephens of Program Integration. "Our hope is that CNS and these students mutually invest in and engage each other for the long term."
"I came to Y‑12 as a graduate assistant and then moved into a leadership role, mentoring Maxx Jackson, an Alabama A&M summer student, and taking responsibility for the thermal conductivity transient instrument, or TCT, which measures critical thermal parameters of materials," said Giltnane.
One challenge in fabricating high‑quality radiation detection crystals is growing large crystals without defects. The research Giltnane is conducting will provide thermal conductivity data needed to improve crystal growth modeling. He is paired with a radiation detection company, supplying new data that will improve a materials detection tool and boost national security.
"Dustin has been a great addition to the team," said Stowe. "He is technically sound, but his natural leadership and business curriculum provide a unique combination of discipline and innovation within the project. He's an excellent mentor and has a bright future here at Y‑12."
Giltnane initially studied nuclear engineering because of his interest in the environmental aspects. He'd read extensively about weather and global changes and that sold him on it. "I started out on the nuclear plant side but found it to be a little dull," he said. "I am happy to work at Y‑12 to find a balance and more in‑depth science. It's a much wider spectrum, and I like the nonproliferation and research side."
What's Giltnane's long‑term career goal? "I'd like to move up through Y‑12 into a research position and see where that takes me. I'm interested in nuclear nonproliferation policy and counterterrorism, which is kind of an extension of nuclear security," he said.
And in his spare time, Giltnane co‑owns a business, Guru Skins, where he and two fellow UT MBA students create customized ski, skateboard, wakeboard and snowboard graphics and vinyl covers. "We won a competition at UT to get our initial seed money, and it took off from there. Since then, we've won other competitions and have earned a total of $21,000," he said. The team recently placed third (out of 14 teams) in the SEC Symposium in Atlanta.
"We work with artists all over the world and pay royalties for every product that sells with their designs. Our vinyl covers allow sport enthusiasts to protect their boards and change the look cost‑effectively while expressing their individual styles." The idea for the graphics company came naturally as all three business owners are "boarders," which gave them insight to identify the industry need as well as their niche market.