Completing the connection
Posted: Tuesday, May 24, 2016, 12:44 pm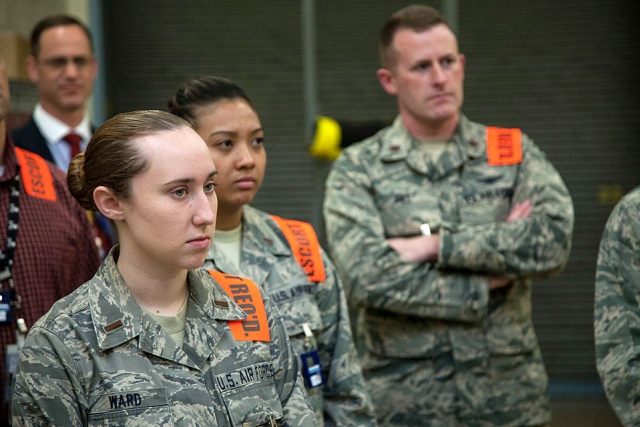 A team from Malmstrom Air Force Base in Montana recently toured Y‑12's production facilities to see the processing and assembly of nuclear weapon components.

Major Jeff Hill believes the United States' nuclear deterrent is as relevant today as it was at the height of the Cold War, despite the drastically changing landscape of global terrorism and warfare.
"This is the one weapon the president uses every single day," said Hill, chief of Quality Assurance for the 341st Maintenance Group at Malmstrom Air Force Base. "Other countries make decisions every day based on the fact that we've got these nuclear weapons, and they're ready to go."
But the deterrent, Hill noted, is only effective as long as the U.S. and its nuclear capabilities are credible. That begins at Y‑12.
"In order to achieve that deterrence, you've got to absolutely know that these will work," Hill said. "Everything you do here at Y‑12 every day leads to that capability. We have tremendous faith and assurance that if we launch a weapon, it will work — every time."
Hill and a group of his colleagues from Malmstrom visited Y‑12 recently for briefings and tours through the plant's uranium processing and storage and weapons assembly and disassembly facilities to learn more about nuclear warheads and their inner workings — something they otherwise might not have a chance to see.
"Most missile leaders and operators are just taught broad strokes of how the weapons work," said Lt. Steven Heizer. "But we want to become nuclear experts, so the opportunity to see the different parts and learn about what Y‑12 does is extremely helpful."
Hill was instrumental in setting up the trip, a collaboration between Y‑12 Production and Oak Ridge National Laboratory's Global Security Directorate. "These visits show the big picture of our community as a whole," Hill said, noting both this visit and Y‑12's January visit to Malmstrom. "Whether you're DOE or DOD, we're all one big nuclear community trying to accomplish the same thing: deterrence."
As Hill and his colleagues toured Y‑12's production facilities, their confidence in these weapons grew.
"It's really reassuring, as the one who might have to launch one of these one day, to know that you guys know what you're doing," said 1st Lt. Michael Kraft, chief of ICBM training products at Malmstrom. "It was really empowering to learn the development process and see that there are a lot of inspections, analyses and surveillances that go into ensuring these weapons will work."
Heizer was impressed even more by the people he met, though, than by the processes and systems. "A lot of us are young and don't remember the Cold War, so it's great to see that people are excited and proud to be working at Y 12," Heizer said. "The weapons become more real when we can see the different components, meet the people who make them and realize we're all on the same team."
Hill left with the same notion. "Every person we've seen has a distinct sense of 'I'm here, and this is my mission.' For us to see that just gives us a greater appreciation for the work you do," he said. "We never question whether these will work — and neither does the other guy."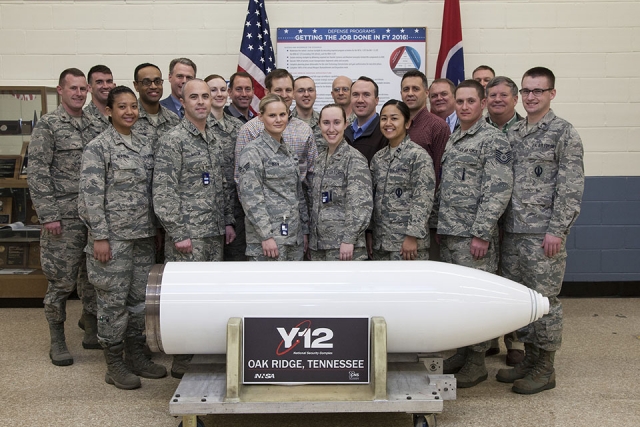 Malmstrom Air Force Base visitors.