Heroes & horses: How CNS is helping disabled veterans
Posted: Friday, April 17, 2020, 12:37 pm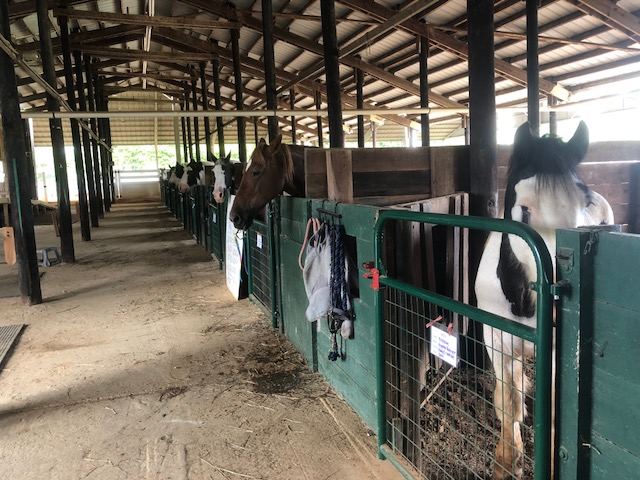 Through a contribution from the Y-12 Community Investment Fund, Shangri-La Therapeutic Academy of Riding's (STAR) Heroes & Horses program provided 375 hours of programming and rehabilitation for veterans in 2019.
With every stall door opened, the veterans at Shangri-La Therapeutic Academy of Riding's (STAR) Heroes & Horses program, begin a life-altering journey to a human-to-horse connection.
Based on the Y-12 Community Investment Fund's contribution of $5,000, the entire program is provided at no cost to every participating veteran. In 2019, STAR provided 375 hours of programming and rehabilitation for the veterans.
"It's truly a hidden gem in Knoxville," said Cathy Dolson, STAR Heroes & Horses instructor. "The veterans and their families have told us that they are different people when they come home from a lesson."
More than a riding lesson
Heroes & Horses operates in semesters and offers one-hour lessons each week to veterans with disabilities or other special challenges, including traumatic brain injury, amputation, sensory loss, and post-traumatic stress disorder. Each lesson includes tasks and objectives that focus on improving coordination, developing core strength, increasing self-esteem, and providing stress relief on and off the horse. Volunteers in this program are fellow service members who participate in an extensive therapeutic riding and equine assisted training to accommodate the riders.
"Our veterans say that coming here is the best part of their week," said Melissa Abbey, STAR director of services.
For 10 years, the program has provided vital skills and rehabilitation to veterans in East Tennessee. As members of the Professional Association of Therapeutic Horsemanship International (PATH), "STAR is considered the gold standard in our area," Dolson said. As a PATH member, STAR follows therapy safety program initiatives and training guidelines for instructors, ensuring safe and optimal outcomes for its veterans and horses.
Changing lives with each stride
Winston Churchill once said, "There is something about the outside of a horse that is good for the inside of a man." STAR embodies this adage by focusing on the therapeutic impact horses have on the veterans. Whether they are learning how to properly groom a horse or dismount after a lesson, every action is one step closer to restoring their trust, confidence, and purpose.
During a lesson on riding bareback, veterans learn how physical and mental stress can affect the outcome of their ride and the horse. The bonds the veterans share with their four-legged counterparts and the support of staff and volunteers have saved and enriched lives by actively replacing tension with tenderness.
An atmosphere for healing
While the sound of whinnies echo in the barn, the smell and feeling of the fresh mountain air from the East Tennessee foothills creates a peaceful atmosphere at STAR. "No matter what life has thrown at them," Dolson said, "the veterans are going back to an activity and time in their life here when everything was fantastic, while learning how to redevelop relationships and camaraderie."
For the veterans from Vietnam through Desert Storm, STAR is not only a center for hands-on experiences with horses. The academy is a place of relaxation and sanctuary that helps them cope with their post-service lives. "Several of our veterans have admitted that this is a place where they finally don't have to look over their shoulders," Abbey said.
By working with the East Tennessee Foundation, the Y-12 Community Investment Fund has provided opportunities for employees to award grants benefiting nonprofit organizations like STAR in its 20-county service area.