Latest apprentice class includes first machinist graduates
Posted: Tuesday, May 16, 2017, 9:38 am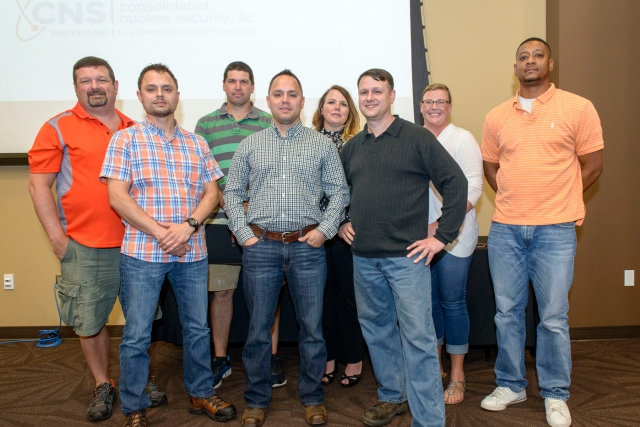 Y-12's most recent apprentice graduates.

Y-12 recently celebrated its sixth apprentice class since reinstatement of the program in 2008. This class of 13 is the first to include apprentices in the machinist classification.
It has been a long journey for the apprentices. For the nine machinists, that journey included three years of year-round classes on Fridays and evenings at Pellissippi State Community College (PSCC). The four electricians completed their training at the International Brotherhood of Electrical Workers (IBEW) training facility in Knoxville. The electricians are represented by IBEW Local Union 760, and the machinists are represented by Machinist Local Union 480.
Tim Milligan, Air Conditioning and Refrigeration chief steward, noted that the program positions Y-12 for the long term when skilled craft workers are in high demand. He said, "The apprenticeship program is our guarantee that we will be able to meet our future production goals."
Milligan acknowledged the program's success was a result of a partnership between Consolidated Nuclear Security, LLC; the union instructors and training coordinators; the Atomic Trades and Labor Council (ATLC); PSCC administration and instructors; and Y-12's Joint Apprenticeship and Training Committee, which consists of three managers and three union representatives.
CNS President and Chief Executive Officer Morgan Smith addressed the graduates and encouraged them to pay it forward. He said, "Y-12 has an enduring mission—and you will help ensure its success. As your career progresses, use the skills you hone and develop to help prepare that next generation."
National Nuclear Security Production Office Manager Geoff Beausoleil echoed Smith's remarks, stating "this apprenticeship program continues to help ensure an enduring workforce dedicated to Y-12's important national security mission."
ATLC President Mike Thompson congratulated the new journeymen and assured them they will continue to learn and become more proficient in their skills. He also acknowledged that their success comes with a responsibility. "You are the ones who will take our place and carry on the proud tradition of being some of the most skilled tradesmen in the world," he said.