M. C. Wiest, a name almost as old as the plant
Posted: Tuesday, November 6, 2018, 5:42 pm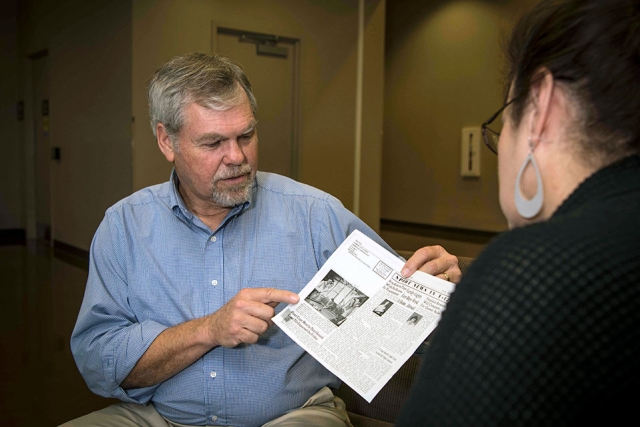 Mick Wiest points out his father in a 1948 Y-12 Bulletin. With Mick retiring, the combined time of Y-12 having an M. C. Wiest is 74 years.

M. C. Wiest has been at the plant almost since its inception. When Mick Wiest retires later this year, it will be the first time the name M. C. Wiest will no longer be in the Y-12 directory.
As those of you doing the math may have surmised, M. C. Wiest isn't just one longterm employee. The original M. C. Wiest was hired in May 1944 to work at Y-12 by Tennessee Eastman Corp. He had just graduated at the top of his class with a degree in chemical engineering from the University of North Dakota and was considering a job offer at Columbia University, but he was also offered a "war job" in Tennessee that would support the country's World War II effort.
He and his wife, Marie, left North Dakota and moved sight unseen to the Clinton Engineer Works more than 1,200 miles away.
M. C.'s official name was Merritt, but was known as "Red," and he ended up spending his entire career at Y-12, mostly with the Product Engineering Department. During part of that time, Red was a key liaison working special projects between Y-12 and the weapon design labs in the western U.S. and the United Kingdom.
Dubbed by a Y-12 plant manager as "the guru of complex devices," his mechanical skills also helped him with his lifelong hobby of gunsmithing. As people learned of his abilities to fix guns, he opened a gun shop next to his Oak Ridge home in 1947. That business grew into a family operated firearms business and indoor range called Guncraft Sports Inc. that operated until 2005 when the business was sold to Coal Creek Armory.
Red and Marie were blessed with five children, all born in Oak Ridge. The third son was named after their father, and M. C. Wiest Jr. never went by Merritt either. Instead, he was dubbed Mickey at birth.
Mickey, now Mick, Wiest was hired to work in the Y-12 Environmental Compliance Department in March 1988, and, for approximately one year, worked with his father at Y-12. Mick said, "This caused confusion more than once, but the most notable time was when a mix up of our security clearance numbers caused an immediate re-investigation of me, but the problem was eventually worked out."
On November 1, Mick will retire from the Environmental Compliance Department after 30 years of service, thus ending the "M. C. Wiest era" at Y-12.
"I'm proud of the work my father and thousands of other Y-12ers did in helping to bring WW II to a close, and for their major contribution to winning the Cold War," said Mick. "I'd also like to point out that the work Y-12 does today is equally important, and I am proud to have been a part of it."
Mick's strong interest in history has helped Y-12 work toward compliance with the National Historic Preservation Act, while also performing his primary duties related to the Clean Water Act. But his contributions to local history won't stop there, despite his retirement.
Mick and his wife Teri, a semi-retired teacher and Mick's high school sweetheart, will stay in Oak Ridge and remain active in the community. As a founding member of the Oak Ridge Heritage and Preservation Association, Mick plans to continue preserving and sharing Oak Ridge history. ORHPA recently opened the Oak Ridge History Museum at their headquarters in the Midtown Community Center on 102 Robertsville Road.
When asked about leaving Y-12 during its 75th anniversary, he said, "These occasions are a good time to reflect on our important role in United States and world history. I hope the interest in our history does not fade because there is still the need to preserve historic buildings, such as Beta 3 and 9731, which will help tell our remarkable history for years to come." #y12turns75