NBL Center opens at Y-12
Posted: Wednesday, July 18, 2018, 10:15 am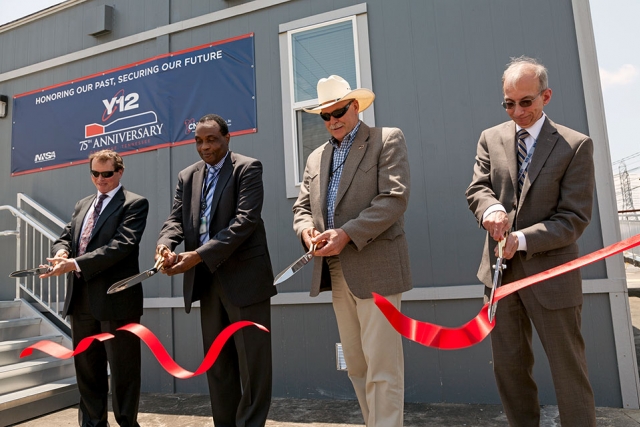 Officials cut the ribbon June 11 to open a new building and nuclear security mission for Y‑12.

The NBL Center was officially opened June 11, with about 50 representatives from the Nuclear Security Enterprise and Y‑12 in attendance.
The newly formed NBL Program Office ensures the reliability of the nation's supply of special nuclear certified reference materials to provide measurement proficiency samples and technical expertise and support to U.S. programs in the areas of nonproliferation, safeguards, and other national security programs.
"This is very important work that helps ensure stability around the globe," said Morgan Smith, CNS president and chief executive officer. "We envision this new facility operating sort of like an Amazon fulfillment center but for very unique and very small orders of nuclear samples — things you definitely can't get on Amazon. This small facility footprint and small, as-needed operating crew will reduce the time and cost required for customers to receive radiological materials. New missions don't come to Y‑12 by chance. They come thanks to our employees' dedication, expertise, and patriotism in all things uranium established over our proud history of vital nuclear security work."
The new facility is operational and made its first shipment in April. By the end of FY 2019, the center will house 8800 Certified Reference Materials. The Office of Science funded Y‑12 to establish a new center, and Y‑12 is taking on the storage and distribution mission for the NNSA.
See the opening of the NBL Center video.