NNSA Deputy Administrator for Defense Nuclear Nonproliferation visits Oak Ridge
Posted: Monday, January 25, 2016, 1:12 pm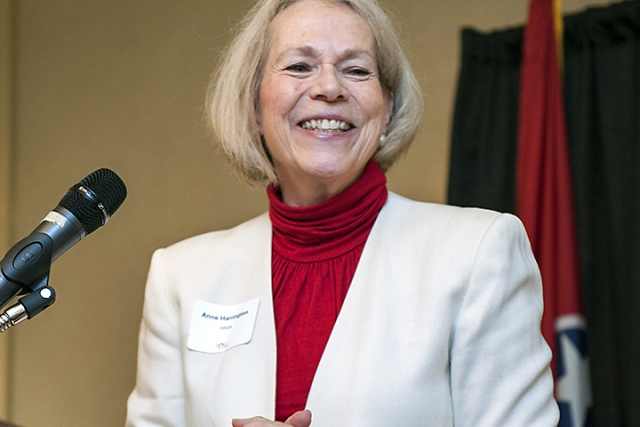 NNSA Deputy Administrator for Defense Nuclear Nonproliferation Anne Harrington addresses the East Tennessee Economic Council.

Making the world a safer place. That is the message Anne Harrington delivered to the East Tennessee Economic Council about NNSA's role in nuclear nonproliferation.
Harrington, Deputy Administrator for Defense Nuclear Nonproliferation for the National Nuclear Security Administration, was the featured speaker at the annual ETEC awards luncheon in December at the Doubletree Hotel in Oak Ridge.
Prior to her speech, Harrington visited Y-12 and heard from project managers about their work in research reactor fuel development and highly enriched uranium minimization. Y-12 officials said she was very engaging and stated, "When I think uranium, I think Y-12 and Oak Ridge."
Harrington, who has been at her post since 2010, was introduced at the luncheon by CNS President and Chief Executive Officer Jim Haynes. Haynes described her as a woman of great accomplishment and whose work is vital to the security of the country.
In her address, Harrington emphasized the importance of Y-12 and ORNL to the mission of nonproliferation. She pointed out that today the "threat is less about nuclear war," and more about terrorists gaining access to materials to develop an "improvised weapon."
Harrington said, "One aspect of our mission to prevent nuclear terrorism is eliminating highly enriched uranium in all civilian applications, including in research reactors and isotope production facilities."
As an example, she pointed to heart scans – used by more than 50,000 people every day, which are made possible with the isotope Molybdenum 99, orMo99. She described how experts at Y-12 are involved in the transfer of low enriched uranium to Mo99 producers in Australia, Belgium, South Africa and the Netherlands as well as working with producers to convert production from HEU to low-level enriched uranium.
"While it may not always be easy to see the results of the work you and your neighbors are part of, know that without it, the world would be much more dangerous place without you," she said.
Despite the success of such programs, Harrington warned that the work is not done. "Our mission is enduring," she said. "There still exist vast stocks of HEU and other dangerous nuclear and radiological materials to address."
Harrington's hope for Y-12 and Oak Ridge National Laboratory's work in nonproliferation is that it is a "partnership" for the long term. "Because that is certainly how we look at this relationship," she said.
Harrington's speech was part of an agenda that included the annual announcements of the Postma Young Professional Medal and the Muddy Boot Award, which recognizes individuals who, through their work, make Oak Ridge a better community.
This year's Muddy Boot winners were Dan Hurst, CEO and founder of Strata-G and former legislator, businessman and current Deputy to the Governor Jim Henry.
Ann Weaver, facilities engineer at ORNL, was awarded the Postma Award, which recognizes outstanding young professionals.
Also recognized at the luncheon was Atomic Trades and Labor Council President Steve Jones, who is retiring from Y-12 after more than 40 years on the job. He is also ending his position with the ATLC after successfully negotiating a new 5-year contract. "It's time to take a breather," said Jones.