A presidential pick and a long-time Y-12 winner
Posted: Monday, April 4, 2016, 10:53 am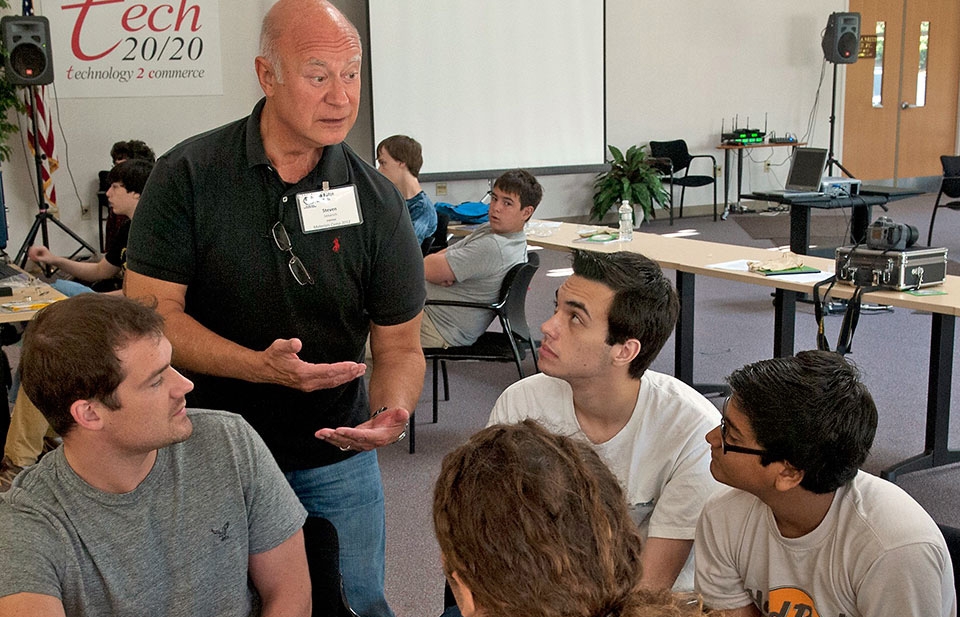 Steve Dekanich shares his enthusiasm for materials science with students at the ASM International Materials Camp.

Y‑12 senior metallurgist Steve Dekanich will receive the 2015 International Metallographic Society (IMS) President's Award at this year's meeting in July.
"It brought me great pleasure that my first act as IMS president was announcing my friend and mentor, Steve Dekanich of the Y‑12 National Security Complex, as the President's Award recipient," said Jaret Frafjord, director of IMR Test Labs in Portland and former Y‑12 colleague of Dekanich's. "Steve is a long‑time member of IMS, a past Jacquet‑Lucas (an international award for excellence in metallography) winner, past IMS organizer for the Microscopy & Microanalysis conference and past officer of the board of directors. Steve is currently an editor for the IMS journal, Metallography, Microstructures, and Analysis, and the unofficial IMS historian. I am forever grateful that Steve introduced me to the society and encouraged me to become involved."
This award adds to the confirmation that Dekanich's work is internationally known and respected among his peers, but many at Y‑12 and in the east Tennessee area also have known he does great things for years—especially when it comes to sharing his knowledge. From introducing local high schoolers to the field of materials science for the last 11 years to gaining the attention of best‑selling author Patricia Cornwell with his research on the cause of the sinking of Civil War submarine the H.L. Hunley, Dekanich has applied his expertise with metals to not only help Y‑12 successfully carry out its missions but to help shape the next generation of researchers.
"I'm grateful to Y‑12 for allowing me the opportunity to share materials science with high school students through the ASM International Materials Camp," said Dekanich. "In the 11‑year period of the camp, we had 12 students enroll in the Engineering Department at the University of Tennessee. The best part is seeing that same spark kindled in several of the students who chose materials science as a career."
Working with the Phased Array Ultrasonic Testing Team, the successful Plant‑Directed Research, Development and Demonstration project, Dekanich advanced the technique used to detect flaws in metal. He not only spelled a win for weld inspections at Y‑12 but also (you guessed it!) created a customized training session for inspectors at Y‑12 and externally.
While awards are not something Dekanich strives for, it certainly puts the proverbial icing on the cake.
"Receiving the President's Award was a total surprise and never imagined. To be unexpectedly recognized for something that I enjoy doing truly adds to the fulfillment of my career," he said. "During my 45+ year career, metallography, metallurgy and materials science became a passion. That passion led me to involvement with three uranium enrichment processes; materials applications for the U.S. space station, the Navy Seawolf program and the Star Wars program; weapons development; plasma spray filter development; and serving as chairman and principal investigator on catastrophic material failures as well as many other things. In all honesty, I'm as excited now about materials science as I was 45 years ago," he said.