Taking safety into their own hands
Posted: Thursday, June 27, 2019, 3:29 pm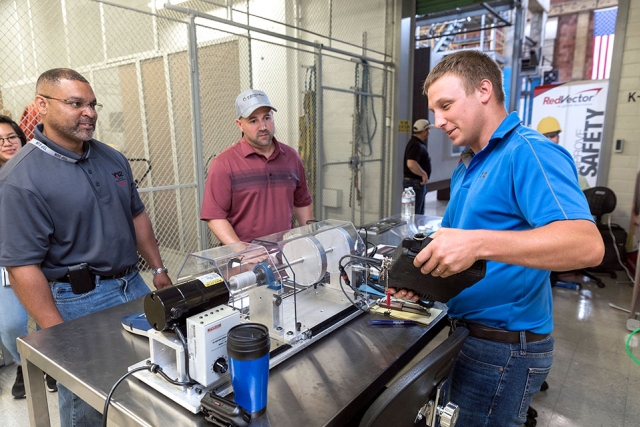 Infrastructure's Proactive Safety Team offers Vendor Days where outside companies bring in and demonstrate safety equipment.

Y-12's Infrastructure group developed a Proactive Safety Team in 2015, but they've never quit working to improve the program that uses a proactive approach to predict and mitigate accidents and incidents before they occur.
As Infrastructure's Linda Fiore explained, "To quote William Blake, 'Hindsight is a wonderful thing, but foresight is better, especially when it comes to saving lives.'"
The team has several components — Floor-Up Safety, High-Hazard Senior Review Board, Injury Review Board, PST Tool and Clothing Committee, Vendor Days, and Voice From the Floor.
Fiore said the Voice From the Floor aspect has resulted in several successful examples demonstrating the intent of the Proactive Safety Team.
"The PST process is about changing the culture from a top-down approach to safety to a bottom-up for leadership to support and encourage," she said. "Listening to those who do the work every day is crucial because they are the ones with hands on and eyes on experience with so many places at the site."
Each Infrastructure crew brings five Floor-Up Safety topics each week — one for each day of the week with an extra to "keep in the bank." Four of the topics are work-related, and one is home-related. These topics are discussed, and a Y-12 Infrastructure Safety Flash can be generated for quick dissemination of critical safety information.
"We've had so many successes through the Proactive Safety Team," Fiore said. "We keep monthly highlight reports that give us a tremendous source of data to draw from and build on, and we are more than willing to share this data. We also open our Vendor Days, where outside companies bring in and demonstrate safety equipment, to all Y-12 organizations."