Weapon interns return as tomorrow's leaders
Posted: Tuesday, October 4, 2016, 9:03 am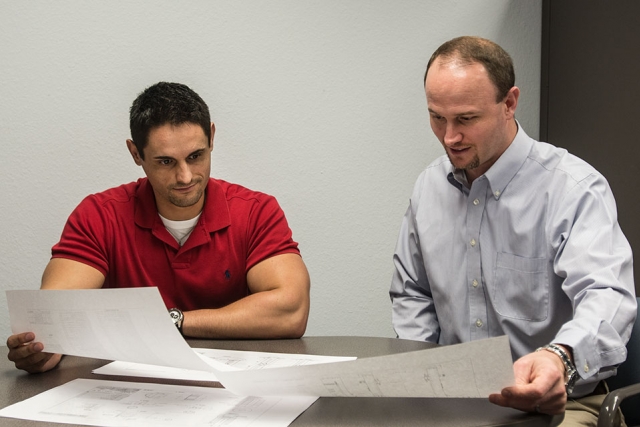 Tyler McClary (left) shares with Colby Yeary about participating in the WIP.

Consolidated Nuclear Security (CNS) once again has two employees participating in the Sandia National Laboratories Weapon Intern Program (WIP): Tyler McClary, Mission Engineering, and Brandon Pehrson, Y‑12 Operations. This highly sought-after internship teaches the technical details of weapon systems and provides site interactions that provide a comprehensive picture of the Nuclear Security Enterprise. Following that education, the interns work on a project with enterprise and personal value.
Both are looking forward to being a member of the WIP Class of 2017. "I hope to use the knowledge I gain to better serve the needs of Pantex," said McClary, who has been a Pantexan for almost five years and is a lead design engineer in Tooling & Tester Design.
Pehrson, a production specialist and Y‑12 employee for 11 years, said, "I want to learn more about the weapons parts and material function so I can understand impacts of changes. I also want to become an expert in the weapons field."
Colby Yeary and Eva Irwin of Program Integration, the CNS contacts for the program, realize there are many advantages for having Pantex and Y‑12 representatives participate.
Yeary said, "Our representatives provide a perspective from two key production agencies in the Nuclear Security Enterprise. Tyler and Brandon's perspectives, and those of past participants, offer production agency considerations that can be overlooked in important nuclear weapon product realization activities."
There are many benefits to the rigorous program. The first six months includes classroom work with site visits and research assignments. During the final five months, participants are embedded in various organizations across Sandia to work on specific projects.
"The interns are considered high potential and are able to develop and learn about the enterprise in an accelerated manner," Yeary said. "It took me the better part of a decade to get the exposure and knowledge they will receive in less than a year."
HaliAnne Crawford and Aaron Lee, the CNS representatives in the WIP Class of 2016B, offered advice to McClary and Pehrson. (During 2016, WIP had two classes.)
"No matter how daunting the next 11 months seem," Lee said, "just jump in with both feet first as soon as possible. You have a limited time to learn as much as you can about a topic that is truly vast. Don't waste a moment of the next 11 months because it will fly by."
Crawford echoed Lee's sentiment. "My advice is to get involved with the program, both inside and outside the classroom. Don't be a passive participant. You will be learning from some of the greatest minds in our industry; ask questions and don't be afraid to think outside the box.
"You will find that your classmates are some of the most brilliant individuals you will ever have the pleasure of working with," Crawford said. "Get to know them, learn from their experiences and leverage their knowledge and abilities whenever possible. This year will be one of the best of your life. Enjoy every single second of it."
Lee agreed: "Listen to your classmates. They will have just as much to teach you as the instructors do. Members of my class represented almost every other site within the NSE as well as NNSA and the military. They had knowledge and perspectives on certain topics that were completely different from my own due to their own different experiences. Everyone brought unique experiences to the program and had a lot of knowledge to share with the class."
After the internship, WIP participants return to their respective sites to continue their leadership journeys. Yeary said, "The WIP prepares today's workforce as tomorrow's leaders by rapidly providing a holistic, yet reasonably detailed view of the nuclear weapons business. The program helps candidates connect dots to see the 'big picture' — an important attribute of senior leadership."