Y-12 joins nuclear community for "Big Event"
Posted: Tuesday, February 16, 2016, 6:43 pm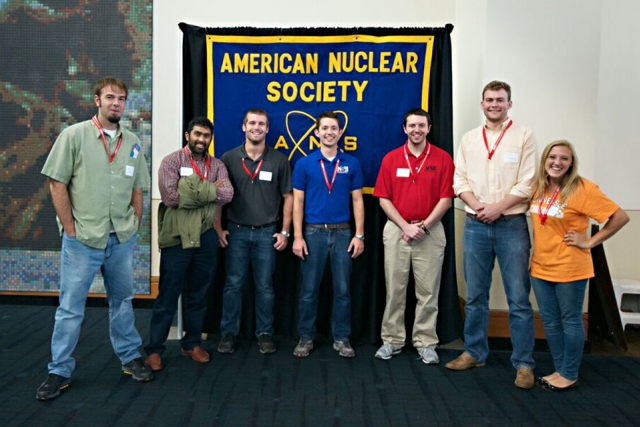 Y-12 Nuclear Science Week volunteers.

Educating people about the importance of nuclear science and inspiring youth to pursue their interests in science, technology, engineering and mathematics are vital components of the nuclear industry's success. Recently, Y-12 engineers in the Career ONE program joined other nuclear professionals in the Oak Ridge area for the "Big Event," Nuclear Science Week's biggest celebration.
Established by the National Museum of Nuclear Science and History, Nuclear Science Week is a nationally recognized annual celebration promoting all aspects of nuclear science. The week includes events of all sizes throughout the country and a big event in one designated city. In fall 2015, the American Nuclear Society Oak Ridge/Knoxville section hosted the Big Event at the Knoxville Convention Center.
"Nuclear Science Week inspires others to pursue STEM careers. Over 70 kindergarten through sixth-grade students attended this event. These children were from a variety of schooling scenarios — homeschool, Montessori, private and public. Participation in this event helps remind me of the vital role our science-based skills play in delivering on Y-12's mission," said Jon Richey, a mechanical engineer.
The Big Event features numerous interactive nuclear science and engineering activities, including nuclear detection demonstrations, cloud chambers, electromagnets, atom assembly and other exercises designed to inspire students. Participants include students, educators, employers and locals in the community.
Josh Lucheon, a chemical engineer, said, "Nuclear Science Week was a great experience to give back to the community and share our knowledge of science and technology with grade-schoolers. The hands-on experiments and demonstrations hopefully sparked an interest for focusing their education on STEM as they grow up. Additionally, the opportunity was very gratifying for me because knowing that I helped a child learn something for the first time is a great feeling. I had a blast!"
Like Lucheon, structural engineer Faheem Ahmed spoke positively about the experience of engaging the students to help them understand basic science concepts. He also said the Big Event not only benefited the students but also the professionals from different companies who attended. "We had the opportunity to network with one another. The camaraderie with fellow engineers and the opportunity to help the students made it a wonderful experience; I hope to participate again next year."
Richey, Lucheon and Ahmed participate in Career ONE, a job rotation program at Y-12 that allows new graduates to work in different engineering disciplines to help them discover the area that best suits their skills and interests.
John Latham also participated in the Big Event. At his STEM station, Latham worked with four to six children at a time, helping them understand magnetism by building a small electromagnet with a nail, copper wire and small battery.
"My favorite thing to hear from the kids was, 'I wonder what would happen if…?' I often replied, 'Hmm…I'm not sure; why don't you try it and see?' I thought it was a success if they left with more questions than they came in with, in keeping with Einstein's quote, 'The important thing is not to stop questioning. Curiosity has its own reason for existing.'"