I am Mission Success: Wayne Carlton
Posted: Thursday, February 17, 2022, 7:57 am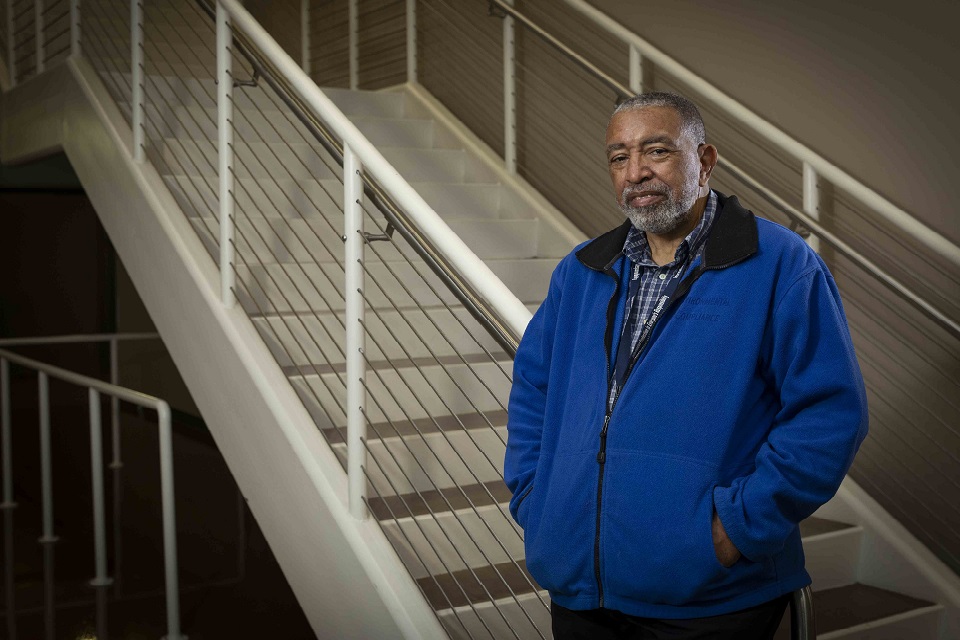 Wayne Carlton helps guide Y-12 to become a more recycling friendly workplace. Those efforts have earned him a Lifetime Achievement Award from the Department of Energy.
Take a few minutes and learn about Wayne Carlton, an environmental engineer at Y-12. All views and opinions are the employee's own and do not necessarily reflect those of Consolidated Nuclear Security.
At home, Wayne Carlton handles the trash, with a little "help" from his wife.
"I have to separate everything," he said. "She tends to put it all in one container."
At work, Carlton deals with the waste of thousands of employees as an environmental engineer at Y-12, where he is a major contributor to the plant's successful recycling and sustainability efforts. Because of his decades of work in those areas, he was given the Lifetime Achievement Award during the Department of Energy's 2021 Sustainability Awards, which recognized outstanding sustainability contributions of individuals and teams at DOE facilities across the country. In addition to Carlton's honor, Y-12's Recycling Program was honored with the Outstanding Sustainability Program Award for its long term recycling efforts. In FY 2020, the program recycled more than 3.8 million pounds of materials, which resulted in $1.1 million in cost avoidance.
"I was humbly surprised," he said about receiving the award. "As you work over the years, you do things because they need to be done and because you enjoy doing it. You don't think about awards."
Carlton's career, which began at Westinghouse Hanford Company in Richland, Washington, spans 40 years. He came to Y-12 in 1989 as part of the Clean Air Program, in which he assisted operations personnel prepare air permit applications for submission to the Tennessee Department of Health and Environment.
"I have many jobs," Carlton joked. Currently with the Y-12 Site Oversight Agreement Program, he monitors the development of information to fulfill the Oak Ridge Reservation Environmental Surveillance Oversight Agreement among DOE, the National Nuclear Security Administration, and the State of Tennessee. ESO assures Tennessee citizens that their health, safety, and environment are protected by DOE. In that role, he liaisons with government officials and external agencies. Also, Carlton is an auditor and inspector at treatment, storage, disposal, and recycling facilities, where he assesses their ability to meet requirements for handling, transporting, processing, and disposing DOE waste and material.
"I conduct audits at places where we send waste," he explained. "It's vendor verification. We have to make sure they live up to the contract and are compliant. A place can look really good on paper, but sometimes when you go out there, it's like no, no, no. We don't want things from Y-12 floating down the river."
Those "things" could include a wide range of recyclable materials, from aluminum beverage cans and tires to cooking grease and toner cartridges. Also on the list are wood pallets, which are taken away monthly and ground into mulch.
Carlton serves as a system administrator of the site's Environment, Safety, and Health directorate as well. In that role, he is responsible for the upkeep, configuration, reliable operation, and management of information technology desktop assets. Carlton advises and assists the Sustainability and Stewardship Program on technological improvements and the disposition of electronics. Also, in this position, he initiated and coordinated projects that integrated modern technology into various directorate operations. In addition, Carlton was integral in the replacement of the site-wide shredder and participated in the installation of BigBelly® solar powered, rubbish compacting bins, which provide a visible electronic warning when they are full.
At Y-12 for more than three decades, Carlton has seen the plant and society make major strides in recycling and sustainability.
"There's been real progress the last 20 years," he said. "Recycling has become more convenient now. If you make it more convenient, people will do it. It's a mindset. If it feels like a chore, you won't do it."
Are you doing what you envisioned as a young adult? If so describe how you got here.
I wanted to be an engineer, so I did that. But I also envisioned myself making a real contribution. Didn't want to be just a consumer.
What is your favorite aspect about your work environment? How does that aspect make you know the mission is being met?
Taking on a project and seeing it come to fruition. You will have pitfalls along the way, but there are always solutions for everything.
What work advice would you offer someone who is new to Pantex or Y-12?
Don't be afraid to fail. Work outside your comfort zone. Learn something new. Take on a challenge. Never just go through the motions. Keep on growing. Also, don't think things are going to come to you automatically.
What is your favorite outside of work activity and why?
I love landscaping, doing electrical work, any kind of do it yourself projects. Really enjoy doing things with my hands. The only thing is that my wife says I don't do the projects fast enough.
What one thing would your coworkers be surprised to know about you?
When I retire, I want to teach people about computers, be a real advocate for them. I want to help bridge the gap between technology challenged people and computers, help them get rid of the fear they have of them.