Quick-acting SPO contributes to a miracle
Posted: Tuesday, March 14, 2017, 4:01 pm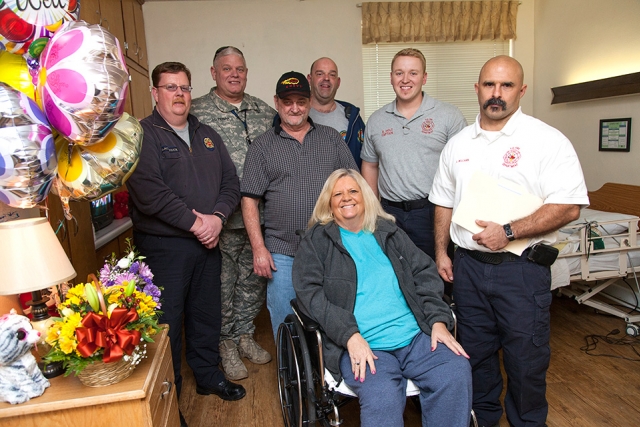 The Y-12 Fire Department paramedics and Security Police Officer who gave Freida Williford, front, lifesaving CPR visited her and her husband at the Harriman Care and Rehabilitation Center. From left behind her are, Justin Blackstock, Joe Perian, Keith Williford, Rick Dettmering, Brad Holt and Loyd Williams.

Radiation control technician Freida Williford and two coworkers had been working in the Y-12 Protected Area and were headed to lunch one day in a van. She remembers feeling strange — dizzy, with a severe headache. No, she didn't need to go to medical, she told her coworker; it would pass. That was the last memory she had before waking up in the hospital.
As she later learned, the time during her memory gap included lifesaving steps taken by Y‑12 employees and medical professionals that gave Williford a second chance at life.
What happened in between, lifesaving steps taken by Y‑12 employees and medical professionals, gave Williford a second chance at life.
Williford woke up on a ventilator in the hospital after surviving an aneurysm, a stroke, a heart attack, three cardiac arrests and brain surgery, all within a 24‑hour period.
Two months later, Williford is recovering at a rehabilitation center in her hometown of Harriman. That she can look forward to a full recovery is nothing short of a miracle, and that's why they call her, "Miracle Lady."
The nickname is not an exaggeration, said CNS Occupational Health Director Dr. Warren Sayre. American Heart Association statistics show a person who has one cardiac arrest has only a 12 percent chance of living.
"When you add in the complications of a heart attack and stroke with aneurysm, the percentage would be even lower," Sayre said. "If it had not been for the rapid response of her coworkers, this would be a very sad story. As it is, she is a living, breathing miracle."
The first link in Williford's miracle chain was Security Police Officer Joe Perian, who heard a van passenger exclaim, "She's not breathing," which triggered the first responder instincts of the former sheriff's deputy and city policeman.
Inside the van, Perian found Williford, collapsed to the floor, wedged between the seats. He called for an ambulance on his radio. He snaked his arm down to feel for a pulse, not finding one.
The driver moved a seat so Perian, a brawny 6'4", could maneuver Williford up, onto the van seat. Perian could see her airway was blocked, and her mouth was blue. He tilted her head back and to the side to open her airway and compressed her chest two or three times. Williford gasped and began breathing again, but it was labored. The men got her moved outside to the ground where Perian monitored her pulse and breathing.
All of that happened in fewer than three minutes before reinforcements arrived: two fire engines and an ambulance. When Williford's heart stopped again en route to the hospital, five paramedics took turns administering CPR: Trey Lawrence, Rick Dettmering, Eddie Johnson, Capt. Brad Holt and Loyd Williams.
Perian never thought he'd have to use his first responder training at Y‑12, since the site has its own emergency services. But he realizes a medical emergency could just as easily happen at a grocery store, restaurant, home or church.
"People need to not be afraid to render aid. Just clearing the airway could mean the difference between life and death," he said.
Fire Chief Scott Vowell praised Perian and the paramedics that formed the next links in the chain.
"The quick actions and response from Joe Perian and the fire/EMS response increased her chances of survival," he said. "It is a credit to the dedication of the Security Force and Fire Department working hand‑in‑hand to serve our family at Y-12."