UPF ironworker recognized as Apprentice of the Year
Posted: Monday, August 5, 2019, 11:15 am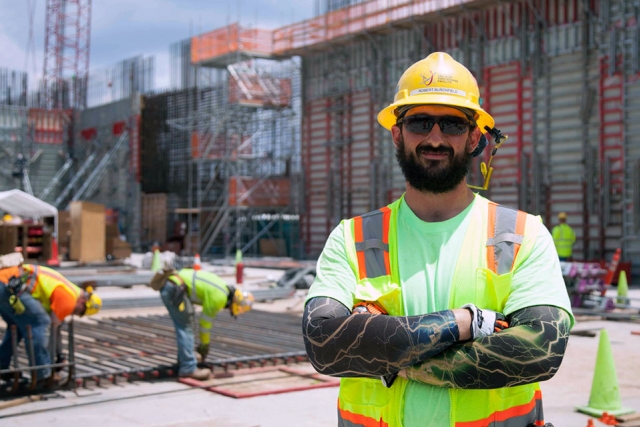 UPF Ironworker Robert Burchfield was chosen as Local 384's Apprentice of the Year and represented the local union at the 30th Annual Outstanding Apprentice of the Year Competition in Atlanta, Georgia.

Uranium Processing Facility Ironworker Robert Burchfield was chosen as the Apprentice of the Year from Ironworkers Local 384. He represented the local union in the Ironworkers District Council of the Southeastern States 30th Annual Outstanding Apprentice of the Year Competition during June in Atlanta.
Ironworkers 384, based in Knoxville, represents union members from parts of Georgia, Kentucky, North Carolina, South Carolina, Tennessee, and Virginia.
Fourteen apprentices participated in the two-day competition that tested their abilities in seven skill areas including welding, climbing a column, tying rebar, and rigging. The competition is a way to recognize outstanding apprentices and is an opportunity for them to get to know each other. The apprentices visited the Atlanta training center to see how ironworkers there learned some of their techniques.
"One cool part was we all brought a t-shirt from our local union and exchanged them with the other guys," Burchfield said.
Awards were given in multiple categories. Burchfield won third place in tying rebar.
"We do a lot of that at UPF," he said.
Burchfield has worked at UPF as an apprentice for 14 months. Every few months during the three-year apprentice program, apprentices attend specialized training classes to learn core ironworker skills like rebar, rigging, scaffolding, and welding. This is combined with on-the-job training. Burchfield started his apprenticeship in August 2017 and has about a year left to complete before he becomes a journeyman.
This is the third year in a row that Local 384 has sent an apprentice to compete. Burchfield was nominated by his training coordinator based on reports from work and observations from his training classes.
"It's an honor to be chosen," Burchfield said.