Building robots from Tennessee to Texas
Posted: Wednesday, January 11, 2017, 8:52 am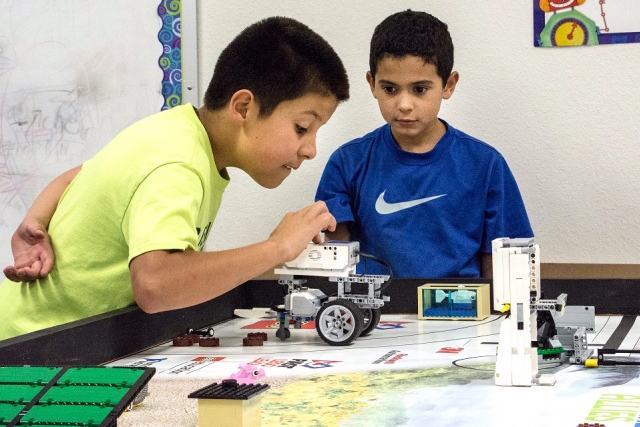 Bushland Independent School District robotics team members take turns testing their robots on the FIRST LEGO League practice field.

Texas and Tennessee have a history of working together. When Texas needed help in securing its independence from Mexico, it was Tennessee volunteers, led by Davy Crockett, who joined the fight.
Today, Consolidated Nuclear Security's two sites—Pantex in Amarillo, Texas, and Y-12 National Security Complex in Oak Ridge, Tennessee—are working together to support hundreds of children in who are competing in FIRST™ Robotics.
FIRST, which is For Inspiration and Recognition of Science and Technology, is an effort to get young people excited and involved in science and technology through robot games. FIRST is a national program designed for high-school-aged students who compete on a special playing field with robots they have designed, built and programmed.
"Students love games, and they love competition. FIRST provides both," said Kristin Waldschlager, Y-12's community and education outreach coordinator. "CNS believes in the goals of FIRST and is committed as a sponsor, both with funding and mentoring," she said.
In addition to learning about science, technology, engineering and mathematics, students also learn about business, leadership, media and cooperation.
"This is exactly the type of activity CNS wants to support," said Mark Cook, a CNS engineer and team robotics mentor. "This is one of the best activities to get high school students excited about science, math, technology and engineering."
The students work together for six weeks leading up to the competition. Adult mentors guide the students as they work to perfect their robots for competition.
This year, CNS is sponsoring nine teams in Tennessee: L&N STEM Academy; Bearden, Clinton, Farragut, Hardin Valley, Oak Ridge, Roane County and South-Doyle high schools; and Webb School of Knoxville.
In Texas, CNS sponsored two teams—Amarillo Area Center for Advance Learning and Caprock High School. CNS also provided funds to the Bushland Independent School District for the 2016–2017 school year. These funds are being used to expand the program to the FIRST Tech Challenge for seventh through 12th graders and, eventually, a FIRST Robotics Challenge team for 10th- through 12th-grade students.
"Like in any sports, you don't wait until high school to build athletes and team concepts," said Bushland Independent School District teacher Jessica Patterson. "The same is true for education. You don't wait until college to build engineers."
In addition to her regular teaching duties, Patterson also is a robotics mentor. "Adult supervision is very important," she said. "The adults set the tone. They are the experts."
On that front, CNS engineers are a valuable commodity. Many volunteer as mentors to local teams helping to educate and support tomorrow's scientists, engineers and mathematicians.
Randy Dziendziel, senior director for CNS Development, said FIRST® is a "great program that teaches students how to partner, manage, communicate and think on the fly."
This year's competition schedule is set.
For Tennessee, the big competition will be the seventh annual Smoky Mountains Regional, a 50-team event March 24–25 at Thompson-Boling Arena on the University of Tennessee, Knoxville campus. The competition is sponsored by CNS.
In Texas, teams will compete in regional tournaments throughout the state with the help of CNS funds.
CNS also supported middle school students at the LEGO League level by providing funds to the Bushland Independent School District in Texas and to the Jefferson Middle School's EV3 MINDSTORMS® Boot Camp in Tennessee.