New scale at Y-12's Third Mill worth the weight
Posted: Monday, April 17, 2023, 9:38 am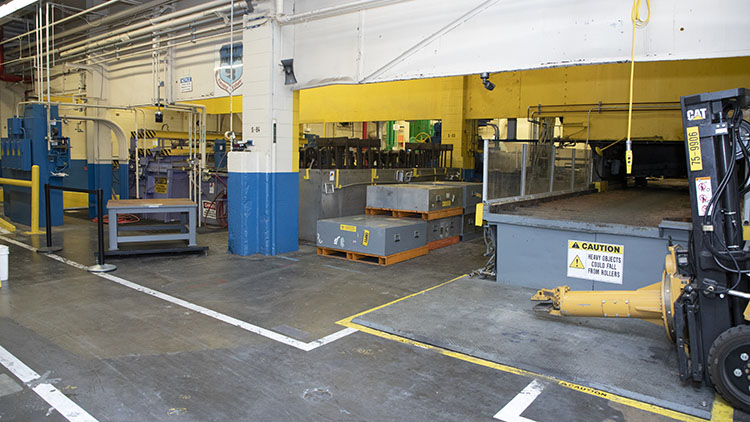 A new scale, left, is now about 10 ft. away from the rolling mill, right, at Third Mill. A forklift manipulator, far right, carries depleted uranium plates to the scale. Before the new scale was installed, the forklift had to travel about 150 ft. to reach the scale.
A new scale at Third Mill shows a project does not have to cost millions of dollars to hold a lot of weight at Y-12. The device was installed in Building 9215, where depleted uranium is processed. The scale cost about $3,000 and has shaved 32 minutes off each individual billet campaign, which translates into many hours saved each year and increased productivity.
The scale replaces an older one that was located more than 150 ft. away from the rolling mill where the billets (bars of metal) are rolled into plates. A forklift with a manipulator carries the individual plates from the rolling mill to the scale to be weighed and then places them on a rack.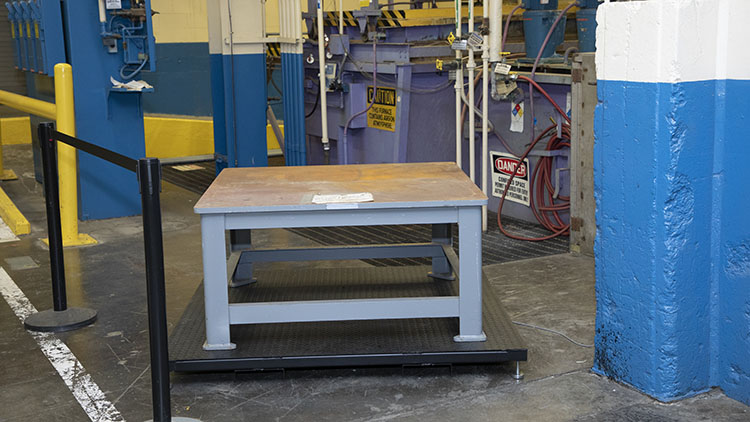 The new scale cuts 32 minutes from a metal process. A rack, on which rolled plates are placed, sits on top of it.
Previously, the forklift had to travel down a long hallway to get to the scale, which took a bit of time. The new scale is now about 10 feet from the rolling mill, which reduces travel time for each billet run. A billet yields 16 plates, and the forklift took 2 minutes to transport each plate to the scale, which amounted to 32 minutes per billet run. With the scale now just a few feet from the rolling mill, the drive time is drastically shorter.
In addition to the time savings, the scale has freed up the mill, reduced material handling and movement, and decreased concerns of transporting material through the area. There is more time on the mill for additional work, and the shorter distance to the scale increases efficiency and decreases risk of injury.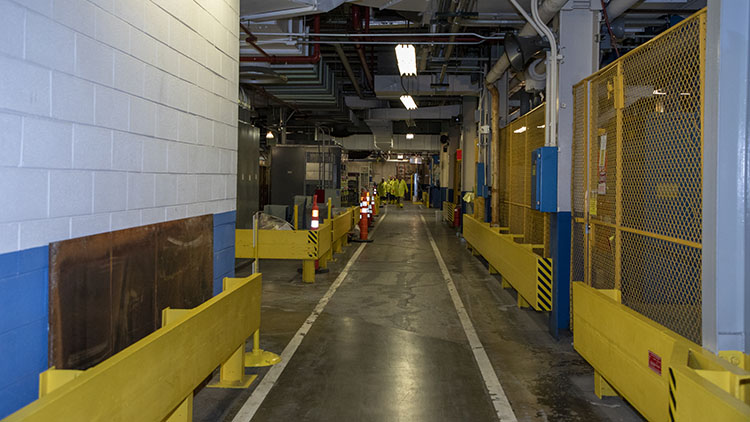 Before the new scale was installed, a forklift carrying individual plates had to travel down this long hall to a scale.