From Oak Ridge teacher to Y-12er, Jeff Hankins has a big mission impact
Posted: Wednesday, June 7, 2023, 7:38 am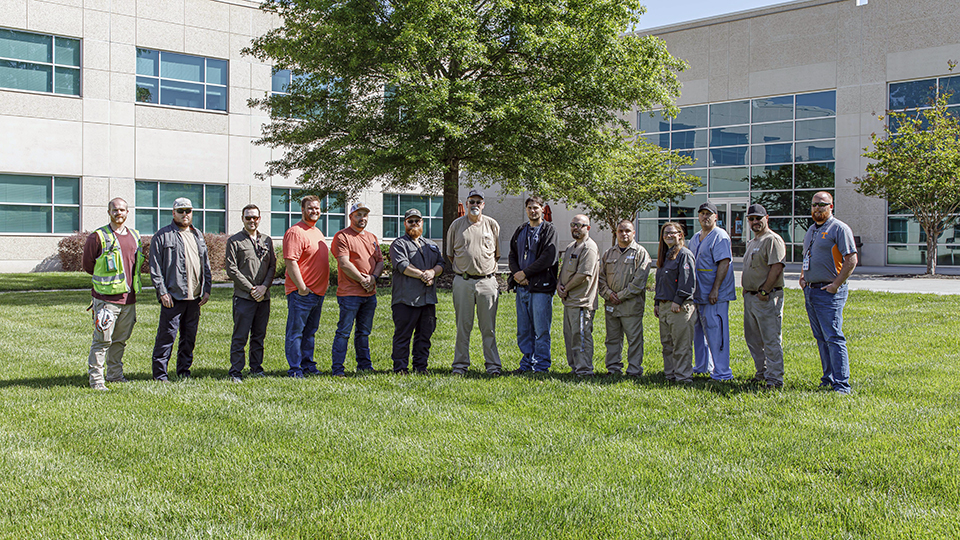 Jeff Hankins (center) now calls nearly two dozen of his former students coworkers.
Jeff Hankins has been a Y-12 certified welding inspector since 2021. He is considered a subject matter expert in the field of welding and weld inspection. His willingness and demonstrated ability to work with welders, inspectors, and engineers have made him a valued addition to the Y-12 team. However, he has had an impact at Y-12 long before he started coming through the gates each day.
It's his interpersonal skills that set him apart, according to his supervisor, Donnie Cardwell, who said Hankins has a positive impact on everyone he meets.
"Jeff has a student-oriented teaching style and the ability to adjust his approach to suit the individual," Cardwell said.
That teaching style is well earned. For years, Hankins taught welding at Oak Ridge High School. His former students number in the hundreds. At Y-12, more than 20 workers started their welding career paths learning from him in high school.
"I think I was meant to be a teacher. That is what I am," Hankins said. "But I am a teacher who possesses other skills that enable me to earn a good living."
Hankins said that his goal at Y-12 is to do as good a job as possible and that he is content where he is, although he admits he misses teaching. Cardwell and others who work with Hankins will tell you that he may not be a teacher by trade any longer, but he is still teaching.
Among his former students is Matthew Spangler, who works for Y-12 Infrastructure.
Spangler said he still remembers welding class and how Hankins was not just a teacher but also a father figure to him. Spangler's father died when he was a young teen, and he admits he did not handle it well.
"I was on a downward spiral and running with a tough crowd," Spangler said. "Jeff held me to a higher standard. He offered me a way out of the direction I was headed."
More of Hankins' former students who now work at Y-12 tell similar stories.
Brandon Collier, a production supervisor in Special Materials Operations, said, "His teaching style got through to a bunch of knuckleheaded kids with no sense of direction for where they wanted to be after high school."
Another former student is Matthew Gwyn, who works as a welder. He said, "Wow, I could write a book on all of the moments and experiences I had with Jeff that led me to be the man I am today.
"There were so many of us in that class that had been forgotten and abandoned by the system, but Jeff saw us all as his kids, and we knew and felt it — even the troubled ones whose future was a drug overdose or jail. He showed us there was more to our lives than what we saw in our broken homes and that we could be better."
Erica Heckman, a welder for East Mission Support, met Hankins when she was a freshman. She said Hankins was the one person in her life who believed in her.
"I was a kid in school who teachers said would never be successful because I was not a bookworm. But Mr. Hankins disagreed — and told me so," Heckman said. "He encouraged me to listen and learn from him, and work hard, and I would be successful. He taught me that I could work with my hands and make a good living."
Hankins is humbled by the praise.
"Outside of my family, there is nothing in my life I am prouder of than seeing my former students working in a trade I taught them, supporting their families, and earning the money I told them they could," he said.
"Teaching was the best job I ever had — not the most lucrative, but the most rewarding."
Hankins' impact on Y-12's mission as a weld inspector is multiplied through the work of his former students, who he is proud to now call coworkers.