Y‑12 employee braves cold water to save a life
Posted: Tuesday, March 22, 2022, 3:58 pm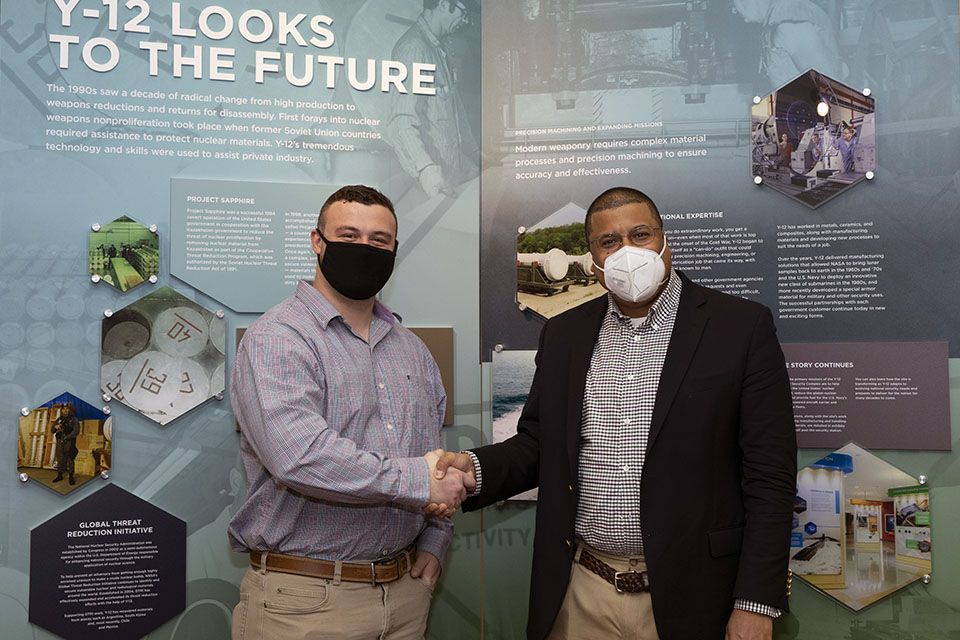 NNSA Principal Deputy Administrator Frank Rose (right) shakes hands with Y‑12 employee and local hero Brody Roberts during a recent site visit. "Meeting Brody was a highlight of my trip to Y‑12. He is a stand‑up example of excellence in character," said Rose.
Y‑12 employees go above and beyond at work each day to deliver on the site's national security mission. But the commitment to excellence doesn't stop at the end of the day. During recent winter weather, one employee literally jumped into action to save a stranger in need.
Even with an impending forecast of snow, it was a typical evening for Brody Roberts, Y‑12 project waste engineer and Roane County resident. After a full day of running errands and eating dinner with his family, Roberts decided to hit the gym before the roads became dangerous. But shortly after leaving the restaurant, his evening turned from typical to terrifying.
"I had been driving for five minutes before I approached a truck in the road," Roberts recounted. "As I slowed down I looked at the lake and saw a car out there. My first thought was, 'How I could help?'"
He immediately pulled over and jumped out. "There was a person on the phone with 911 who mentioned someone was still in the car," Roberts explained.
Roberts sprang into action. Removing his outer layer of clothing, he jumped in the frigid water. As he reached the vehicle, which had just completely submerged, he opened the door and saw a woman was still buckled. Roberts and the woman unlatched the belt, and he helped her swim to the surface.
"As soon as we made it to the surface, I was instantly relieved," Roberts said. "I was even more relieved when she said she was the only one in the vehicle."
After swimming to dry land, a group of bystanders wrapped Roberts and the woman in coats.
"It was the coldest I have ever been," said Roberts.
The woman was taken to a nearby hospital with non‑life‑threatening injuries, and Roberts decided he could skip the gym.
When asked why he decided to jump into the near‑freezing lake, risking his own life, Roberts replied "I was only doing what I hope others would do for me and my family."