CNS announces employee-directed community grants
Posted: Thursday, May 5, 2016, 3:20 pm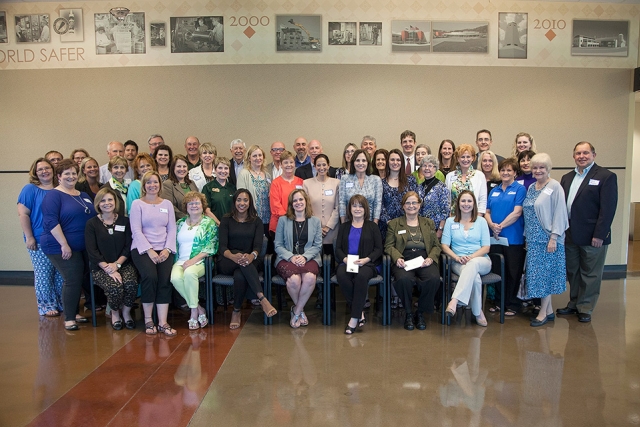 Recipients of the Consolidated Nuclear Security, LLC Y-12 Community Investment Fund. The employee-directed fund provided grants totaling $180,000 to 30 nonprofit organizations in 10 East Tennessee counties.

OAK RIDGE, Tenn. – Expanding the availability of school supplies for children in distressed areas. Providing door-to-door transportation to senior citizens who can't get to medical providers. Pairing at-risk children with horses rescued from abuse. These are just a few examples of the outstanding work going on in East Tennessee and supported by the Consolidated Nuclear Security, LLC Y-12 Community Investment Fund.
The employee-directed fund provided grants totaling $180,000 to 30 nonprofit organizations in 10 East Tennessee counties. The fund is administered by the East Tennessee Foundation (ETF), which issued a call for grant proposals in December. More than 70 East Tennessee nonprofits responded. The winning agencies were honored at a reception on May 4, 2016, at New Hope Center in Oak Ridge.
CNS is the managing contractor at Y-12 National Security Complex in Oak Ridge and the Pantex Plant in Amarillo, Texas. CNS began its partnership with ETF last year, organizing the CNS Y-12 Community Investment Advisory Committee. The committee is comprised of Y-12 employees who reviewed applications and recommended grants to support nonprofit organizations with projects that addressed one or more of the committee's four focus areas: education, senior citizens, veterans and youth.
"It was a really tough process," said Mike Fierley, chairman of the Y-12 employee committee. "There were so many worthy projects, but we had to make decisions with the dollars we had available. I think our fellow Y-12 workers will be happy with our choices."
"Y-12 has a long history of supporting our surrounding communities, and we are extremely proud to continue our employees' legacy of giving by turning to our employees to help us fund so many worthy causes through the CNS Y-12 Community Investment Fund," said Y-12 Site Manager Bill Tindal.
As part of its commitment to its host communities of Amarillo and Oak Ridge, as well as their local counties and regions, CNS organized Community Investment Advisory Committees at both sites, and partnered with the Amarillo Area Foundation (AAF) and East Tennessee Foundation to establish community funds. The Pantex committee and AAF recently awarded more than $170,000 in grants to 19 organizations in Amarillo and across the Texas Panhandle.
"Our goal was to give our employees more of a voice in determining where corporate dollars are invested in the communities where they work, live, and volunteer," said Jason Bohne, CNS Communications and Public Affairs director. "Thanks to the dedicated efforts of our employee team and the community foundations, we are confident that these grants and their recipients will have a positive impact across East Tennessee and the Texas Panhandle."
The grants from the CNS Y-12 Community Investment Fund have been awarded to the following organizations:
| | |
| --- | --- |
| Organization | Project summary |
| Aid to Distressed Families of Appalachian Counties | ADFAC's School Supplies Program will expand into Morgan County, and a home repairs program will benefit elderly Morgan County homeowners. |
| Anderson County High School | Several members of the High School Navy JROTC will represent our state in Honolulu at the 75th anniversary commemoration of the Pearl Harbor Attack. |
| Boys & Girls Clubs of the Clinch Valley | Membership dues and fees will be partially "covered" for qualifying families than cannot afford the full cost. |
| CASA Monroe | CASA Advocates will be recruited and trained to advocate for abused and/or neglected children in Monroe County. |
| CASA of the Tennessee Heartland | CASA's Fostering Futures Program will help empower foster youth to live independently once they have "aged out" of Foster Care. |
| Children's Museum of Oak Ridge | Full and partial scholarships will be provided so that low-income, at-risk children can attend the Imagination Station summer camp program. |
| Emory Valley Center | A "smart classroom" will be created in the Early Learning Center to enhance the educational opportunities for children. |
| Habitat for Humanity of McMinn County | Materials and equipment will be purchased to build a home for a veteran in McMinn County. |
| HonorAir-Knoxville | East TN WWII, Korean War, and Vietnam War veterans will be honored by flying them to Washington D.C. to see the memorials built in their honor. |
| Hope Reins | The Healing Hearts program will pair at-risk children with horses rescued from abuse, for a program which will provide hope, healing and change for the children. |
| Jefferson Middle School | A LEGO Boot Camp will be established for students, and the school will host the Atomic City Invitational LEGO robotics competition later in the year. |
| Knox Housing Partnership dba HomeSource East Tennessee | Children and community artists in the Five Points community will design a logo or image that will be used on signs throughout neighborhood, thereby instilling community identify and pride. |
| Mane Support, Inc. | "Horses Helping Heroes" is a military program that will provide serves for members of the military and their families. |
| Michael Dunn Center | Children younger than three years of age who have been identified as having developmental delays will benefit from early intervention services. |
| Mid-East Community Action Agency | Door-to-door transportation assistance will be provided for senior citizens who need help getting to their medical and wellness appointments. |
| Mid-East Community Action Agency/Roane Imagination Library | Roane Imagination Library will purchase and mail quality, age-appropriate books to enrolled children in Roane County. |
| Monroe County Boxing Club | Gym equipment, uniforms, and registration fees will be provided for youth who cannot afford boxing fees and travel expenses to compete in tournaments. |
| Monroe County Health Council | "Monroe on the Move" will provide educational and physical activity programs for children and their families. |
| Oak Ridge High School | Students will train on state-of-the-art manufacturing technology equipment for mechatronics vocations. |
| Pellissippi State Community College | The "Manufacturing and Coding Academy" is a four-week summer program that will train rising 6th grade students in Electronics, Robotics, Internet Security, and 3-D Printing. |
| Ridin' High, Inc. | At-risk boys who are residents of the Helen Ross McNabb Center will participate in the Therapeutic Horse Program to work on their anger management, communication and other skills. |
| Roane County Anti-Drug Coalition | The SMART (Skills Mastery and Resistance Training) Moves program uses a team approach to teach substance abuse prevention skills to youth. |
| Roane State Community College (RSCC) Foundation | Students from Anderson County high schools will be trained for advanced manufacturing jobs by enrolling in mechatronics courses at RSCC. |
| Scott County Shelter Society | Victims of domestic violence and their families will be provided with educational opportunities and job skills to help them become independent from their abusers. |
| Second Harvest Food Bank of East Tennessee | The "Healthy Food Initiative" will increase the amount of nutritional food distributed throughout the 18-county region served by Second Harvest. |
| Shangri-La Therapeutic Academy of Riding (STAR) | "Heroes and Horses" is an equine-assisted activity that provides therapeutic horse riding specifically for veterans with disabilities. |
| Smoky Mountain Service Dogs | Service dogs are acquired and trained to provide mobility assistance for disabled veterans, at no cost to the recipients. |
| Tellico Village Computer Users Club | The "Technology Access Program" refurbishes donated computer hardware and then provides those computer systems free-of-charge to needy school children in East TN. |
| Tennessee Stage Company | Two series of acting and performance classes will be specially designed for senior citizens at the O'Connor Senior Center. |
| Volunteers of American Mid-States | The "Homeless Veterans Reintegration" program will provide food and transportation assistance to veterans in East TN. |
| | | | |
| --- | --- | --- | --- |
| No. of Grants per Category | Focus | # Apps. | Funding |
| | Education | 8 | $48,660 |
| | Veterans | 6 | $48,610 |
| | Youth | 14 | $77,670 |
| | TOTAL | 30 | $180,000 |
| No. of Grants per County | County | # Apps. | Funding |
| | Anderson | 8 | $45,705 |
| | Blount | 3 | $15,650 |
| | Grainger | 1 | $9,040 |
| | Hamblen | 1 | $2,500 |
| | Knox | 4 | $25,180 |
| | Loudon | 3 | $21,460 |
| | McMinn | 1 | $10,000 |
| | Monroe | 3 | $18,805 |
| | Roane | 5 | $24,660 |
| | Scott | 1 | $7,000 |
| | TOTAL | 30 | $180,000 |
ETF was established in 1986 with a mission of enriching lives and strengthening communities in East Tennessee. The foundation is celebrating its 30th year as a regional community foundation serving 25 counties in East Tennessee.
For more information, please contact Jan Elston, Vice President for Competitive Grant Programs for ETF, at (865) 524-1223, toll-free at 1-877-524-1223 or via email at jelston@etf.org, or Jason Bohne at CNS at 865-241-1400 or Jason.Bohne@cns.doe.gov.
Follow Y-12 on Facebook, Twitter, YouTube and Flickr.
###