Y-12, Pantex teams celebrate NNSA Defense Programs awards
Posted: Friday, September 15, 2023, 10:51 am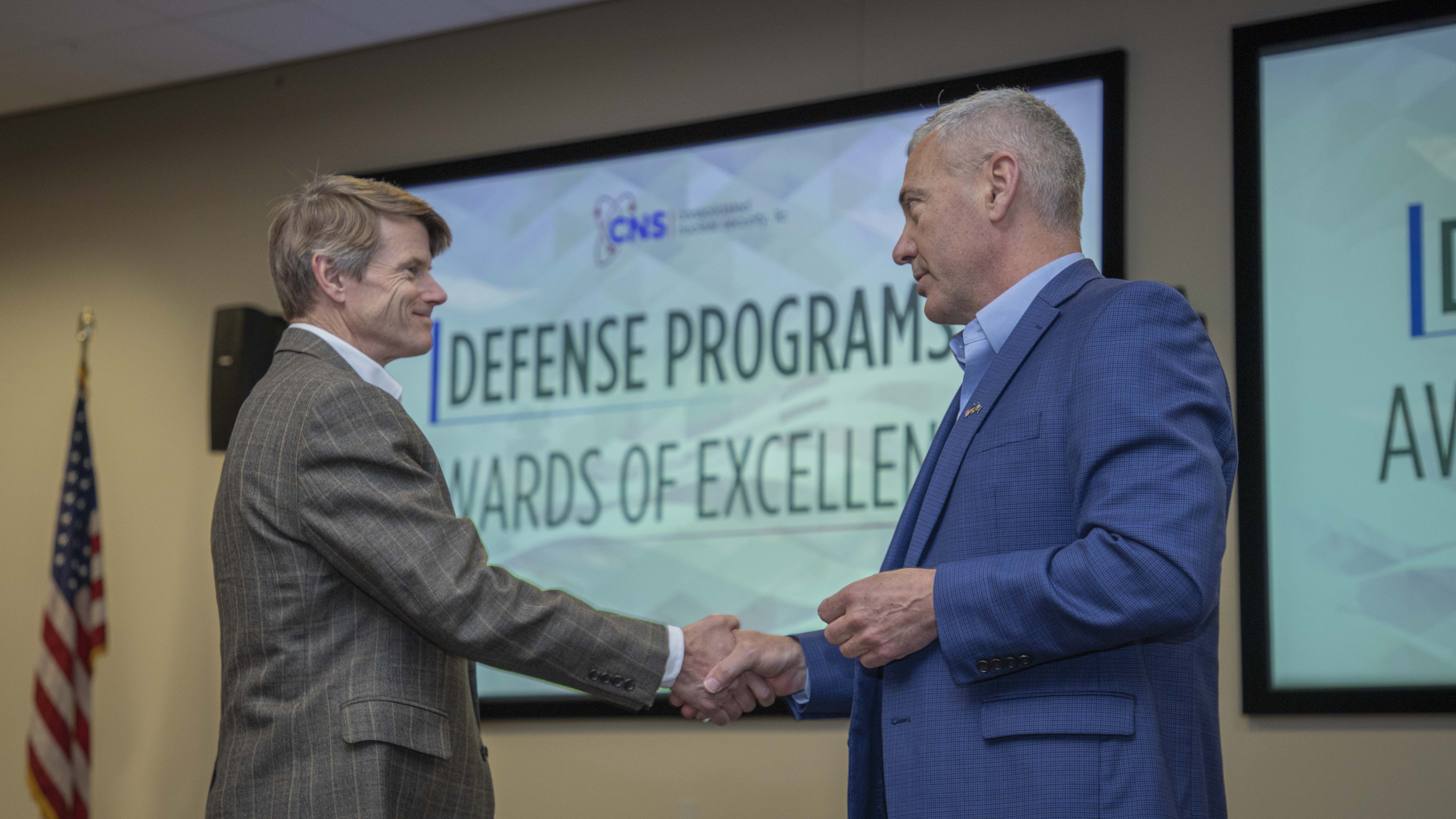 Marvin Adams (left), National Nuclear Security Administration (NNSA) Deputy Administrator for Defense Programs, shakes hands with Y-12 Site Manager Gene Sievers (right), during a ceremony honoring recipients of Defense Programs Awards of Excellence.
Oak Ridge, Tenn.— Ten outstanding teams were recognized during award celebrations at Y-12 National Security Complex and the Pantex Plant for National Nuclear Security Administration (NNSA) Defense Programs (DP) Awards of Excellence. The winning teams met or exceeded criteria that directly contribute to the sites' national security mission. More than 250 Consolidated Nuclear Security employees were involved in the projects that were recognized in the 2021 awards.
At a ceremony to recognize the 2021 winners, Y-12 Site Manager Gene Sievers said, "Representatives from Defense Programs select Award of Excellence winners from a large number of applications across the Nuclear Security Enterprise. These folks know the positive impacts of your work, and the awards you're receiving today are a clear recognition that you are making a difference for our nation."
At a similar ceremony in Amarillo, Pantex Site Manger Colby Yeary said, "We celebrate the hard work of the men and women who ensure America's nuclear deterrent provides security to our nation and a warning to our adversaries. We continue to lead by example in our commitment to excellence, and the results we're seeing in improved performance, deliverables, and innovation speak to the excitement I observe in my colleagues every day."
Awards recognize significant accomplishments
Teresa Robbins, NNSA Production Office manager, noted, "Recipients of this award have made notable and significant achievements in providing increased quality, productivity, cost savings, and innovations, that enhance the agility and reliability of our nuclear deterrent.
The Defense Programs Awards of Excellence were established in 1982 to recognize significant individual and team accomplishments in support of NNSA's nuclear weapons program. An executive review panel meets annually to select the winners.
Marvin Adams, NNSA Deputy Administrator for Defense Programs told recipients, "I am simply amazed at the accomplishments our workforce and the wider enterprise makes each year. Our government leadership, American citizens, the warfighters we support, and our allies can rest confident because of your valuable contributions."
At Y-12, the winning projects for 2021 were:
transferring technology for Demonstration of Alloy Recycling via Electron Beam Cold Hearth Melting,
reestablishing a process for the Joint Qualification Efforts,
Profilometer Project Completion that provides surface analysis of certain components,
Stockpile Surveillance Capability Restoration that allowed a stockpile surveillance capability to return to full operation, and
the Weldbox Restart Team, which contributed to a depleted uranium project that was used for the first time in 15 years.
At Pantex, the winning projects for 2021 were:
completion of the B61-12 LEP First Production Unit ahead of schedule,
implementation of Lightning Detection and Warning System Upgrades that will improve the ability to ensure the safety of production operations,
Utilization of Interim Quality Release that saved 64 days of potential production delays, and
culmination of a 10-year effort that produced the W88 ALT 370 First Production Unit ahead of schedule.
A multi-site project for which both Y-12 and Pantex received 2021 awards was:
Gas Mass Spectrometry Coordination that certified the machine to serve as a backup for Y-12 while a commonly used gas mass spectrometer was repaired.
###
Consolidated Nuclear Security, LLC operates the Pantex Plant, located in Amarillo, Texas, and the Y-12 National Security Complex, located in Oak Ridge, Tennessee, for the U.S. National Nuclear Security Administration. Bechtel National, Inc. is the lead member of CNS; minority members include Leidos, Inc.; ATK Launch Systems, LLC; and SOC LLC. Pantex and Y-12 are key facilities in the U.S. Nuclear Security Enterprise, and CNS performs its work with a focus on performance excellence and the imperatives of safety, security, zero defects, and delivery as promised.
For more information on each site, visit www.pantex.energy.gov or www.y12.doe.gov. Follow Pantex on Facebook, X or LinkedIn. Follow Y-12 on Facebook, X, and LinkedIn.
CONTACT
Kathryn King, APR
Communications
Office (865) 315.5996
Kathryn.King@pxy12.doe.gov
Follow Y-12 on Facebook, Twitter, YouTube and Flickr.
###