UPF Leads Tennessee in Polar Plunge Fundraising
Posted: Tuesday, March 27, 2018, 5:02 pm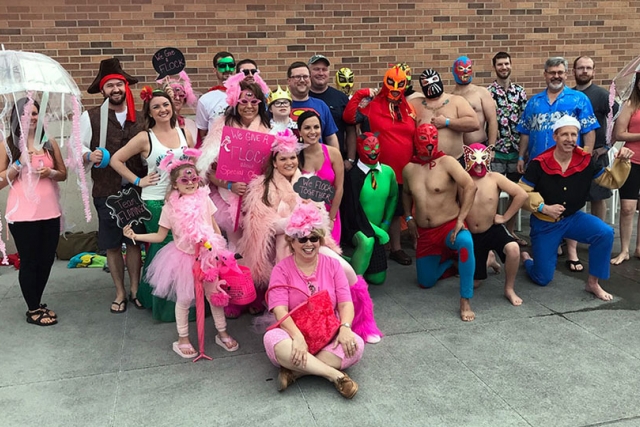 UPF employees raised more than $22,000 for Special Olympics Polar Plunge competition

UPF employees raised more than $22,000 for Special Olympics Polar Plunge competition
The Uranium Processing Facility project was the top fundraiser in Tennessee for the Polar Plunge for the second year in a row, raising a whopping $22,458 for Special Olympics Tennessee and giving the local organization a much-needed boost.
"It makes a huge difference to us," said Gina Legg, volunteer co-director of Special Olympics of Greater Knoxville for more than 12 years. "Up until last year, we struggled to stay above water. Last year we were able to get through the entire year and not hold our breath from month to month."
UPF was the top fundraiser in the state last year for the Polar Plunge, raising $14,230. The Project exceeded that total by more than $8,000 this year.
"We appreciate your help so much," Legg said. "It's been such a blessing to not worry about having enough funding."
About half of the donations raised from the Polar Plunge supports the local organization, Legg said, and the other half supports statewide activities. Locally, the funds pay for things like sports venues, equipment, transportation, lodging, and medals for the athletes.
The local chapter serves more than 1,500 athletes, providing them with year-round training and competition in 18 different sports. Special Olympics is funded solely by donations, and the organization's bylaws prohibit charging athletes for any portion of their Special Olympics experience.
In addition to being the top overall fundraiser, UPF had the top four individual fundraisers in the state: Cindy Ford, Ian Finnerty, Michael Martinez and Mitch Rose. Other UPF fundraisers were Matt Nuckols, Jon Engle, Dick Miller and Glenn Clemons.
"We have a lot of fun with the Polar Plunge," said Jamie Lesko, the president of NextGen, which sponsored the fundraiser at UPF, "but going to the event and meeting the athletes and the people involved with the organization gives you a better appreciation for the activities our donations support."