CNS announces employee-directed community grants
Posted: Wednesday, December 6, 2017, 4:26 pm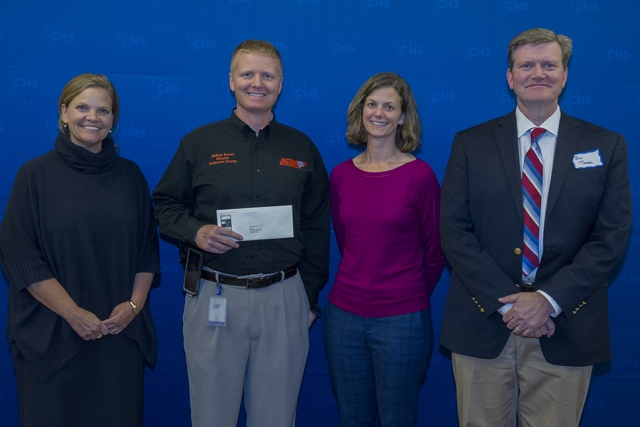 Anderson County EMS was one of this year's grant recipients. The grant will allow the service to equip each of its ambulances with to ensure safe transport of all children.


OAK RIDGE, Tenn. – The Consolidated Nuclear Security, LLC (CNS) Y-12 Community Investment Fund granted some $150,000 to sixteen nonprofits from 11 East Tennessee counties. The recipients were announced today during a reception at Y-12's New Hope Center.
The CNS Y-12 Community Investment Fund is managed by the East Tennessee Foundation and was created in 2014 by CNS. CNS manages and operates the Y-12 National Security Complex in Oak Ridge, Tennessee, and the Pantex Plant in Amarillo, Texas, where a similar fund is managed by the Amarillo Area Foundation.
At Y-12, a committee made up of CNS employees reviewed dozens of grant proposals, conducted staff interviews, and made site visits before recommending funding based on the committee's three focus areas: arts and culture, health and well-being, and public safety and emergency services.
This year, the donor-advised fund awarded 16 grants to organizations in 11 East Tennessee counties. The counties included Anderson, Blount, Campbell, Claiborne, Hamblen, Knox, Loudon, Monroe, Roane, Scott, and Sevier Counties.
Grants from the CNS Y-12 Community Investment Fund have been awarded to the following organizations:
| | |
| --- | --- |
| Organization | Project summary |
| Anderson County EMS | The grant will allow Anderson County EMS to equip each of its ambulances with the necessary equipment to ensure safe transport of all children. Ambulance stretchers are not designed or equipped to restrain pediatric patients during transport. This grant will allow Anderson County to correct that issue. |
| Blount County Fire Protection District | The Blount County Fire Protection District will use the grant to replace an aging, self-contained breathing apparatus (SCBA) air compressor system. Its current compressor is 20 years old and at the end of its lifespan. |
| Boys & Girls Clubs of Dumplin Valley | Funds will be used to take an existing teen program to next level by teaching teens the fundamentals of getting a job, post-secondary education, and more. |
| Campbell County Rural Fire Service - Rescue Sustainability and Improvement | The grant will purchase valuable rescue equipment to improve rescue service for rural areas of Campbell County, particularly in the areas of vehicle rescue, structural collapse, and trench rescues. |
| Cattywampus Puppet Council - The Appalachian Puppet Pageant | The Appalachian Puppet Pageant is an East Tennessee inspired giant puppet arts parade, celebrating the local ecology and rich culture of the region through the visual and performing arts. |
| CDJ Media - Blount County Black History As Told By Those Who Have Lived It | CDJ Media Production, in cooperation with Professor Andrew Baskin, is cataloging Blount County Black History through interviews with those who lived it. This grant will be used to purchase a camera and for 501 (c) 3 status. |
| Contact Care Line - National Suicide Prevention Lifeline Chat | Grant will fund chat and text capability to crisis line services. |
| East Tennessee Technology Access Center (ETTAC) - Yellow Key Arts | The program is an art and music-based skills program, designed to help people with physical and cognitive disabilities live more independent and fulfilling lives. |
| Good Faith Clinic, Inc. - General Support for Medical and Pharmaceutical Expenses | Good Faith Clinic offers free medical care and free or deeply-discounted medications to local uninsured adult citizens. |
| Karns Volunteer Fire Department - Improving Community Safety through the Use of Thermal Imaging Cameras | Fire Department will use grant money toward purchase of thermal imaging cameras for use on its front-line apparatus. |
| Kids Kare, Inc. - Serving the Special Needs Day Care | Kids Kare is a 20-year-old day-care program and a parent-operated collaborative that focuses on the needs of each child and family and is now serving special needs children. |
| Ministerial Association Temporary Shelter (M.A.T.S.), Inc. - Hope and Help to Combat Homelessness The funds will be used to offset a portion of salaries of direct service provider staff positions. | The M.A.T.S. program has been helping developing soft skills and support for the homeless in Hamblen County for more than 30 years. |
| Michael Dunn Center - The Henry Center Early Intervention Program | The program offers educational help for families with children, birth through age two, with disabilities or developmental delays. |
| Postmark LaFollette - Postmark Theater Camp | The camp is specially designed theater arts program in response to the needs of the underserved in Campbell County. Brings youth, 10–14, together to create and produce an original theater production. |
| Volunteer Fire Department of Seymour - Thermal Imaging Cameras on First Response Fire Engines | Grant will be used to purchase Thermal Imaging Cameras for its first-out fire engines |
| Winfield Volunteer Fire Department - Communications | Grant will be used to purchase voice pagers for the entire fire department. |
East Tennessee Foundation was established in 1986 and serves 25 East Tennessee Counties. For more information, please contact Jan Elston, Vice President for Competitive Grant Programs for East Tennessee Foundation, at (865) 524-1223, or via email at jelston@etf.org or contact Jason Bohne, CNS Director of Communications and Public Affairs, at (865) 241-1400 or via email at Jason.bohne@cns.doe.gov.
Follow Y-12 on Facebook, Twitter, YouTube and Flickr.
###