CNS receives DOE Mentor of the Year honor
Posted: Monday, August 10, 2020, 3:14 pm
Company's work with Hatfield Construction highlighted
OAK RIDGE, Tenn. — Consolidated Nuclear Security, LLC recently was recognized by the Department of Energy with the DOE Mentor of the Year award for its work with Hatfield Construction, LLC.
CNS, which operates the Y-12 National Security Complex in Oak Ridge, Tenn., and the Pantex Plant in Amarillo, Texas, for the National Nuclear Security Administration, is an active participant in the Department of Energy's Mentor-Protégé Program. This program provides a mechanism for DOE/NNSA prime contractors like CNS to enter into working agreements and provide nonfinancial assistance to small businesses such as Hatfield Construction, a Woman-Owned Small Business founded in 2015 that provides concrete construction support services.
The award recognizes accomplishments made with protégé, such as streamlining their existing substance abuse, quality, and safety programs; enhancing their automation and infrastructure; and providing them supplemental training and supporting services with legal consulting and photography.
"CNS relies upon such a skilled supplier to support concrete services for the Y-12 Complex, including the Uranium Processing Facility, a $6.5 billion major project to replace 70-plus-year-old uranium production buildings in order to maintain NNSA's mission for global security," said CNS Technical Mentor Bill Hevrdeys. "And by sharing their skills and resources with us, it facilitates helping them become familiar and proficient with government contracting, establishing a marketing plan, and networking both inside and outside the DOE system."
"Working within the DOE safety and quality system is different from most public businesses, and it's beneficial to have someone that can help you navigate through it," CNS Technical Mentor Ken Thompson said. "With Hatfield creating their own approved safety and quality programs, we not only get an incredibly talented subcontractor, but they can begin work on any government contract almost immediately."
"We felt the Mentor-Protégé Program would further our knowledge and understanding of government projects," said Cindy Hatfield, chief executive officer of Hatfield Construction. "We are grateful and humbled with the avenues of success that have been provided with the CNS program. We look forward to a continued relationship and would like to offer a special thanks to our mentors Ken Thompson and William Hevrdeys."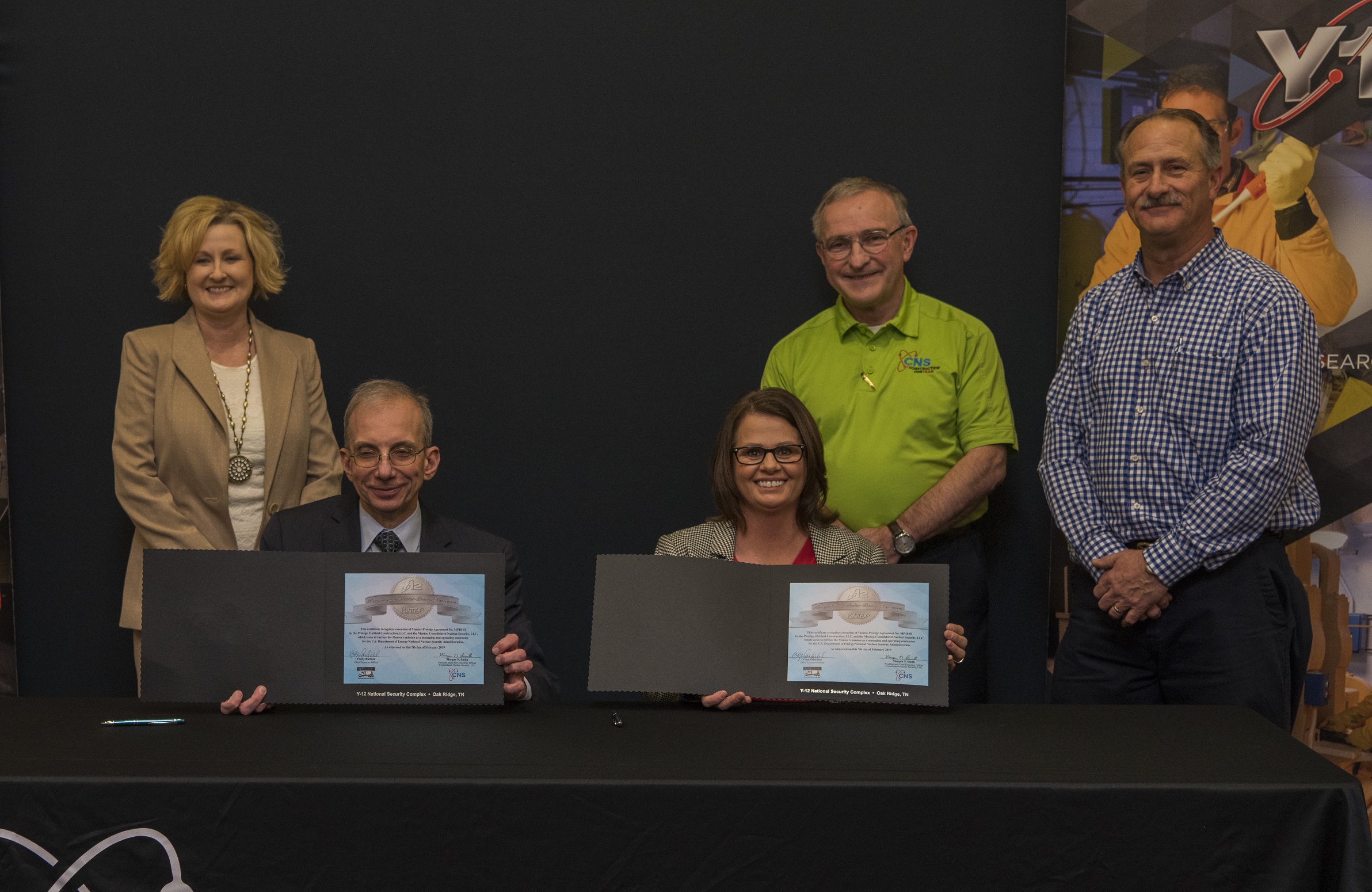 The 2019 Mentor-Protégé agreement signing ceremony between Consolidated Nuclear Security President and CEO Morgan Smith and Cindy Hatfield, CEO of Hatfield Construction. From left, Small Business Program Manager Lisa Copeland and mentors Bill Hevrdeys and Ken Thompson were also present.
###
Consolidated Nuclear Security, LLC operates the Pantex Plant, located in Amarillo, Texas, and the Y-12 National Security Complex, located in Oak Ridge, Tennessee, under a single contract for the U.S. National Nuclear Security Administration. CNS member companies include Bechtel National, Inc.; Leidos, Inc.; ATK Launch Systems, Inc.; and SOC LLC. Pantex and Y-12 are key facilities in the U.S. Nuclear Security Enterprise, and CNS performs its work with a focus on performance excellence and the imperatives of safety, security, zero defects and delivery as promised.
For more information on each site, visit www.pantex.energy.gov or www.y12.doe.gov. Follow Pantex on Facebook, Twitter or LinkedIn. Follow Y-12 on Facebook, Twitter, and LinkedIn.
CONTACT
Kathryn Harris King, APR
Communications
Office (865) 315.5996
Kathryn.King@cns.doe.gov
Follow Y-12 on Facebook, Twitter, YouTube and Flickr.
###