CNS awards $180,000 in grants to community nonprofits
Posted: Wednesday, November 8, 2023, 7:44 am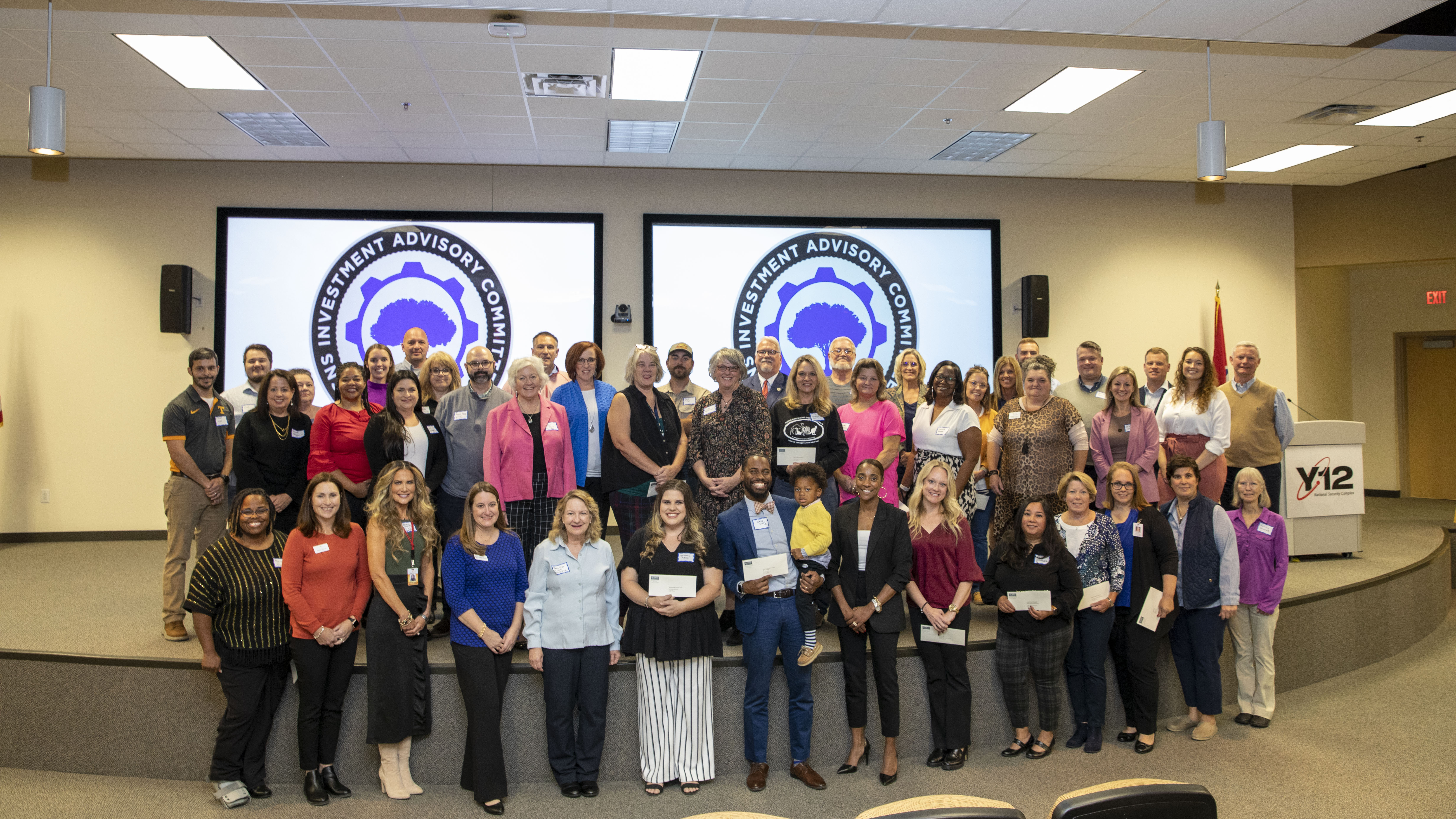 Y-12 employees have designated $1.22 million for organizations since fund's inception
OAK RIDGE, Tenn. – Twenty-four East Tennessee nonprofits received a total of $180,000 from the Consolidated Nuclear Security (CNS) Community Investment Fund at a ceremony November 6.
In 2015, CNS worked with East Tennessee Foundation (ETF) to create an innovative and effective method for contributing to the community in a way that would engage Y-12 employees. Since then, the fund has awarded more than 200 grants to more than 120 non-profit organizations and educational institutions in 20 East Tennessee counties, totaling a combined $1.22 million. Each year, a Y-12 employee committee recommends the grant recipients.
"At Y-12, we are proud of our mission to help ensure the safety and security of our nation and proud of the men and women who make that a reality, each and every day," said Gene Sievers, Y-12 site manager. "We are also grateful for our employees' commitment to our East Tennessee community, because we believe that being a good corporate citizen is about investing in people and resources that make our community better."
This year, the committee chose three focus areas—support services for adolescents, young adults, people with disabilities, and military veterans; elder care; and outdoor recreation and environmental conservation. The grant awards reflect this focus.
Recipients provide services to 20 counties
Grant recipients' work will reach 20 East Tennessee counties, with 17 of the grants covering multiple counties. This year's recipients are as follows:
The American Red Cross to help fund two programs—the Military Veteran Caregiver Network and the Mind-Body workshop, which provides easy-to-use skills for those coping with stress and trauma.
Cancer Support Community of East Tennessee to provide mental health support for older citizens dealing with cancer.
CASA of the Tennessee Heartland for training mentors dealing with older youth navigating the juvenile justice system.
Children's Museum of Oak Ridge to improve access in the Kids Go Green Environmental Center and Gardens.
Community Tutoring to assist with overhead expenses associated with after-school services.
Emory Valley Center for a new initiative that provides enabling technology to assist young people with disabilities in creating networks in their community, leading to employment and independent living.
Family Promise of Roane County to provide shelter and other services for families in crisis.
Girl Talk to support the Life Prep Academy that prepares 9th through 12th graders for life after high school.
Girls Inc of the Tennessee Valley to fund Project Bold, which will provide programming to girls in Anderson, Blount, and Knox Counties, including self-defense classes, cycles of violence education, and how to recognize and report abuse to trusted adults.
Good Samaritan Center of Loudon County to provide stable housing for low-income adults in Loudon County.
Haven House to provide funds for a Children's Room and a client intake space at a new, more convenient facility for clients and advocates to meet with adults and children in crisis.
Helen Ross McNabb Center to provide funds for Oak Ridge Schools' preschool and head start School-based Behavioral Health Services program by placing a full-time clinical counselor on site at Oak Ridge Head Start and Preschool.
Helping Mamas to offer hygiene products to women and girls in need.
Knoxville-Knox County CAC to place animals with seniors. The PAWS program works to place homeless adoptable animals from local animal shelters with eligible, qualified seniors. In addition, funds will go toward the Feed-a-Pet program which helps with the cost of keeping a pet.
Lakeway CASA to support costs associated with the Court Appointed Special Advocate volunteers program, which works with neglected children in the court system who are removed from their homes because of abuse or neglect.
Leadership Oak Ridge program costs, including scholarships for students participating in the annual Youth Leadership Oak Ridge program, which focuses on leadership skills in monthly sessions with high school-aged community leaders.
Little Ponderosa Zoo and Rescue to help the organization with demolition of a building and the purchase of equipment and enclosures needed to outfit a new rehab center.
Mental Health Association of East Tennessee to support Adverse Childhood Experiences, which teaches youth positive coping strategies and how to obtain the help they may need when in crisis.
Norwood Boys and Girls Club to purchase supplies and equipment for school and sports programs for children aged 4 to 11.
Scott County Shelter Society for assisting clients who are dealing with food insecurity and/or housing issues. Monies will provide education on food preparation, grocery purchases, and emergency payment for housing expenses.
Second Harvest Food Bank of East Tennessee to provide sustaining food access to adolescents and seniors in East Tennessee. Second Harvest serves a 17-county area in East Tennessee.
Shangri-La Therapeutic Academy of Riding to fund a program designed to support veterans with post-traumatic stress.
The ARC of Anderson County to expand delivery of appropriate supports and community opportunities to individuals with disabilities.
The Muse Knoxville to support the implementation of "sensory nights" at the Children's Museum. These events aim to create an inclusive environment for children with sensory sensitivities.
###
Consolidated Nuclear Security, LLC operates the Pantex Plant, located in Amarillo, Texas, and the Y-12 National Security Complex, located in Oak Ridge, Tennessee, for the U.S. National Nuclear Security Administration. Bechtel National, Inc. is the lead member of CNS; minority members include Leidos, Inc.; ATK Launch Systems, LLC; and SOC LLC. Pantex and Y-12 are key facilities in the U.S. Nuclear Security Enterprise, and CNS performs its work with a focus on performance excellence and the imperatives of safety, security, zero defects, and delivery as promised.
For more information on each site, visit www.pantex.energy.gov or www.y12.doe.gov. Follow Pantex on Facebook, X or LinkedIn. Follow Y-12 on Facebook, X, and LinkedIn.
CONTACT
Kathryn King, APR
Communications
Office (865) 315.5996
Kathryn.King@pxy12.doe.gov
Follow Y-12 on Facebook, Twitter, YouTube and Flickr.
###