Y-12 honors its inventors with Technology Transfer awards
Posted: Monday, May 23, 2016, 8:30 am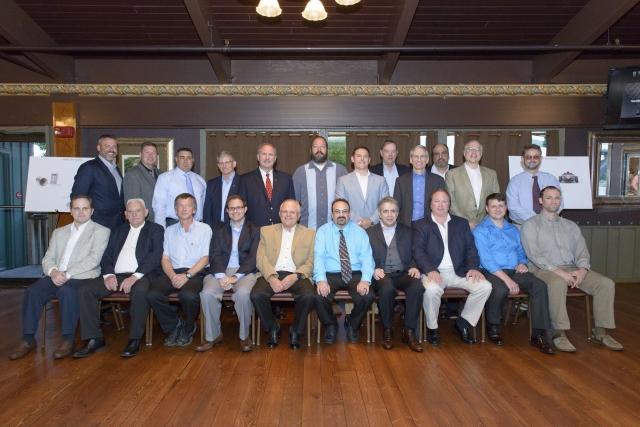 Y-12 recently recognized 29 inventors at their annual Tech Transfer award ceremony. The group was awarded 13 patents and submitted more than 30 invention disclosures in the past year.

OAK RIDGE, Tennessee – Twenty-nine Y 12 inventors were recognized for their technology and innovative accomplishments during the recent 12th annual Technology Transfer Awards Ceremony. The site has a long history of producing technologies initially used at Y-12 and later transferred to the private sector.
Thirteen patents were awarded in FY15 in areas ranging from a wireless sensor for detecting chemical compounds to an apparatus for safeguarding a radiological source.
The inventors also were recognized for bringing forward new ideas in the form of invention disclosures that could one day lead to future patents. These employees were acknowledged for both their creativity and innovative ideas in support of the technology development and transfer mission. The new inventions developed by the honorees will be used to further Y-12's mission work and will be made available to license to benefit the public through Y-12's Technology Transfer program.
CNS manages and operates the Pantex Plant in Amarillo, Texas, and Y-12. A central Technology Transfer Office manages the commercialization and partnership efforts for both sites and will recognize the Pantex inventors and innovators at a fall ceremony in Amarillo.
Y-12 Honorees included Peter Angelo, Lee Bzorgi, David Cecala, Paul DeMint, Mark Eisenhauer, Q. Grindstaff, Russell Hallman, Nathaniel Henry, Justin Holland, Neville Howell (retired), Vincent Lamberti, Michael Lovelady, Brad Lyon, David Mee, Jacob Miller, Alan Moore, Jonathan Morrell, Alex Moses, Jeff Parrott, Brandon Pehrson, Louis Powell, Ed Ripley, Shannon Roddy, Roland Seals, Kevin Shay, Rodney Smith, Norm Smyrl, Ashley Stowe and Patrick Thomas II.
At the ceremony, Brad Lyon of Y-12's Information Solutions and Services received the Technology Support Award, presented to employees whose efforts go above and beyond the call of duty in contributing to technology promotion and licensing.
Lyon acted as an advocate for invention reporting and innovation and submitted seven invention disclosures during the past two years. He also has executed four non-disclosure agreements aimed at collaborating with outside companies on common research interests and efforts. Lyon led multiple Plant Directed Research and Development Projects and entered into a memorandum of understanding with a local company to examine areas of potential collaboration with specific simulation software, which promises to be a solution to a challenge faced by current projects and will lead to savings in time and cost.
Follow Y-12 on Facebook, Twitter, YouTube and Flickr.
###