Materials camp students present findings
Posted: Monday, July 2, 2018, 5:20 pm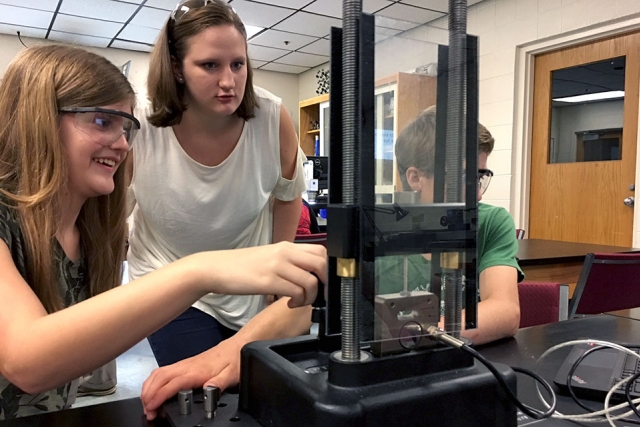 Materials camp participants work with their graduate-school mentor to perform tensile testing in a lab at Pellissippi State Community College.

OAK RIDGE, Tenn.—High-school students from Middle and East Tennessee; Tampa, Florida; and Bowie, Maryland, briefed family members, materials science professionals and a panel of judges on their work following a week-long materials camp held in Knoxville and Oak Ridge. The camp was sponsored by Consolidated Nuclear Security, LLC (Y-12 National Security Complex), Pellissippi State Community College, the University of Tennessee, Oak Ridge National Lab, Mager Scientific and Zeiss.
The 22 students were given a fictional whodunit involving sabotage in space at the beginning of the camp. After dividing into four teams, they were provided samples of the galactic incident to examine. The students used mechanical testing, scanning electron microscopy, X-ray diffraction, computer-aided design, 3-D printing, photovoltaics and other materials science techniques to test their hypotheses. At the end of the week, each team presented their analyses and conclusions.
Team HDPE (high-density polyethylene) won the competition and will present their work at a local ASM meeting this fall. The Composite team was honored as most creative by the judges.
Steve Dekanich, a Y-12 metallurgist who helped coordinate the camp, praised this group as the best he's encountered since he began working with the camp in 2006. "The students were incredibly intelligent and worked well as a team," he said.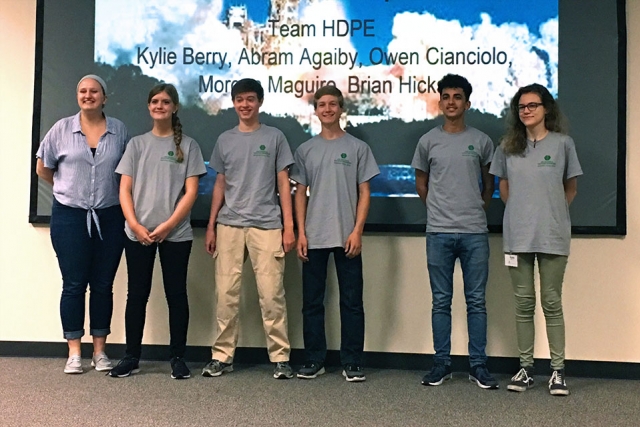 Team HDPE was selected as the winning team at the ASM Materials Camp. They will present their findings at a local ASM meeting this fall.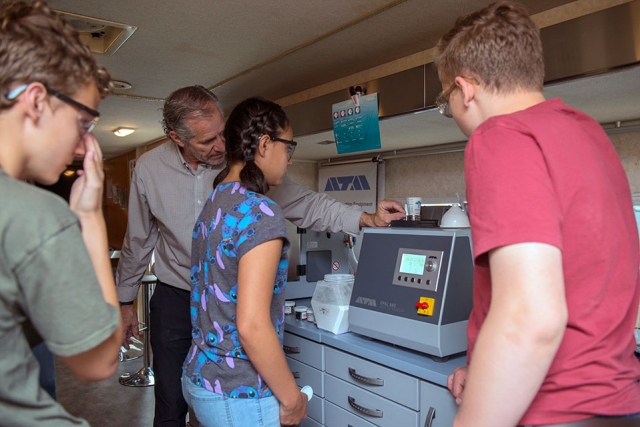 Garry Poirier of Mager Scientific (second from left) worked with the students to prepare their samples for scanning electron microscopy (SEM).

Follow Y-12 on Facebook, Twitter, YouTube and Flickr.
###