Y-12 completes 20th year of volunteering at GSMNP
Posted: Thursday, April 21, 2016, 1:35 pm
OAK RIDGE, Tenn. – Some 30 volunteers from Y-12 National Security Complex kicked off the 2016 CNS community service focus by volunteering to restore the Elkmont Campground Amphitheater in the Great Smoky Mountains National Park on Saturday, April 16.
This effort marks the 20th year that the Y-12 Help to the Smokies Volunteer Team has contributed time and financial support to maintain the park's infrastructure. The current management and operations contractor, Consolidated Nuclear Security, has continued this legacy by providing financial support for the volunteer project.
Al Roberson of CNS, who leads the team, says "The perpetual commitment and stewardship exhibited by this team and the operating contractors over the years ensures present and future generations can enjoy the wondrous splendor and majesty of nature that only these mountains provide."
Y-12 volunteers removed and replaced deteriorated seating and painted the building. These improvements will enhance the National Park Service outdoor resource education programs for many years.
The Great Smoky Mountain National Park recognized the Help to the Smokies Volunteer Team's 20 years of continued stewardship to the park, and the Y-12 team's efforts also were recently recognized with a proclamation from the State of Tennessee.
"It's particularly special to receive this recognition during the centennial of the National Park Service," says Roberson. "Hopefully the efforts of volunteer groups like ours will help prolong enjoyment of the park."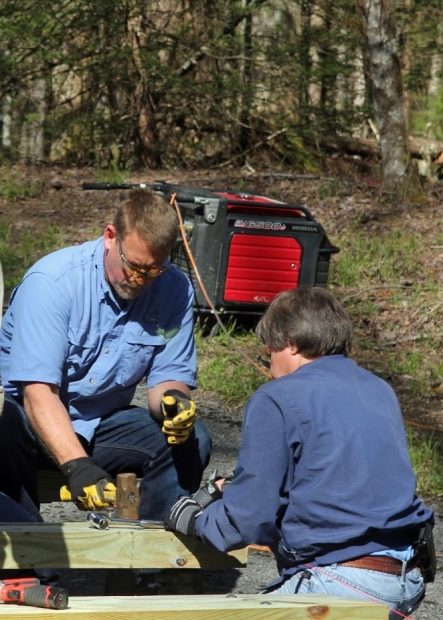 Y-12 Infrastructure Manager Scott Underwood and Y-12 retiree George Dailey work on the amphitheater at the Elkmont Campground.

Follow Y-12 on Facebook, Twitter, YouTube and Flickr.
###