UPF reaches halfway mark in purchasing
Posted: Thursday, June 7, 2018, 10:01 am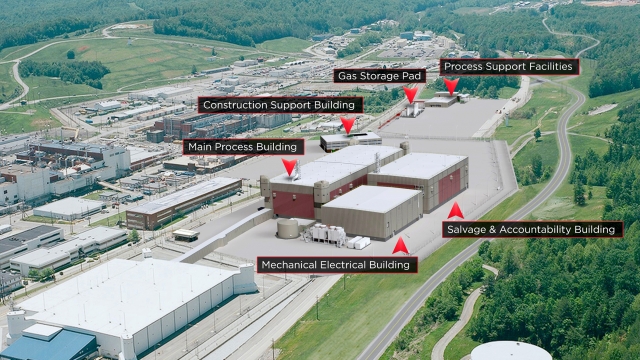 A current rendering of the Uranium Processing Facility

OAK RIDGE, Tenn.—One of the largest construction projects in Tennessee has reached the halfway mark in purchasing approximately $1.5 billion of goods and services.
The Uranium Processing Facility, currently under construction at the Y-12 National Security Complex in Oak Ridge, has awarded purchase orders and subcontracts worth $725 million since January 2015.
"It's crucial to partner with businesses that can provide the necessary goods and services when you're building a facility of this size and complexity," said UPF Project Director John Howanitz. "We're committed to building UPF on time and on budget, so having great business partners is essential to our success."
UPF purchased more than $181 million from companies in Tennessee and 32 percent of total procurements from small businesses. More than $178 million of the total was purchased from companies in East Tennessee and an additional $60 million was purchased from companies in Oak Ridge.
Some of the largest awards included structural steel, rebar, specialized equipment and a subcontract for an onsite concrete batch plant.
Most of the remaining services, equipment and materials will be purchased within the next year, Howanitz said, with purchasing ramping down in mid-2019 as construction work begins to hit high gear.
"A successful construction project requires sound engineering and the materials, equipment and services necessary to build it on time and on budget," Howanitz said. "Purchasing the equipment and supplies we need to build UPF at a fair price also provides value for the government and for taxpayers."
UPF will replace a World War II era plant with a modern, more efficient, and safer facility for conducting highly-enriched uranium operations at Y-12. CNS is building UPF for the National Nuclear Security Administration through a subcontract with Bechtel National, Inc.
Follow Y-12 on Facebook, Twitter, YouTube and Flickr.
###