Tactical Response Force 1 graduation: a family reunion of sorts
Posted: Thursday, July 28, 2016, 2:51 pm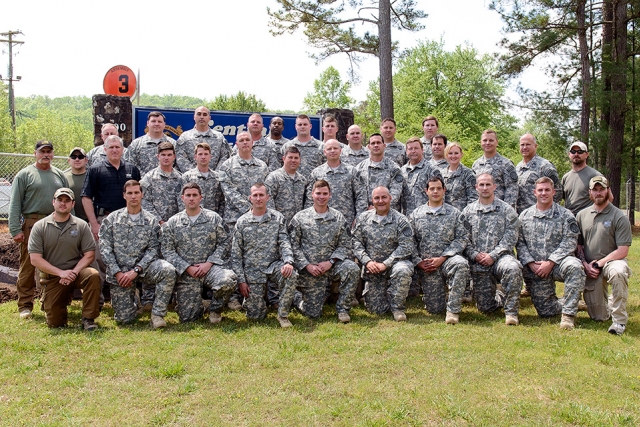 Tactical Response Force 1 Class 3-16.

"Family ties" makes a fitting theme for Tactical Response Force 1 Class 3-16's graduation ceremony.
Three kinds of family attended the graduation at New Hope Center: graduates' proud parents, spouses and children; CNS employees watching their children or other relatives graduate; and the graduates themselves, who said that their classmates and training officers are family now.
Eric Belcher, Director of Protective Force Operations and Training, echoed that thought in his commencement address after he thanked family members for attending.
"As your loved one begins this journey with the Y-12 Protective Force team, you are also now part of our family," Belcher said.
The class of 30 included one woman and 29 men who successfully completed the 9 ½ week, paramilitary force training course that included classroom work as well as: handgun and rifle marksmanship, rules of engagement, use of force, civil disturbance operations, emergency vehicle operations, close quarter battle, tactical obstacle course, mechanical breaching and use of night-vision devices.
"The mission that these graduates are about to be part of is a critical mission that has worldwide, national and local importance," Belcher said. "We secure some of the nation's most precious and valuable assets, and the American people depend on us to do it professionally, correctly and without hesitation. I know each and every one of you is up to the challenge."
The class boasted an overall academic average of 96.47 percent and weapons qualifications of 90 percent. The Top Gun marksmanship award went to Mark Shivers, who scored 615 out of a possible 620. The former South Carolina police officer and firearms instructor said he "had a lot of time behind a gun — lots of bullets."
Two graduates, Brian Ford and Matthew Smith, shared the Academic Award with a tied overall percentage of 97.91.
"Needless to say this class did exceptionally well in all areas and worked extremely hard to develop their skills," Belcher said.
Special guests from the National Nuclear Security Administration Production Office included: Assistant Manager for Safeguards and Security Arnold Guevara as well as Deputy Assistant Manager for Safeguards and Security Steve Crowe. Representing Y-12/CNS were Deputy Site Manager Gene Sievers and several representatives of Safeguards, Security and Emergency Services: Vice President Ken Freeman, Senior Director Tom Hayden as well as Deputy Director Anthony Mendez.
As she waited to hear husband Chad Reiman's name called, Amber Reiman said she was glad to be back home in East Tennessee. Her husband recently retired from the U.S. Army after 24 years, 21 of those as a Ranger.
Chad Reiman looks forward to his next mission, protecting Y-12, as well as having more time at home with his wife and three children. His classmates and instructors are "just a bunch of class acts. Whatever I do here, I know I'll be on a great team."
The Army was like family to the Reimans for two decades.