Veteran to Engineer Program provides service members a future in our workforce
Posted: Monday, January 30, 2023, 7:42 am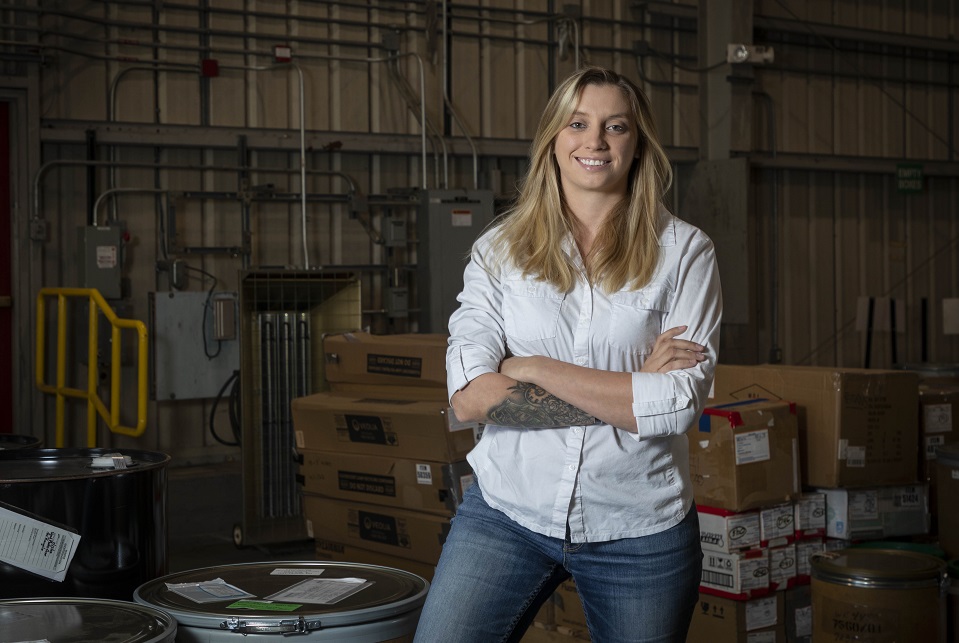 Alyssa Gibson is a current Veteran to Engineer intern working in both Waste Management and Piping/Processing Facility Design while earning her bachelor's degree in mechanical engineering.
"What am I going to do when I grow up?"
It is a common phrase uttered by the roughly 200,000 service members who exit the military each year. Transitioning from military service into civilian life is pretty challenging.
Fortunately, CNS has multiple veteran and service member friendly programs to assist during that time, one of those being the Veteran to Engineer Program (VTE). The program is sponsored by Mission Engineering at both Pantex and Y-12 for interested veterans of the U.S. Armed Forces to pursue an engineering degree from an accredited university with the goal of follow on employment with CNS post-graduation.
Alyssa Gibson is a current full-time VTE intern who also serves as a sergeant in the Army National Guard. In her role as a crew chief on a UH-60 Blackhawk helicopter, Gibson assists in search and rescue operations in the region with the Medical Evacuation Unit stationed out of Knoxville's McGhee Tyson Airport. She has previously served as a combat engineer and deployed with a multinational NATO Task Force to Poland in support of Atlantic Resolve.
Now Gibson is focusing on her long-term goal of becoming an engineer. She currently splits her time in the program working as an engineering intern with Waste Management and Piping/Processing Facility Design while pursuing her mechanical engineering degree at Pellissippi State Community College with future transfer to the University of Tennessee, Knoxville.
"I was excited to be able to work here in the field I wanted while the Army paid for my schooling using the Post-9/11 G.I. Bill," she said. "It's an opportunity to pursue my goal of becoming an engineer, having started over a decade ago, without completely restructuring my life."
With 12 current program participants between both sites, veterans have a plethora of disciplines from which to choose. "As long as they are actively pursuing an engineering discipline, for example, mechanical, electrical, civil, nuclear, chemical, structural, systems, industrial, software, etc., from an ABET accredited university program and a veteran of the U.S. Armed Forces, they are eligible," said Kevin Mattern, Y-12 VTE program manager. "Interns will typically rotate into various areas of the plant and my job is to find an engineering home for them to be value added both personally and to the organization while finishing their degree."
Mattern continued, "The VTE Program is a huge benefit to CNS, the national security mission, and the veteran. It's a win/win for everyone. The mission manager gains additional support during the internship period, and the veteran gains experience and skills to be successful post-graduation."
That is something with which Daniel Sims, piping lead for Y-12's Piping/Chemical Design, agrees. "Aly is able to handle smaller projects to gain experience in this stage of her career while we're focused on larger more complicated designs. It's been great to have her involved, ready to learn, and take on tasks she can manage with a little oversight from us. She is going to do well."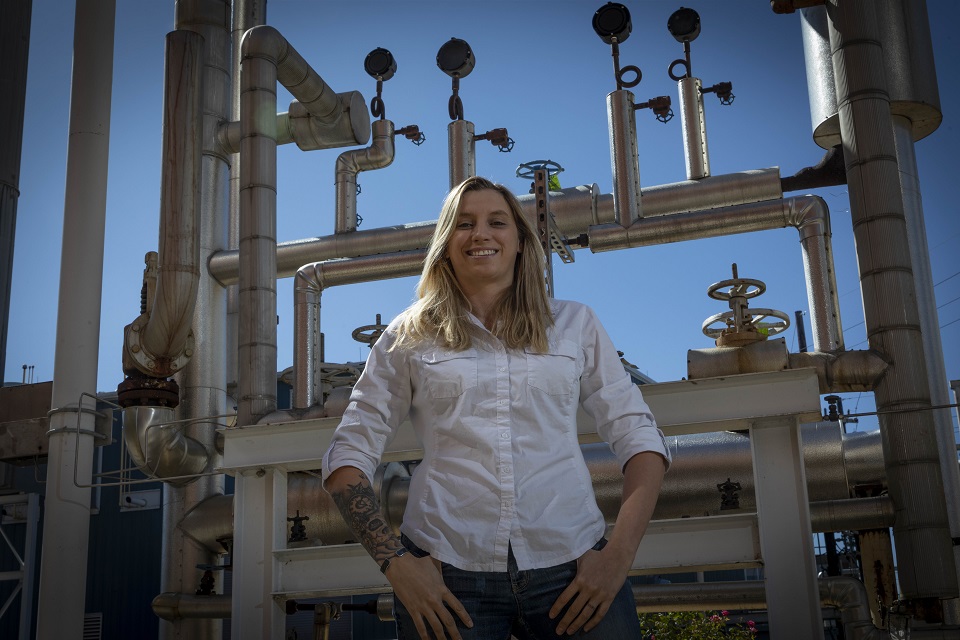 Gibson said of being in the Veteran to Engineer Program, "It's an opportunity to pursue my goal of becoming an engineer without completely restructuring my life."
Working in multiple disciplines has allowed Gibson to see the big picture of how the different pieces of the mission intertwine and work together. "It makes me a more well-rounded person so when I do get to my actual job later on, I'll be able to complete my work knowing how decisions I make affect others down the line," Gibson said. "I can't tell you how many times I've come across things here at the plant that relate to stuff I'm learning at school or something suddenly makes sense to the Blackhawk I'm on."
As a veteran himself, Mattern mentioned, "The military gives you a ton of life experience and skills that don't necessarily directly translate into civilian life. Having the VTE Program helps veterans during that transition period to figure out where they fit in."
When asked about her overall experience in the program, Gibson said, "The folks here are great. Everyone here wants to see me succeed, and I'm given a lot of support towards that eventual goal of joining CNS as a full-time engineer."
If you or someone you know is interested in participating in the VTE Program, more information can be found online or by emailing VetsToEngineers@pxy12.doe.gov.