We are mission success: Jay Aspray and Zuleyma Carruba-Rogel
Posted: Thursday, February 17, 2022, 8:14 am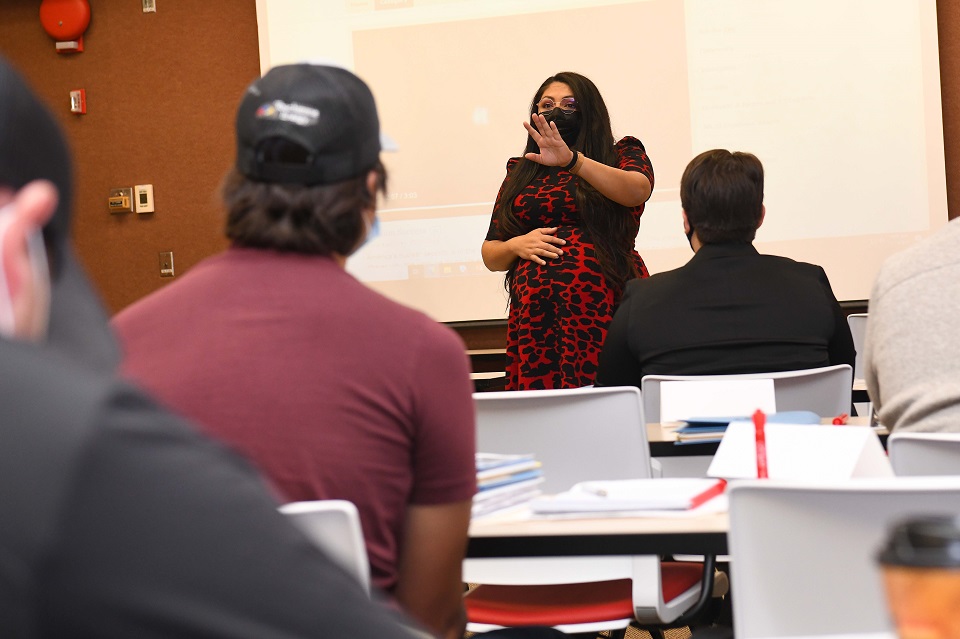 Zuleyma Carruba-Rogel engages a class of new employees at Pantex.
Take a few minutes and learn about Consolidated Nuclear Security's Jay Aspray (Recruitment and Placement specialist at Y-12) and Zuleyma Carruba Rogel (Recruitment and Placement specialist at Pantex) and their roles with New Employee Orientation. All views and opinions are the employees' and do not necessarily reflect those of CNS.
Pantexans and Y-12ers know this isn't your typical nine to five job. Making sure new employees are introduced to how they fit within our national security mission falls to Recruitment and Placement Specialists Zuleyma Carruba Rogel and Jay Aspray.
"I make it clear on the first day that there isn't a single person in that room who is there by chance or by luck," said Carruba Rogel. "The interview process is very detailed because we're not just looking at skill — we're looking at fit. Each person in that room is there because one, they're the cream of the crop, and two, they proved to us through all these processes that they share our mission before walking in that door."
The Department of Energy mandates specialized training for all employees hired at nuclear sites. At Pantex and Y-12, General Employee Training covers site specific safety and security. But by itself, GET doesn't provide a complete picture of what new employees will encounter on the job. That's where onboarding specialists Aspray and Carruba Rogel step in, setting a positive tone for orientation, guiding discussions, and reinforcing understanding of mission success and company culture.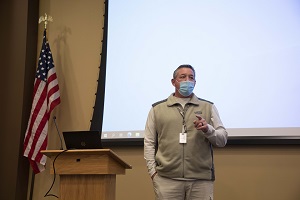 Jay Aspray guides in-class discussion with new employees at Y-12.
"We're always asking ourselves, 'is this the best that we can be,' and that constant reflection and adjustment lets us know we're on the path to success. When we're in that room and can see and experience the community new hires are creating; when they are responding to content and telling us they feel welcome; or when they reach out and talk about what a great experience it was for them — that's when we get to reap the fruit of those labors," said Carruba Rogel.
An enhanced orientation program, developed in Texas and later updated and expanded to Tennessee, acquaints new employees with goal-setting under the Mission Success Model, breaks up intensive training with enterprise level presentations and interactive skill shares, and assigns new employees 90 day peer advisers called "ambassadors." By the end of orientation, new employees have done more than check off mandatory training — they also have a deeper understanding of their individual roles in achieving the mission, a clearer organizational picture, familiarity with the Pantex and Y-12 strategic plan, and a peer ambassador relationship for continued support.
"The new onboarding process positively impacts mission success by providing new employees with the right tools and useful information for a smoother transition in joining the team," said Aspray. "New Employee Orientation is centered around the Mission Success Model, and the course agenda provides a strategic focus on the enterprise's capabilities, allowing new employees to become more adept at mission delivery."
What work advice would you offer someone who is new to Pantex or Y-12?
Aspray:The Army is known for mottos and acronyms, so early on in my career I decided to create my own motto — something I could stand for daily. I decided on Triple H, for "Happy, Humble, and Hungry." Every day I would ask myself three questions: "Are you happy," "Are you humble," and "Are you hungry"? If I answered no to any of the three questions, I would analyze the "why" and do my best to fix the situation immediately. So my advice would be to create your own motto, something you can stand by daily — something meaningful and close to you that will help you be successful, professionally and personally.
Carruba Rogel: You're not going to have too many other opportunities where your hiring managers recognize that you have a steep learning curve. It's okay to be the learner as opposed to the expert or the one passing down information. One of the things I insist on for new employees is to be aware of their learning style and to be mindful that people teach in the learning style they're dominant in. For example, a visual learner might like PowerPoints and written notes, but their manager might be an oral learner. Because you're in this steep learning curve, make sure you negotiate those spaces so you understand what you need to do and how to do it. Try repeating back, "So this is how you mentioned I should do such and such; is this what you want?" Be mindful and negotiate that space to take what you need to adapt and start making the impact you want to make.
What top strength do you bring to your organization and why?
Aspray: I believe one of my top strengths is commitment. I enjoy what I do and the mission is meaningful, which makes my commitment to this organization easy. I spent 29 years in the Army, and I had a sense of pride with purposeful work for the nation. I was uncertain I was going to find this kind of work once I retired from the Army, but the transition was smooth, and my commitment is still stronger than ever.
Carruba Rogel: I'm very aware of cultural environments. I've done a lot of work like this where I've been in front of people. When I get a new group, I come in and get a sense of what the feeling in the room is and how I can get them to start peeling off these layers so they're taking as much as they can from this experience. My favorite aspect of onboarding is working — in a very deliberate and calculated way — to help create a sense of family, belonging, and value.
What do you love about recruiting?
Aspray: When you look at the impact of what we do, it not only affects the new hire but also impacts each family in such a positive way that you have to be happy about what you do.
Carruba Rogel: When you hear the excitement and you know these offers — they're changing people's lives, not just for themselves, but for their families. And the best part is seeing our new hires at orientation.