Y-12 volunteers empower the next generation
Posted: Tuesday, February 4, 2020, 8:21 am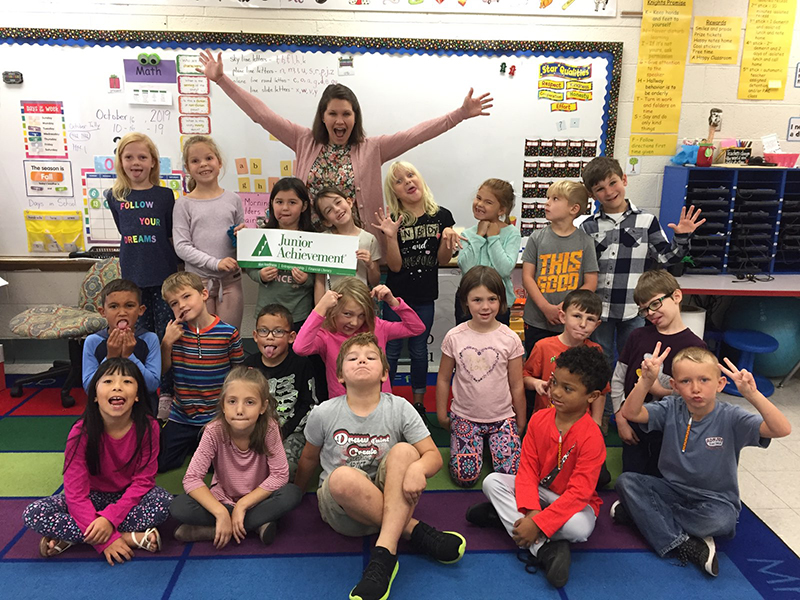 A Y-12 employee hams it up with a Junior Achievement class of six-year-olds.
Have you ever tried to teach a six-year-old about business, economics, entrepreneurship, or ethics? What sounds like an impossible task is exactly what six Y-12 volunteers did through the Junior Achievement of East Tennessee program. For 100 years, Junior Achievement has been giving kids the real-world skills and knowledge to be 100% ready. For work. For financial success. For life. For the future.
One Y-12 employee decided to jump in and get involved after she learned about the need for volunteers. "I knew I would love to get involved; however, I was always hesitant to just make that leap and sign up," she said. "Finally, I took a leap and did something I had been wanting to do for a while."
Junior Achievement volunteers, in cooperation with the teacher, lead structured activities and discussions on work-readiness, entrepreneurship, and financial literacy skills. Volunteers who teach in the classroom provide students with positive adult role-models. These volunteers also impact students through building self-confidence, developing skills, and offering encouragement needed to promote a learning environment and healthy bonds.
She chose a first grade class at Clinton Elementary School and taught them throughout the fall semester, once a week for eight weeks.
"The kids were able to learn about needs, wants, businesses, and communities. The students created their own business, drew an advertisement to market their business, took in a customer, and were 'paid' for their services," she said. "At the very end, they could turn in their 'salary' for a fun snack mix that they got to create."
Junior Achievement's mission is to inspire and prepare young people to succeed in a global economy. Their hands-on, experiential programs teach the key concepts of work readiness, entrepreneurship, and financial literacy to young people all over the world. Today's East Tennessee students are tomorrow's CEOs, entrepreneurs, innovators, and game-changers.
This new volunteer encourages other Y-12ers to jump in, volunteer, and help empower and teach the next generation. "It was a far greater experience than I could have ever imagined and highly encourage anyone who is hesitant to just take the leap and get involved."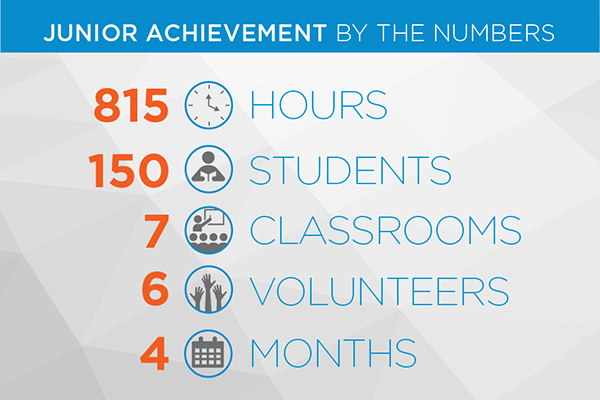 CNS is a proud sponsor of Junior Achievement and contributed 815 volunteer hours last semester.