Solving problems one tier at a time
Posted: Wednesday, March 21, 2018, 5:15 pm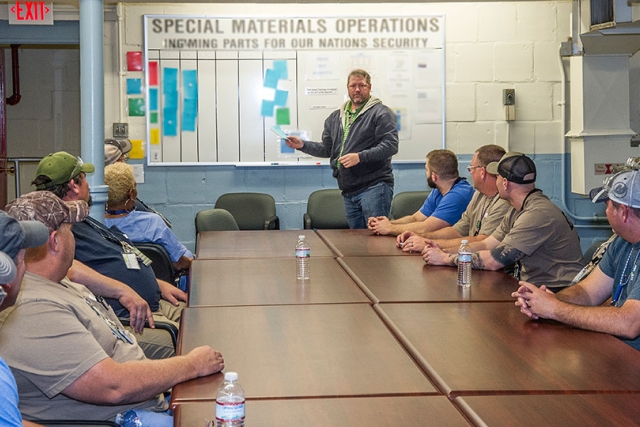 The tiered problem-solving process, a lean tool from the Performance Enterprise System, is making its way to Pantex and Y 12 organizations.

Consolidated Nuclear Security, LLC employees' opinions matter. As part of the effort to meet the Pantex and Y 12 mission delivery, the sites are incorporating a tiered approach to problem-solving. This approach provides a feedback forum for all levels of employees while empowering them to have a say in decision making.
Having ownership of issues and reporting good news is important for employees. The Y-12 lead, Michael Mattmann said, "All employees should come to work every day and feel like a valued part of their team, and we want to empower them to make decisions that improve productivity and deliverables." This idea isn't something new; it's part of performance excellence and continuous improvement, giving employees a voice.
Dale Stapp, the Pantex lead working to define this process, said, "The process provides a structured approach where we communicate successes and issues that are impacting operations or mission deliverables every day. It allows all levels of employees to take ownership of issues and report good things."
Stapp said the process is providing accountability and ownership for issues while fostering teamwork. "When there are issues that need support organizations, we see a new level of teamwork because groups understand they need the experts to help complete certain tasks," he said. "Communication is key, and we know sometimes the message gets misused or isn't very clear. We've seen improvement in the communication flow by using this tiered process."
Each tier has opportunities to work on the issue until it is resolved or escalated it to the next tier. Mattmann noted that the concept is used by most major manufacturing companies to build engagement and resolve issues.
Pantex Deputy Site Manager Corey Strickland said, "The metrics are proving that a majority of the issues we face CAN be handled at the lower levels. We are currently handling about 85 percent of the issues we track at the first line supervisor level. People should feel enabled and empowered to do their jobs!"
What's next? The process will continue and grow into other organizations. Senior Director of Y 12 Production Operations Reed Mullins said, "In the end, every employee should be connected to a short, routine meeting that addresses the issues and successes of the day."