Children pulled from fire thanks to Y‑12er's quick response
Posted: Tuesday, March 22, 2022, 3:55 pm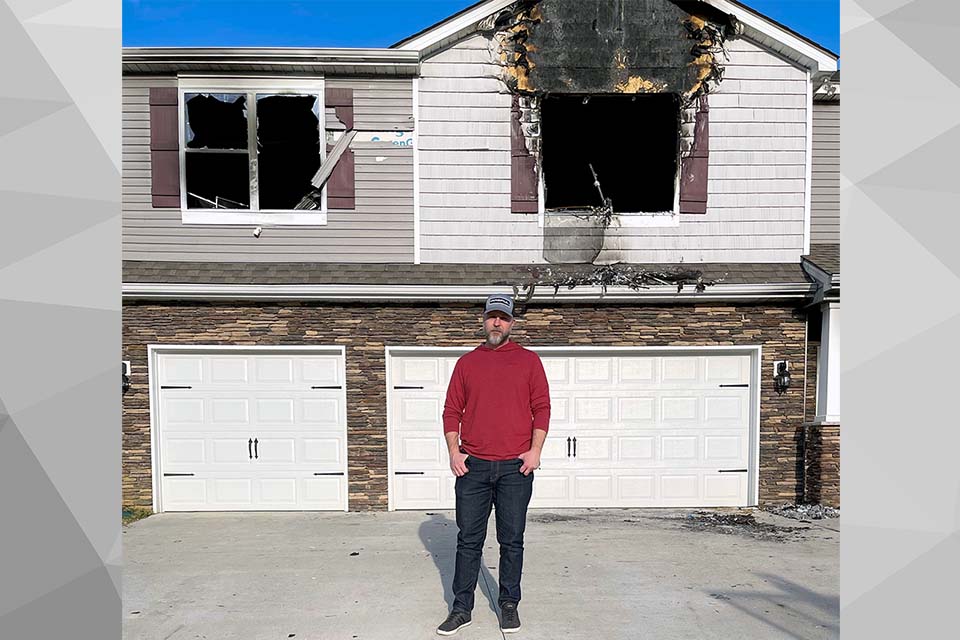 Y‑12 employee Michael Laws stands in front of the house from which he pulled two children during a recent fire.
It has been proven time and again that Y‑12 employees are not only an asset to CNS, but also to the communities in which they live. Recently one employee showed great bravery by saving two children during a life‑threatening situation.
As Y‑12 quality specialist J. Michael Laws was ushering his family into the car for a quick shopping trip, he received a call from his neighbor.
"She told me that she thought her house was on fire, that she and her husband were at the movies and their two daughters, ages 14 and 7, were home alone," Laws explained.
Thinking the girls had burned something in the oven or that an appliance had possibly caught fire, Laws and his wife grabbed a fire extinguisher and headed across the cul‑de‑sac in their Hardin Valley neighborhood.
But as soon as they crossed the road, it became clear that the situation was much more dire.
"I could see the girls in an upstairs window and could hear them crying out that they couldn't breathe," said Laws. "My wife began calling 911 as I tried the door, but it was locked, so I kicked out a window and began climbing in — but it was too hot and smoky."
Laws quickly realized he would need to bypass the home's ground floor due to the fire.
"I ran back to my house while screaming for help," he said. "Fortunately, there were people in earshot who ran over. I grabbed my ladder, ran back across the street and got it set up just as one sister climbed out of the window and bravely jumped down to two people."
Laws quickly climbed the ladder, and pulled the other child to safety as black smoke started billowing from the house.
"I knew right then if we had not been home or missed that call, those girls would not have made it," said Laws.
The children were quickly taken to Laws' home where they waited for the fire department, ambulance, and their parents.
"They were, of course, in a panic, but they were so courageous and did all the right things," he said. "My wife got them water and began consoling them while my kids started gathering toys, clothes, food, and whatever they thought our neighbors may need."
For Laws, this experience highlighted the importance of having a disaster plan for those in your home.
"My main takeaway is that you have to have a plan," he said. "We have discussed one, but have never drilled or practiced in any way. We will be doing that very soon."
He also noted the importance of community and watching out for one another. "Community is important," explained Laws. "Even my children felt the innate call to help our neighbors in need and immediately answered. I believe our neighbors would do the same for us, and I am proud to be a part of this community."