Turning Leaf Tour kicks off at Y-12's New Hope Center
Posted: Tuesday, December 13, 2016, 12:41 pm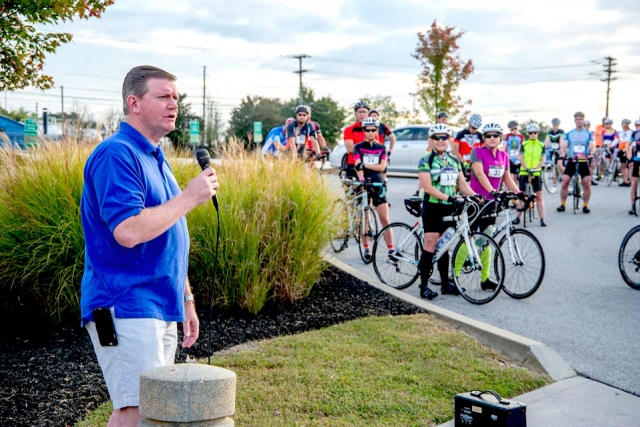 Y-12 Site Manager Bill Tindal welcomes riders at New Hope Center before the 7th Annual Turning Leaf Bike Tour.

The parking lot at New Hope Center was a burst of colors in the early morning hours of October 16 as bicycle riders, decked in colorful jerseys and helmets, gathered for the 7th annual Turning Leaf Bike Tour.
This year, 86 riders took part in the event that raises money for Casting for Recovery, a program whose mission is to enhance the quality of life of women with breast cancer through a unique combination of
breast cancer education, peer support, and the therapeutic sport of fly fishing.
The physical, rhythmic motion of fly casting is similar to exercises often prescribed after surgery or radiation to promote soft tissue stretching. Emotionally, women experience a new activity in a safe environment with a supportive group of peers.
"CNS Y-12 is proud to support this event as a presenting sponsor, along with Thom Mason and our friends at Oak Ridge National Lab," said Y-12 Site Manager Bill Tindal, who welcomed the bicyclists prior to the ride. "And we couldn't be prouder of our employees who volunteer their time and effort in making this the largest fund raiser for Casting for Recovery in East Tennessee."
This year's ride raised enough money to support four women to participate in next year's retreat.
And this year, for the first time, it had more women riders than men.
"Age was not a factor in being able to participate. Our youngest rider was 10 years old, and our oldest rider was 83," said Lindsey Long, East Tennessee program coordinator for Casting for Recovery.
But Long said it was CNS Y-12 involvement that made this year's event successful. "Kathy Martin volunteers all year as part of the Casting for Recovery retreat staff; David Hicks designed the commemorative challenge coin that each rider received; David McEahern mapped and marked the routes; route support vehicles were staffed by David Arney, Heather Mathews, and Sherri Nichols; and Abe Mathews served as the events coordinator," she said.
"It's a program we believe in, and we're pleased that our employees' efforts helped make it such a great success," said Tindal.
The event moved to New Hope Center last year after relocating from Townsend.