UPF Spotlight on Success: 100% Rack Delivery
Posted: Tuesday, November 23, 2021, 12:31 pm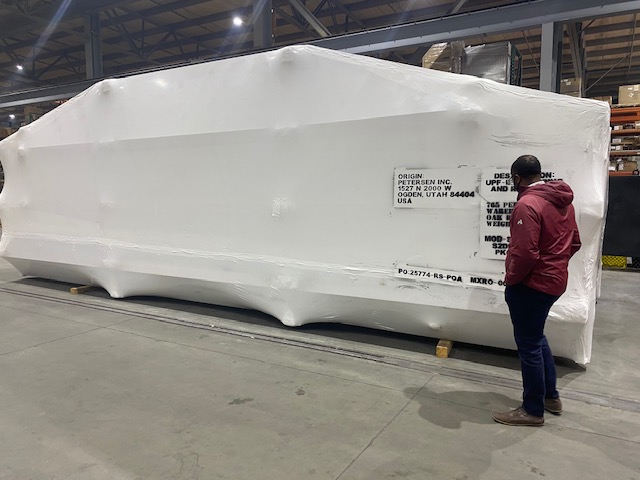 Rack framed and wrapped for shipment at supplier's facility
Racks, or "multi-commodity pipe rack modules," are one of the many components that go into building the Uranium Processing Facility. Achieving 100% rack delivery required tremendous effort and planning, but the team completed the feat ahead of schedule.
The magnitude of the task was considerable, including processing and reviewing thousands of documents and coordinating consistent communication with the supplier. The team's efforts paid off with a smooth acquisition and delivery process.
Overall, the team procured 295 racks at a total cost of approximately $60 million. Hitting 100% rack delivery opens up many work fronts for construction, allowing them to stay on schedule and move to the next goal.
The first request for proposals (RFP) for the racks was issued in August 2018 and awarded in February 2019. The last delivery was in summer 2021. The team is evaluating lessons learned throughout the three-year journey that can be used in the future.
"One-hundred percent rack delivery means we are one step closer to completing UPF. Finishing this enormous endeavor ahead of schedule displays how hard our team has worked to achieve our goals; in fact one of our critical 2021 UPF goals. Thank you to everyone who dedicated their time and efforts to design, procure, and receive these essential elements in building our nation's UPF," said Dena Volovar, UPF Project Director.