Teamwork successfully brings down the Alpha 5 Annex
Posted: Wednesday, June 27, 2018, 11:57 am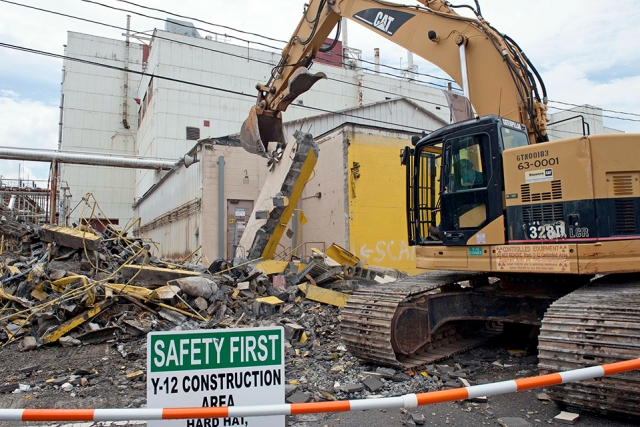 The Alpha 5 Annex comes down on May 18 in support of the West End Protected Area Reduction project and PIDAS reduction efforts.

An integrated team worked to successfully demolish the Building 9201-5 (Alpha-5) Annex on time and on budget. In the coming weeks, a new slab will be poured to properly contour the remaining area to ensure the correct restoration for storm water draining and run off, and construction crews will demobilize the area.
Alan James of Y-12 Projects Management noted that the job was tricky because they had to tear down the annex without damaging the adjacent structure, yet the work was competed flawlessly and with no safety incidents. The project directly supports the reduction of risk for the Alpha-5 complex as well as the West End Protected Area Reduction project that will reduce the high-security area of the plant by approximately 50 percent.