Y-12 donates to Little Ponderosa Zoo
Posted: Monday, February 12, 2018, 9:12 am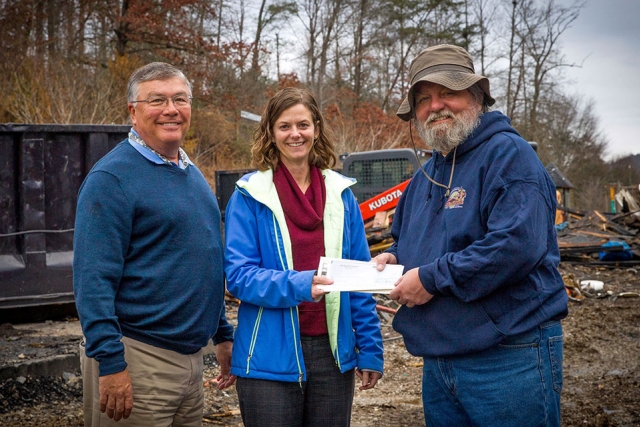 Gene Patterson (left) and Alison Sides present a donation on behalf of the Y‐12 Employee Advisory Committee to the Little Ponderosa Zoo's owner James Cox.

After a unanimous vote, members of CNS's Y‑12 Employee Advisory Committee donated $1,500 to @The Little Ponderosa Zoo and Rescue in Clinton. The main barn was destroyed by a fire on December 4, and dozens of animals died in the blaze.
Gene Patterson and committee member Alison Sides visited the zoo. "Members of the Y‑12 committee did not hesitate when asked to help out the zoo. They saw the need and voted with their hearts,"
Patterson said.
Sides said, "Visiting the zoo and seeing the destruction was a real eye‑opener. I am proud of our committee for the unanimous vote to help the zoo. It is going to a great cause in a time of dire need."