Looking for a better way
Posted: Monday, April 26, 2021, 12:25 pm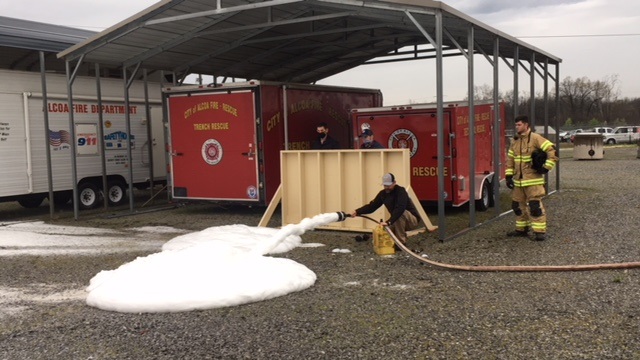 Y-12 Fire Department recently tested a new environmentally safer foam with the Alcoa Fire Department.
The Y-12 Fire Department recognizes Earth Day as an opportunity to celebrate environmental successes and be creative in ways in which they are striving to improve.
Division Chief Ben Taylor said, "The fire service has an intimate relationship with the environment at large and water, which is typically used for fire suppression, so it makes sense for our team to look at ways we can adapt and continuously improve."
One way firefighters look to improve is to find alternatives for often-used, expanding foams that help fight fires. Unfortunately, these foams typically contain pre and polyfluoroalkyl substances, or PFAS, which include various chemicals that have been increasingly studied due to their effects on the environment. Y-12 Fire Department recently partnered with several local fire departments to find an effective and environmentally safe product.
"Foam is essential for fighting a variety of fires — everything from brush fires to liquid petroleum fires," Taylor said.
As a result of the collaboration, a new, fluorine free foam product was found that is effective, meets stringent Environmental Protection Agency testing, and allows for a seamless transition to the new product. The new foam will also be locally stored by supplies in large quantities.
"Having the new, environmentally safer foam will allow Y-12 Fire Department to continue to meet emergency response needs of Y-12 and bulk off site storage will maintain large scale response capability," Taylor said.
"Earth Day is a reminder that we all share the environment," Taylor said. "Actions we take now will have lasting impacts on generations to come. Recycling, reducing waste, and using innovative products, like this foam, will help to ensure that future generations will have a healthy environment to enjoy."