I am mission success: John H.
Posted: Monday, November 20, 2023, 1:00 pm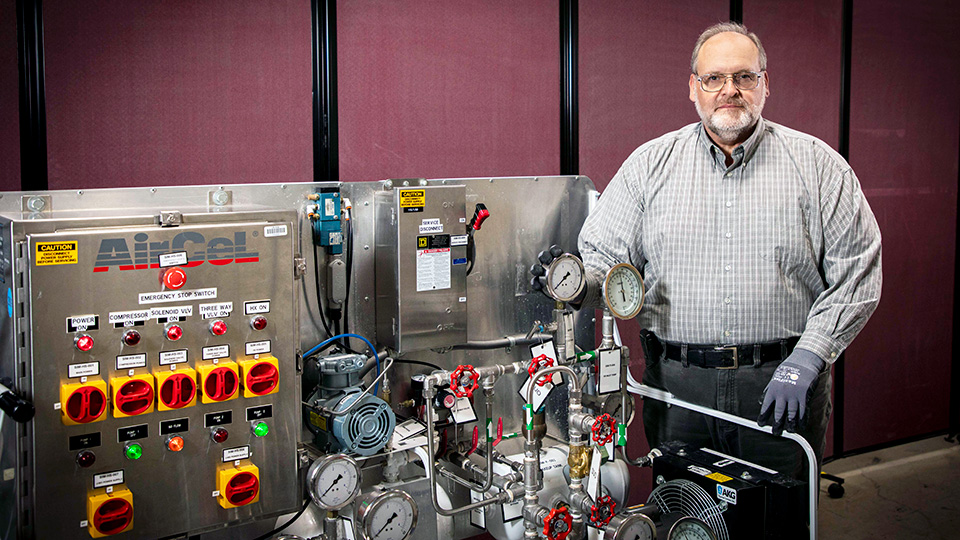 John H.'s colleagues refer to him as the MVP of training. The title is fitting considering he has dedicated himself to continually growing his instructional and training strengths.
"I wanted to be a teacher since the eighth grade," he explained. John attended Wright State in Ohio, receiving both a B.S. degree in education and a M.E. degree in administration.
He began his career teaching physics to high school students and part‑time to college students at his alma mater in Dayton, Ohio. That evolved into a training job, working for the Department of Energy at the (former) Mound Plant in Dayton. When that plant faced a shut down in the mid‑1990s, he relocated to Tennessee for a contract job opportunity at Y‑12.
John's scope at that time was supporting a facility restart project. He attributes this project to a major paradigm shift in his training style. "The project was a complete restart, from the ground up. It was essential for us to concentrate on the why behind the technical skills," he said. "The focus then became adjusting the learning style to help the workers understand the processes, instead of memorizing them."
John has been a leader in the Production Training organization for more than two decades. He directly supports material operations, but is often sought out for direction regarding other Production organizations. He is the first smiling face that thousands of Y'12 chemical operators have met on their first day on the job.
Simply put, an operator's objective is monitoring data and remotely adjusting controls as needed to ensure chemical processes function accurately. That is a mission̩critical role in the work performed at Y‑12.
John also supports operational drills and is a certified instructor with the National Training Center.
He sincerely believes in what Y‑12 does and why. "I am proud to be of the generation to replace those who initially built Y‑12. It's both rewarding and humbling to train and prepare the next generation to take over," he stated. "I feel very blessed with not only my work but especially my family. My wife and I just celebrated our 44th anniversary!"
What is your favorite aspect about your work environment? How does that aspect make you know the mission is being met?
By far, the personnel with whom I work. I've been privileged to work with the finest of personnel throughout my professional career. Now that I am "older," and maybe a little bit wiser, I wish I could apply more from my prior experiences.
What CNS principle drives you to be successful?
INTEGRITY. Make the right decision for the right reasons. Set high standards.
As an employee, what do you want to be remembered for?
That I did the job the right way, and from the heart.
What work advice would you offer someone who is new to Pantex or Y‑12?
Be patient with yourself, ears and eyes open to old and new ideas. We collectively have a crucial legacy, one that some historians could argue has kept the overall global peace for nearly 80 years.
What one thing would your coworkers be surprised to know about you?
I like to flower garden and work in the yard. Given the odds of winning a big lottery must remain a dream, I would love to have a plant nursery; must be some Frederick Olmsted or Johnny Appleseed genes along the chain.