Y-12 ingenuity has broad impact
Posted: Monday, July 1, 2019, 2:42 pm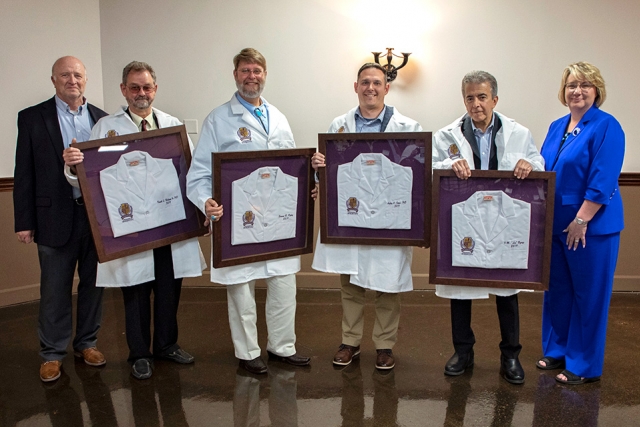 Consolidated Nuclear Security's Dave Beck, vice president of Program Integration, and Michelle Reichert, chief operating officer, congratulate Y-12 League of Ingenuity inductees, second from left, Rusty Hallman, Ed Ripley, Ashley Stowe, and Lee Bzorgi.

At the Y-12 National Nuclear Security Complex's Technology Transfer awards ceremony held in May, Consolidated Nuclear Security introduced the League of Ingenuity, a new merit-based society to recognize Y-12 and Pantex employees who have notable technical and innovative accomplishments.
CNS manages and operates Y-12 and the Pantex Plant in Amarillo, Texas, for the National Nuclear Security Administration.
"The nation benefits when Pantex and Y-12 engage in technology transfer because the technologies we develop in support of our mission requirements often have broader utility and impact," said Tom Berg, CNS director of Technology Development and Transfer Programs.
The League of Ingenuity acknowledges employees who have developed mission-advancing technologies and solutions that benefit not only CNS and other government organizations but also private industry and taxpayers.
"Our team developed the society to encourage and motivate employees to pursue research and development efforts that may leverage partnerships with academia and industry partners, enhancing both Y-12's and Pantex's profiles as centers of scientific excellence," Berg said.
Meet Y-12's inaugural inductees into the League: Lee Bzorgi, Rusty Hallman, Ed Ripley, and Ashley Stowe. Pantex innovators will be recognized at a separate event.
Lee Bzorgi
Childhood dream: To marry Barbara Eden from "I Dream of Jeannie"
Research interests: Designing and fabrication
Why I chose a career in science: As a child, I had the best toys in the neighborhood because I was building them myself. By the time I was 10 years old, I had my first design published in an engineering magazine. Getting into engineering and science was an easy decision for me.
Accolades:
R&D 100 Award (Rapid Deployment Shelter System, 2007)
8 patents since 2006
39 invention disclosures at Y-12
CNS Government Use Award winner in 2005, 2007, and 2009
Featured in Popular Science magazine, "The DOE's Gadget Guru" (2003)
Lead inventor for technologies that have resulted in multiple commercial licenses
Won Innovation Valley Technology Council's Pathfinder Research Entrepreneur of the Year award, 2010
Dr. Rusty Hallman
Childhood dream: To be good at something others would need
Research interests: Precise blending of gases and vapors to make calibration standards for the plant. These efforts have led me to the automation of corrosion studies using robotics and the integration of analytical equipment to provide insight into the complex behavior of these chemical systems.
Why I chose a career in science: I seek out problems others do not want to address. These things intrigue me. Science and engineering are just tools or systems to understand how and why things work the way they work.
Accolades:
9 patents since 2004
32 invention disclosures
Lead inventor on a multi-year Funds-In Cooperative Research and Development Agreement
Respected within industry for research and development efforts in moisture-blending technologies and work in mitigating tin whisker growth within the electronics industry
Ed Ripley
Childhood dream: Medical doctor and pilot
Research interests: Microwave casting, uranium metallurgy
Why I chose a career in science: I loved science as a child, and for the last 29 years, I have made a living using subtle nuances in the sciences to accomplish unexpected things. I call it "exploiting the loopholes in the laws of physics."
Accolades:
27 patents and 5 in process
72 invention disclosures
Completed the Sandia National Labs Weapons Intern Program
Guest on Penn and Teller "Fool Us" television program and one of 5 close-up competitors to represent the U.S. at the world championships of magic in Busan, Korea, in 2018
Received the Society of American Magicians "Creativity Award" in 2019
Dr. Ashley Stowe
Childhood dream: Center fielder for the Atlanta Braves
Research interests: Space chemistry, hydrogen fuel materials, nuclear nonproliferation, radiation detection (neutron imaging technologies)
Why I chose a career in science: I learned a passion for science and discovery from my high school chemistry teacher, Dr. Greg Rushton. He showed my class the power of science and then threw us the keys to the chemical cabinet and said, "Try a few things!" A few things blew up along the way, some even on purpose, but I discovered the joy of creating new things.
Accolades:
R&D 100 Award (LISe crystals, 2013)
15 patents and 1 in process
25 invention disclosures
Y-12 Technology Fellow 2013–2015
Authored more than 61 articles in peer-reviewed publications
Joint Assistant Professor of Nuclear Engineering at the University of Tennessee, Knoxville