SPO graduate's unique perspective helps create class excellence
Posted: Tuesday, November 15, 2016, 10:22 am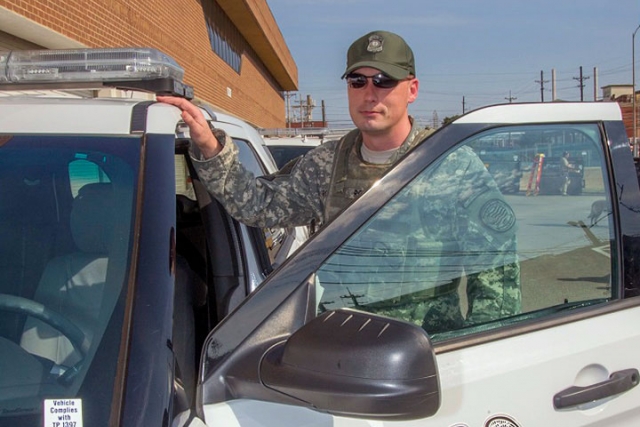 Steve Robison is an Army veteran and one of the 32 graduates from the Security Police Officer Tactical Response Force I class held this summer in Oak Ridge.

Experience is the teacher of all things—Julius Caesar
Steve Robison doesn't focus on what he's lost, only what he's gained, including a wealth of experience, and for the Army veteran, experience has a great deal to do with being a good team member.
Robison is one of the 32 graduates from the Tactical Response Force I class held this summer in Oak Ridge. These graduates, a majority of whom will be security police officers at Y-12, endured the southern heat and humidity to demonstrate their weapon-handling expertise. They also knocked the top off the classroom work with an average of 96 percent on written exams.
"My history with the military gave me a good background for this position," he said. "I was in the Army until 2005, when I lost my leg. After I retired in 2006, I became a civilian instructor for the Army teaching basic combat tactics, so the requirements are within my realm of experience."
Robison draws from his military experience to not only to excel in the field and the classroom but also to make himself a great team member. "Our class worked together to succeed, and that follows through into our positions as SPOs," he said. "We're all proud to help protect one of our nation's security assets, and we're all excited to get to work with such a wealth of knowledge at Y-12."
While the mission at Y-12 is somewhat different from his military days, Robison says integrating the additional concepts of law enforcement into his combat-based background is an exciting challenge.
"The mix of military and law enforcement backgrounds here is a great asset to our mission," he said. "As our class integrates into the security team, we're learning as much as we can from the expertise available here at Y-12. Personally, I'm excited to get back to work with people of a like mindset."
Robison said rejoining a familiar team not only appealed to him, but the TRF I course allowed him to challenge myself mentally and physically. "Pro Force is a really good career field, and this is an excellent program," he said. No special considerations were given to him for physical requirements, such as the mandatory mile run that must be completed in eight minutes and thirty seconds or less. Robison also proudly stated that each member of his class passed their weapons qualification on the first attempt with a score of 320 or higher out of 400.
As much as he enjoyed joining the Y-12 team, Director of Pro Force Operations and Training Eric Belcher says Y-12 was very glad to have Robison enroll in Basic Security Police Officer Training. "Steve and this class performed exceptionally well and worked extremely hard. These SPOs are critical to our mission, and the American people depend on us." NNSA Production Office Manager Geoff Beausoleil agreed. "I talked with the class at their graduation, and I was struck by their dedication, professionalism and patriotism. Steve is humble with a great sense of humor—he is an impressive individual."
As for Robison's home team, he says his wife and children are enjoying the beauty of the area. It would seem Robison is well on his way to creating another chapter in his book of experience, and Y-12 and East Tennessee have gained an amazing team member.