100th apprenticeship graduate transitions to work at Y-12
Posted: Monday, October 24, 2022, 8:12 am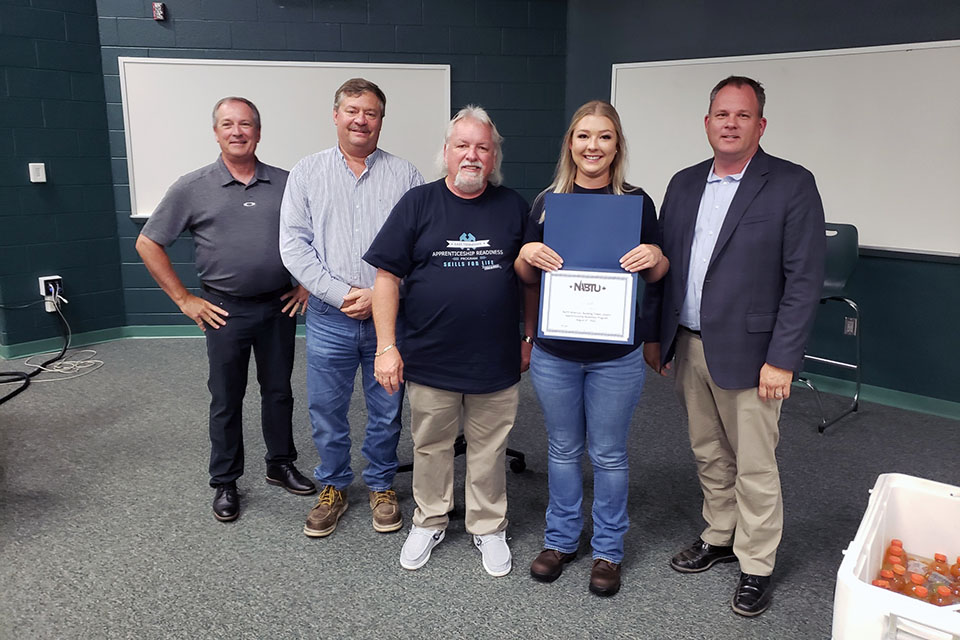 Y-12 Sheet Metal Apprentice Erin Scott (second from right) holds a certificate at the ETARP graduation ceremony. With her from left to right are: UCOR Labor Relations Manager Len Morgan, General Superintendent John Arbaugh, East Tennessee Apprenticeship Readiness Coordinator Chris Branham, and CNS Project Director John Platt II.
As a young adult, Anderson County native Erin Scott understood that a typical 9-to-5 job wasn't what she wanted out of life. After graduating from Clinton High School in 2014, Erin earned an associate's degree from Roane State Community College and did some course work toward a bachelor's degree. However, the jobs she held along the way did not interest her.
"The jobs I had been doing just weren't very satisfying. I didn't feel productive," she said. So earlier this year, she tried something totally different.
In January, she enrolled in the Tennessee College of Applied Technology's welding program. It turned out to be a great decision and where she learned about the East Tennessee Apprenticeship Readiness Program (ETARP). After enrolling, she graduated this summer as a sheet metal apprentice, a member of ETARP's sixth class of graduates. It turned out that she was the 100th student to graduate.
"It was pretty exciting knowing I was the 100th person to graduate from this program, especially being a woman," she said. "It's nice to represent females in what is pretty much a male-dominated world."
John Arbaugh, the Uranium Processing Facility Project (UPF) General Superintendent, is invested in the value of ETARP.
"Being a craft professional is a wonderful career choice that can be very fulfilling, but like most industries, it's hard to find enough people," Arbaugh said. "ETARP's main goal is to expose people, primarily minorities, women, and veterans, to building trades apprenticeships and ultimately a career in construction. It is an additional avenue to finding qualified people to fill the jobs we need."
ETARP is a partnership between CNS and UCOR, two of Oak Ridge's largest Department Of Energy contractors, and the Cooperative Agreement of Labor and Management, an organization comprised of Oak Ridge construction employers, including the Knoxville Building and Construction Trades Council, which represents 16 unions.
ETARP began in 2018 and has placed a diverse group of men and women in apprentice programs at UCOR and CNS.
After graduating this summer, Scott went to work as a sheet metal apprentice at UPF. John Platt, a CNS project director, had a chance to meet Scott and her fellow graduates who planned on working at Y-12.
"We're very fortunate to have a program like ETARP. It has increased our ability to attract diverse talent and skills to the project," Platt said. "The work of our craft professionals is often challenging and, as a result, can also be incredibly rewarding. I'm excited to be able to support members of the latest graduating class."
So far, Scott said the work has been physically demanding but incredibly satisfying. Asked what her friends think about her new career choice, Scott said some are surprised.
"I was never a hands-on person, but I grew up with a dad and brother who were always tinkering, so I must've picked up a few things from them," she said. When her family found out about her career decision, she said they were "very encouraging," pushing her to "give it a try."
Chris Branham is the ETARP coordinator. He instructed Scott and her classmates and knows what great value the program offers.
"We train people of all ages, genders, and ethnicities in union work, hoping to find where they might be the best fit for a life-long career," Branham said. "We also teach the students about safety in the work place so they aren't blind to today's safety standards."
At Y-12, Scott said safety is a major focus. "Safety is huge here and so is the culture of respect. We're encouraged to treat everyone with respect, to get along, and be safe at our work," she added.
"I honestly think, now that I've been through it and am on the job, that a lot of women are missing out on some great opportunities," Scott said.
For more information about ETARP, contact Chris Branham.