CNS supports Tuskegee Airmen exhibit
Posted: Tuesday, May 24, 2016, 12:38 pm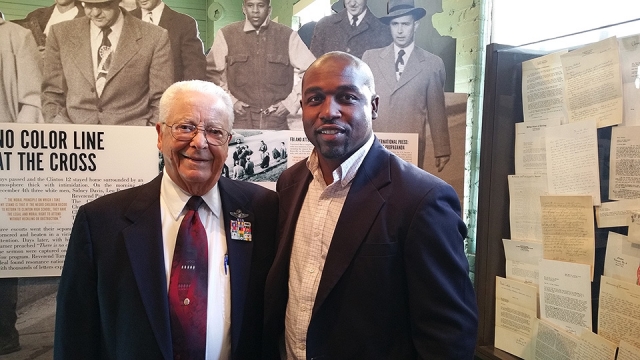 CNS's Cary Langham (right) met Tuskegee Airman Lt. Col. George Hardy at the Tuskegee Airmen's "Rise Above" traveling exhibit.

The Tuskegee Airmen's "Rise Above" traveling exhibit landed in East Tennessee in April. The exhibit drew nearly 3,000 people. More than half of the attendees were children who were interested in the history of the all-black 99th Fighter Squadron, better known as the "Red Tails" because of the distinctive red markings on the planes' tails.
One of the original Tuskegee Airmen, Lt. Col. George Hardy, was traveling with the exhibit. At 91, Hardy is one of just 33 original pilots still alive who fought in World War II.
In 2006, Hardy and the Tuskegee Airmen were awarded the Congressional Gold Medal by the president, recognizing their service to the country in WWII.
The Green McAdoo Cultural Center in Clinton hosted the traveling exhibit, which was sponsored by Consolidated Nuclear Security, LLC. At a reception prior to its opening, CNS employees were treated to a sneak peek and enjoyed a visit with Hardy.
"It was truly an honor meeting Lt. Col. Hardy," said Y-12 Deputy Site Manager Gene Sievers, who described his encounter with the legendary pilot as "…shaking the hand of a living piece of history."
A U.S. Navy veteran, Sievers spoke respectfully of the legacy of men like Hardy and what the Tuskegee Airmen accomplished. "The service of the Tuskegee Airmen inspired sweeping positive changes in the military immediately following World War II, and the traveling exhibit is a vivid reminder of their sacrifices."
Cary Langham, who works in Mission Engineering, agreed with Sievers. "Lt. Col. Hardy is an American hero, and I am proud that I got the opportunity to meet and talk with him," said Langham. "It was enlightening to me to understand the history behind the role the Red Tails played in WWII. For me, the legacy of the Tuskegee Airmen will live on in my mind forever."
Visitors to the exhibit were treated to a film shown on a 360-degree panoramic screen in a 30-seat temperature-controlled movie theater. The film highlights the courage and determination of the Tuskegee Airmen, who overcame obstacles to train and fight as U.S. Army Air Corps pilots, and describes what their achievements mean to all of us 70 years later.
Each airman wore a dog tag that read: "Aim High - Believe In Yourself - Use Your Brain – Never Quit – Be Ready To Go – Expect To Win." Those goals are still relevant today.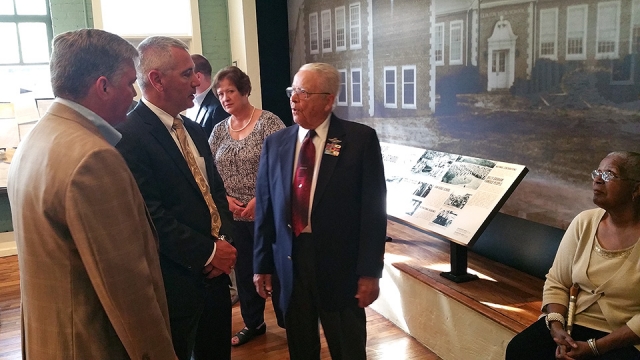 Y-12 Deputy Site Manager Gene Sievers talks with Tuskegee Airman Lt. Col. George Hardy at Green McAdoo Cultural Center.