Y-12 Blog
Posted:
Wednesday, January 13, 2016 - 4:44pm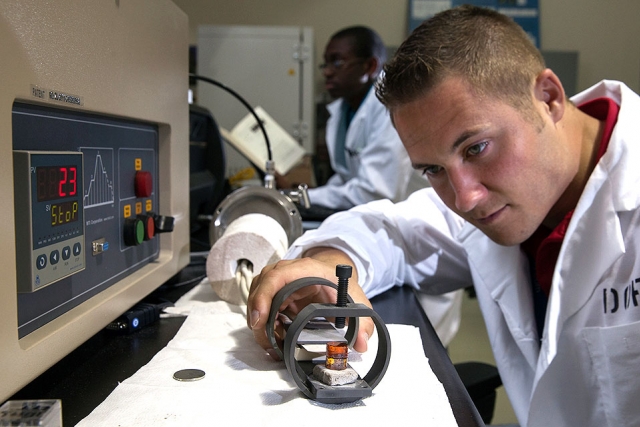 Dustin Giltnane, a University of Tennessee graduate student, is in the CNS pipeline and will become a full time employee in May 2016, upon completion of dual master's degrees.

CNS invests in people — sometimes before they join the payroll as full‑time employees. Dustin Giltnane is a prime example of that healthy pipeline at work.
He graduated from the University of Tennessee with a bachelor's degree in nuclear engineering and was working on dual master's degrees (an MBA with a focus in entrepreneurship and engineering with a focus in nuclear security) when the opportunity arose for him to work with Ashley Stowe, CNS's Physical Sciences functional manager and Technology Fellow emeritus. While working on a Joint Assignment Agreement with UT's nuclear engineering department, Stowe recognized Giltnane's abilities, energy and creativity and was able to expand his CNS neutron detection research team to include the native Tennessean. Giltnane is now working on novel solid state neutron detectors.
Plant Directed Research and Development funds made it possible to add researchers to the CNS staff without expanding Stowe's budget. Through strategic subcontracts, Stowe also added team members from two other nearby universities — Fisk and Vanderbilt.
"University partnerships are good for CNS. Professors provide continuity and identify the best and brightest students, who help boost our productivity and creativity," said Ben Stephens of Program Integration. "Our hope is that CNS and these students mutually invest in and engage each other for the long term."
"I came to Y‑12 as a graduate assistant and then moved into a leadership role, mentoring Maxx Jackson, an Alabama A&M summer student, and taking responsibility for the thermal conductivity transient instrument, or TCT, which measures critical thermal parameters of materials," said Giltnane.
One challenge in fabricating high‑quality radiation detection crystals is growing large crystals without defects. The research Giltnane is conducting will provide thermal conductivity data needed to improve crystal growth modeling. He is paired with a radiation detection company, supplying new data that will improve a materials detection tool and boost national security.
"Dustin has been a great addition to the team," said Stowe. "He is technically sound, but his natural leadership and business curriculum provide a unique combination of discipline and innovation within the project. He's an excellent mentor and has a bright future here at Y‑12."
Giltnane initially studied nuclear engineering because of his interest in the environmental aspects. He'd read extensively about weather and global changes and that sold him on it. "I started out on the nuclear plant side but found it to be a little dull," he said. "I am happy to work at Y‑12 to find a balance and more in‑depth science. It's a much wider spectrum, and I like the nonproliferation and research side."
What's Giltnane's long‑term career goal? "I'd like to move up through Y‑12 into a research position and see where that takes me. I'm interested in nuclear nonproliferation policy and counterterrorism, which is kind of an extension of nuclear security," he said.
And in his spare time, Giltnane co‑owns a business, Guru Skins, where he and two fellow UT MBA students create customized ski, skateboard, wakeboard and snowboard graphics and vinyl covers. "We won a competition at UT to get our initial seed money, and it took off from there. Since then, we've won other competitions and have earned a total of $21,000," he said. The team recently placed third (out of 14 teams) in the SEC Symposium in Atlanta.
"We work with artists all over the world and pay royalties for every product that sells with their designs. Our vinyl covers allow sport enthusiasts to protect their boards and change the look cost‑effectively while expressing their individual styles." The idea for the graphics company came naturally as all three business owners are "boarders," which gave them insight to identify the industry need as well as their niche market.
Posted:
Wednesday, January 13, 2016 - 4:40pm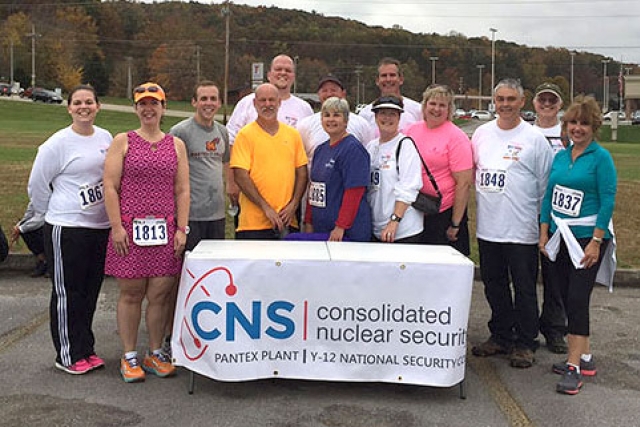 Y-12's team for the Volunteer Ministry Center 5K.

Run VMC is not a new rap group, but the 5K to benefit the Volunteer Ministry Center is a wrap.
Y-12's team consisted of more than 20 employees and retirees. The race began and ended at Hardin Valley Elementary, and several team members received accolades. Travis Wilson from Mission Support/Infrastructure was the overall winner with a time of 16:48. Other team members who finished in the top 20 included Tom Berg of Technology Development/Transfer, Jeff Bock of Mission Assurance/Quality, who also won in his age group, and Chris Gilliam of Mission Engineering.
VMC is a Knoxville-based interfaith agency that was founded in 1987. The agency's mission is to facilitate permanent supportive housing for those who are homeless and to provide services to prevent homelessness.
The center helped 87 people get into permanent housing last year, and 34 of those were chronically homeless. VMC also helped more than 700 individuals/families remain in their homes last year and provided dental care for more than 1,000 patients through the dental clinic.
Y-12 employees and retirees have a long-standing relationship with VMC and support the center by volunteering time and donating supplies.
The team included Kevin Alexander, Temitope Asemota, Vicki Belt, Tom Berg, Jeff Bock, Peggy Campbell, Linda Cantrell, Leslie Daugherty, Doug Davies, Karen Dixon, Mo Dixon, Jay Everett, Chris Gilliam, Justin King, Kathryn King, Rob Kring, Rikki Martz, Diane McDaniel, Mari Kaye Monday, Karen Smith, Harold Waddle, Elain Warren and Travis Wilson.
Posted:
Monday, February 11, 2013 - 2:42pm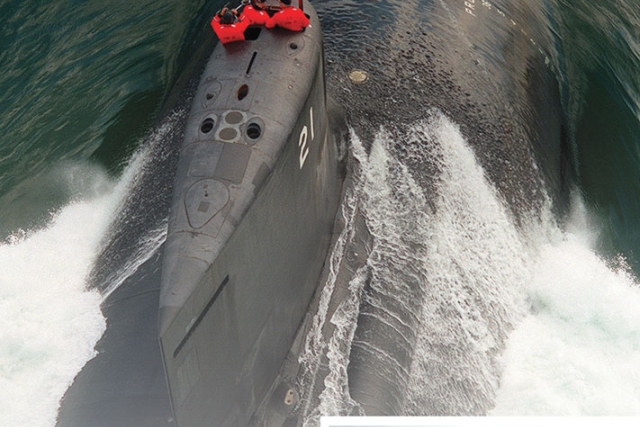 The Seawolf propulsor prototype was transported to Connecticut, where the sub was being built. One part went by truck, and two parts were so large they traveled by barge, starting from Oak Ridge and the Tennessee River system.

For decades, attack submarines were either fast or quiet — but never both. The fast subs were so loud that an enemy could hear them long before they were within striking distance. In the 1980s, when the U.S. Navy was creating a nuclear sub that would be both fast and quiet, they turned to Y‑12 for an extremely difficult manufacturing challenge. "This job was different, urgent and fascinating," said John Gertsen, vice president of Uranium Processing Facility Programs, who was the production manager at the time.
"We had done work off and on for the Navy," said former Y‑12 Plant Manager Gordon Fee, "but I received a call one day from an admiral in Washington who said that they were having great difficulty in producing models of some of the blades that they used for the propulsors for submarines. Could we make some blades for them?"
Building a quarter-scale propulsor prototype would demand highly complex fabrication, machining and materials, as well as development of the manufacturing process. Decades of weapons work had made Y‑12 a master in all these areas. So, yes, Y‑12 could make the blades. "We created a series of designs, a whole bunch of models," Gertsen said. "We sent the scale models out to be tested on a quarter-scale sub. They'd test, then ask for a new shape or feature or instrumentation." The quarter-scale model testing went on for several years.
"We have great abilities with classified, complex work because of the nuclear weapons program," Gertsen continued. "We have everything needed for developmental manufacturing and prototype work. We have a research and development organization to back up our work, we work with a large variety of materials, we have strong program design and our inspection and testing capabilities are world-class."
Y‑12 also was responsive. "On about a Thursday I received a call that the Navy had just run some new tests at Penn State on tiny blades, and they were interested in coming to Y‑12 on Monday to discuss the possibility of us making a larger blade for them to test," Fee remembered. "We said, 'Could you ship us the coordinates of the blade that you want?' We got it on a Friday. When they showed up about 9 o'clock on Monday morning, they were amazed to see that we had a stereolithography model of that blade that we had fabricated over the weekend from the blade model data received. They had never seen anybody that responsive in being able to create something."
Once the test models established the ideal design, the Navy was ready to build a full-size prototype. "We didn't think we were being considered for that," said Gertsen. "But when the Navy wasn't confident that their regular suppliers could make the prototype quickly and economically enough, we learned that we had always been their plan B."
The Seawolf propulsor prototype was transported to Connecticut, where the sub was being built. One part went by truck, and two parts were so large they traveled by barge, starting from Oak Ridge and the Tennessee River system.
Y‑12 had most of the equipment necessary but needed a few pieces of large equipment to do the job, such as a special eight-axis computer-controlled milling machine, a huge lathe and large inspection devices. A large workspace was also needed, so a 6,500-square-foot wing was added onto the Alpha 1 building.
"And, oh yeah, the Navy said, 'Procurement took longer than we thought, so can you take a year out of your production schedule?'" Gertsen said. Y‑12's response? Can do. Production of the full-scale propulsor had been slated for four years, but the schedule, which included the Alpha 1 wing and equipment acquisition, was shortened to three.
More than 300 component drawings and 700 tooling design drawings were completed. Machining and inspection of components and assemblies required more than a thousand machine control programs. For more than two years, machinists ran the multi-axis machines nonstop, including holidays. Maintenance support, on 24-hour standby, worked six-day weeks.
The sub's hull number was SSN 21. "An ongoing joke at Y‑12 was that SSN 21 stood for 'Saturdays, Sundays and Nights, 21 shifts a week,'" said Paul Sooter, lead engineer for design activities.
The final prototype, divided into three subassemblies, traveled to General Dynamics in Connecticut, which was building the submarine. One part went by oversize truck, and two parts were so large they traveled by barge, starting from Oak Ridge and the Tennessee River system.
Y‑12 completed the project ahead of time and within budget. "It was a spectacular job, done by the folks in Alpha 1 who learned how to take something used for manufacturing weapons and to machine these gigantic blades," said Fee.
"We were a good fit because it was development of a first of a kind," said Gertsen. "Y‑12 is geared to that. We're not just a production operation; we're good at developing new processes, manufacturing design, manufacturing and inspection, and engineering. We use these skills for nuclear weapons programs."
For the second submarine, the Navy hired a Minnesota firm to build two of the three subassemblies. Y‑12 shared "the paper, the hardware and the people" to make the follow-on units and made spare parts, Gertsen said. Y‑12 also made the third assembly and transferred that technology to the naval propeller shop in Philadelphia.
"The Navy said they didn't want to send a new concept straight to the shipyard," Gertsen said. "They preferred Y‑12 to do the first version, because we have the science and engineering background behind what we do."
The first Seawolf submarine was commissioned in July 1997. The SSN 21 was the fastest, quietest submarine ever. The Navy's Virginia class submarine succeeded Seawolf, and Y‑12 did the model work and manufacturing design for the test scale.
"We haven't done a prototype the scale of Seawolf since," said Gertsen, "but that work got us into other interesting prototypes, such as the Advanced Amphibious Assault Vehicle for the Marine Corps." Y‑12 developed and delivered innovative planing hulls and turrets for the vehicle.
Additional benefits from the Seawolf project are wide-ranging. Simulation capabilities used for identifying human/machine interface issues have been applied to Y‑12 glovebox ergonomics and process development.
The advanced-milling-machine cutting tools and machining programs were precursors to Y‑12's advanced high-speed-machining techniques.
Simulations from a virtual machining software system are used today to verify production components. And the accuracies required for the manufacture and certification of the submarine's components are the underpinnings of Y‑12 Production's precision machining and inspection techniques.
The advanced machine tools and inspection equipment the site procured and operated now provide new hardware capabilities and personnel expertise for other Y‑12 manufacturing activities.
Today Y‑12's classified, complex prototype work continues for several large companies. But the granddaddy of all was the Seawolf propulsor, the largest, most complex prototype Y‑12 ever tackled.
Y-12 Report | Volume 9, Issue 2 | 2013
Pages