From apprentice to inventor
Posted: Thursday, July 28, 2016, 2:36 pm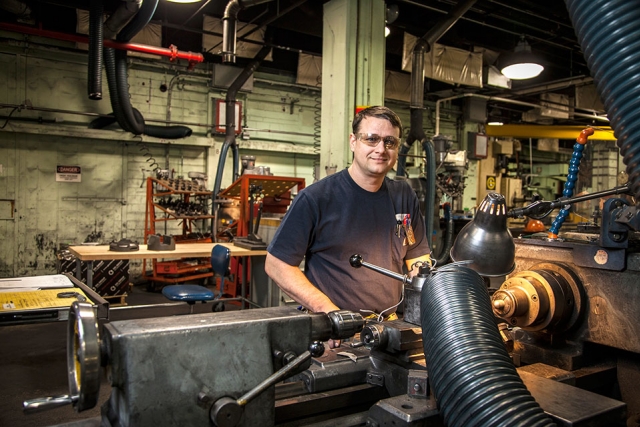 Machinist Apprentice Michael Lovelady operates a lathe in Building 9201-1 graphite shop.

Michael Lovelady has always been a tinkerer. So, after a stint in the Army National Guard and 10 years as a Y-12 security police officer, he jumped at the opportunity to participate in the Y-12 Apprentice Program. "It was a chance to get back to working with my hands," he said. "I really enjoy designing and making things."
Lovelady knew almost nothing about machining when he applied for the program in 2012 but has quickly learned the trade. After more than three years of coursework, an associate's degree from Pellissippi State Community College and four years of on the job training with journey machinists, Lovelady and nine other apprentices will complete the program this August.
"I'd really like to thank CNS and the Machinist Union for giving me this chance. This program has been a wonderful opportunity to learn new skills and grow as an employee," Lovelady said. "I'm able to join many different skills together and the end result is a beautiful product."
The products Lovelady makes include not only the parts Y-12 needs to meet its mission but also unique tools designed to solve problems he encounters. For example, part of his job with Fabrication Operations is to machine graphite casting molds. To accurately machine these cylindrical parts, machinists must manually set the cutting tool to the exact center of the rough part. While any number of commercially available levelers can be used to find the center of the part's outer diameter, none work for the inner diameter, leaving that up to manual measurements and calculations — or, as Lovelady saw it, opportunities for error.
"I wondered if we could get a leveler that would work for the inner diameters of our parts but realized there weren't any products designed for that," Lovelady said. "So I got to looking at it a bit and came up with an idea for a new leveler."
But he didn't just come up with the idea. After consulting with some fellow machinists, Lovelady drew a rough sketch, modeled the sketch in SolidWorks design software, converted the model to a design drawing, manually plotted the program onto a machine and then machined the prototype himself.
"It's a relatively simple Y shaped device with a sight glass leveling vial," Lovelady said of his invention. "The two points of the Y contact the part's contours, allowing the tool to slide along the outer or inner diameter until the sight glass bubble is centered."
This simple tool not only eliminates guesswork, calculations and opportunities for errors but also increases productivity by reducing the time spent establishing tool height or switching between leveling tools. Lovelady shared his innovation with CNS's Technology Transfer organization, which researched the market and determined that the unique design and capabilities of Lovelady's device made it a great candidate for a patent. They submitted an application to the United States Patent and Trademark Office in September of 2015 and hope to hear more before the end of the year.
"This is an awesome accomplishment. I love seeing our employees thinking differently and finding innovative ways to get the job done and then using their skills and commitment to make it happen," said Susan Baker, Fabrication Operations Production manager. "Mike embodies the principle of continuous improvement and the mindset we should apply daily to our work."
Indeed, he's still tinkering.
"We've been using the leveler for more than a year, but I'm still thinking of improvements," Lovelady said. "We could reduce the distance between the contact points so it can be used on smaller parts, or fabricate it out of different materials."
As he continues to machine new parts and chats with other employees, Lovelady sees numerous opportunities to design and fabricate solutions to issues around the plant. "That's the fun part, designing new stuff," he said. "I hate when people say we can't do something. I always wonder, 'Well, why not?'"